by Tom Gaylord
Writing as B.B. Pelletier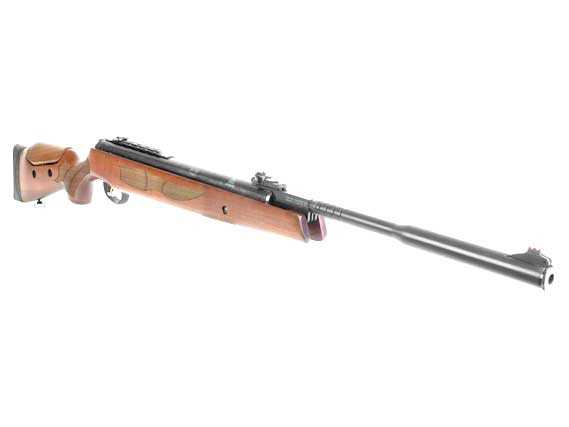 Hatsan's .30 caliber 135 QE Vortex is a large breakbarrel — both in size and caliber.
This report covers:
The test
Sight in
JSB Exact 44.75 grain
JSB Exact 50.15-grain
Predator Polymag
Next
JSB domes at 25 yards
Predator Polymags
Polymags with the tips removed
Summary
This Hatsan 135 QE Vortex .30-caliber pellet rifle is full of surprises and today is no exception. I scoped it in preparation for a 50-yard test. Today was confirmation at 25 yards.
I installed an obsolete UTG 4-16X56 scope in a pair of BKL 300 High Rings. The 135 has an adjustable comb that I raised about 3/4-inches to align with the eyepiece. It was very comfortable, shooting that way.
This scope had been shimmed for an earlier test, so it was very close to on target when the test began. I only fired one shot at 12 feet and one more at 10 meters to get on target. Then at 25 yards I refined the scope with two more shots.
The test
Today I'm shooting the Hatsan 135 QE Vortex off a sandbag rest at 25 yards. I'm using the artillery hold with my off hand back by the triggerguard. The rifle is still hard to cock, though I can now do it with one arm, so I'm still shooting 5-shot groups.
Feel of the rifle
I am continually surprised by how calm and normal this monster feels. The recoil is there but it's not severe. And the vibration is virtually nonexistent. The trigger is a little heavy, but its clean and I can control it. All in all this 135 is pleasant to shoot — much more than I would have thought.
JSB Exact 44.75-grains
These are the lighter JSB domes. During sight-in I was shooting cloverleafs, but on the record target 5 JSB 44.75-grain domes gave me a horizontal group that measures 0.808-inches between centers. It looks larger than that but remember, these are 0.308-inch pellets.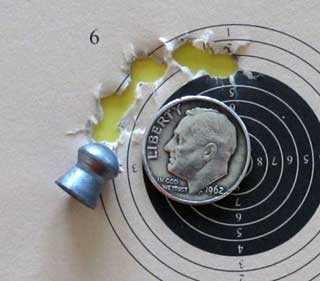 Five JSB 44.75-grains domes went into 0.808-inches at 25 yards.
JSB Exact 50.15-grain domes
Now it was time to try the heavier JSB Exact 50.15-grain domes. I didn't know what to expect, but was pleasantly surprised when 5 pellets went into a nice round 0.533-inch group. I did not change the sights from the first group, so this heavier pellet hits lower at 25 yards.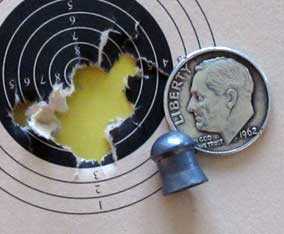 How's that for a group? One-half inch (0.533) for 5 shots with the 50.115-grain JSB dome.
Predator Polymag
The last pellet I tested was the Predator Polymag that also weighs 44.75-grains. They hit the target a little higher than the 50-grain domes, but lower than the 44-grain domes. They also landed to the right, just a little. Five went into a round group that measured 0.631-inches between centers.

Five Predator Polymag pellets went into 0.631-inches at 25 yards.
One more test
Reader Kevin asked me to test the Polymags without their red plastic tips. He told me how to remove them with diagonal cutters (dykes). He feels the tips sometimes cause pellets to fly erratically, and by removing them he gets more stability. So I did what he asked.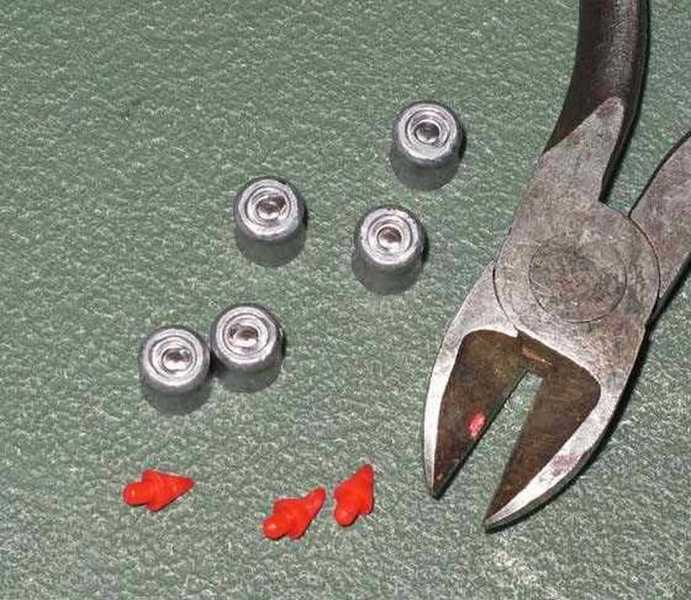 I removed the tips from 5 Predator Polymags to shoot a group without them.
Unfortunately the Polymags with the tip removed were the worst pellets of the test by far. They didn't even stay all on the target paper, so I had to photograph them still taped to the backer board. This group measures 1.651-inches between centers. Maybe I did it wrong, Kevin, but this isn't the way for this rifle.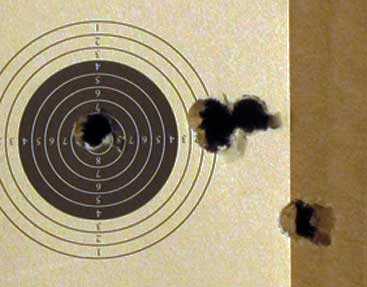 When the tips were removed the Polymags flew erratically. This group measures 1.651-inches between centers.
Summary
I'm ready to move out to 50 yards with the 135. This is such a tractable air rifle that I really wish it was easier to cock. It was a breeze getting it this far.