by Tom Gaylord
Writing as B.B. Pelletier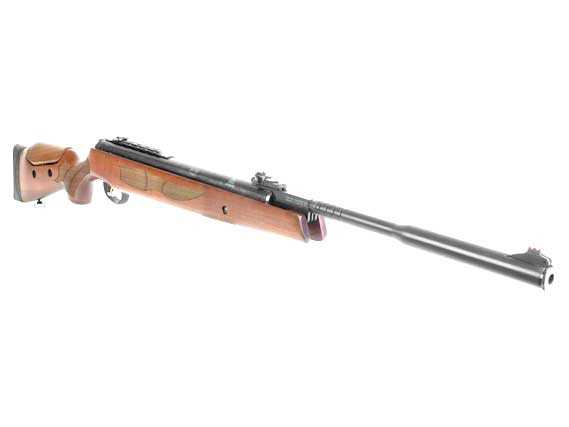 Hatsan's .30 caliber 135 QE Vortex is a large breakbarrel — both in size and caliber.
This report covers:
Not only no…
Calibers
Description
Stock
Trigger
Sights
Scope base
Ammunition
Do you own one?
This is the airgun I mentioned at the end of yesterday's report. The Hatsan 135 QE Vortex .30-caliber pellet rifle is intriguing because the caliber is so large. This is the only big bore breakbarrel I know of. But is it practical? Is it worth the effort (stay tuned for that!)? Is this an air rifle you can do anything with besides brag? I intend finding out.
Not only no…
It was 2006. I was in Josh Ungier's office in Pyramyd Air's old location. Josh had been showing me different cool things, like the pump-assist Benjamin 392 they were working on and we were having a great time, just talking airguns. Then he got a cagey look in his eye, which for Josh was common because he always had something bizarre cooking. He reached behind his desk and pulled out a large breakbarrel rifle and handed it to me. "Cock it, Thomas," he said. Josh always calls me Thomas.
Well I tried, and I couldn't do it — at least not with one hand. I had cocked mega magnum breakbarrels before, including a Beeman Crow Magnum that took 60 lbs. of effort, and I knew from that experience that this one cocked even harder. I estimated 75 lbs. But we will never know because that rifle had a coiled steel mainspring and the rifle we are examining today has a gas spring. It's still hard to cock, though.
I told Josh that Hatsan had stepped over the line with this one. Nobody was going to buy an air rifle that cocked this hard. Yes, that's what I said. Well, this may come as a surprise, but I was wrong. They made the rifle and people have been buying them ever since.
Calibers
This rifle is offered in calibers .177, .22, .25 and .30. I'm testing the .30, for the reasons mentioned earlier. I personally wouldn't want the .177 in such a large air rifle. The .22 would be my lower limit, but when the rifle gets to this level of effort, I think .30 is the way to go.
Description
The 135 QE is large. It's 47.2 inches long and weighs 9.9 lbs., nominally The test rifle weighs 9.5 lbs. and that difference is due to the weight of the wood that always varies a little. The barrel is 17.25 inches long, which includes the QE silencer in the form of a full barrel shroud. The pull is a manly 14.5-inches.
Stock
The stock is Turkish walnut and the test rifle has some good figure in places. The finish is an even matte all over. Both sides of the forearm and pistol grip are generously checkered with fine diamonds that actually have some grip. The comb is adjustable for height and the rubber butt plate adjusts up and down, so this rifle offers a wide range of ergonomic adaptations for fit. The forearm is square-sectioned, which allows it to be thin enough for a good hold while being deep enough for great strength.
The stock is 99 percent ambidextrous — favoring neither side. The automatic safety is a button located at the center of spring tube end cap. The one tiny thing that favors the righthander is the forward sling swivel comes from the factory on the left side of the stock. It appears to me that it could be switched to the right side easily enough. The rear sling swivel is centered at the bottom rear of the butt. All in all this rifle should be equally comfortable to right- or left-handed shooters.
Trigger
The trigger is Hatsan's Quattro 2-stage adjustable match trigger. They used the word match, not me. It's not really a match trigger — it's a sporting trigger. The trigger is supposed to adjust for pull weight and length of first and second stage travel. You can also adjust the weight of the first stage pull. I've not had luck adjusting this type of trigger in past tests with other Hatsan rifles, so this time I plan to spend more time at it.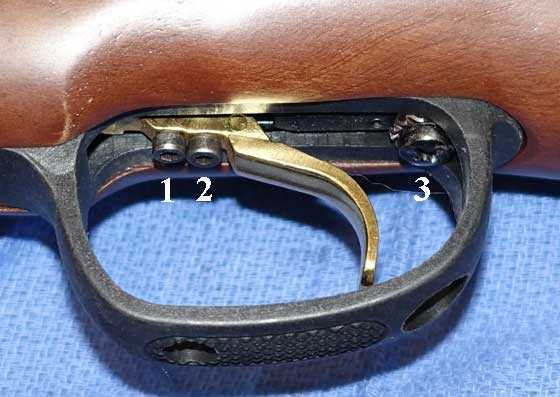 The Quattro adjustable trigger adjusts for pull weight (screw 1), length of first and second stages (screw 2) and the weight of the first stage pull (screw 3).
Sights
The sights are fiberoptic, front and rear. That may not be such a bad thing on this pellet rifle because it is definitely not for shooting targets. This is a hunting airgun, pure and simple.
The rear sight adjusts in both directions with smooth click detents. They are too quiet to hear but both can be felt when they are turned. In just hoisting the rifle a few times I believe the open sights will do it great justice.
Scope base
Hatsan has had a novel and wonderful scope base for many years. Their base accepts both 11mm airgun scope rings and Weaver rings, by virtue of its two-tiered design. On a mega magnum like the 135 I think it goes without saying that the Weaver rings will be the ones to use, because they are the most secure under recoil.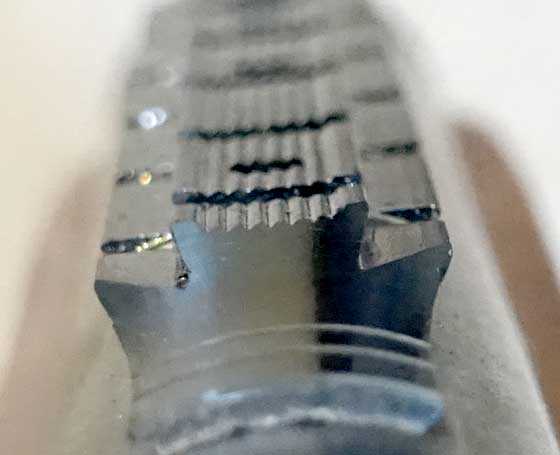 Hatsan's two-tiered scope base accommodates both 11mm (top) and Weaver mounts. Weavers are what you want.
The Pyramyd Air website says the 135 doesn't recoil and vibrate like some spring-piston air rifles, and that is correct. But make no mistake — it does recoil! I will say more about that in the upcoming reports.
Ammunition
Ammo for this rifle is a very big deal! More specifically, pellets. It wasn't until a few years ago that .30 caliber pellets were even made. There have been .25 caliber pellets around as long as modern pellet rifles have existed, for at least the past 110 years. But thirty caliber is a recent phenomenon. So the number of pellets is few. JSB makes 2 — one is a 44.75-grain dome and the other dome weighs 50.15 grains. I have both of them.
Predator Polymag also makes a .30 caliber hunting pellet and I have a tin of them to test. Air Venturi makes a 44-grain round ball and I have a box of them to test, as well. The only pellet I don't have is the .30 caliber H&N Baracuda, because they have been out of stock for some time. So this rifle will get as thorough a test as  is possible to conduct.
The heavier cast bullets in .308 caliber are not for this rifle. According to the specs, it is a 30 foot-pound rifle, so when we apply the "magic" number, we see that even the lightest pellet or ball will not be going 671 f.p.s. The "magic" number is the velocity in f.p.s. at which the weight of the bullet in grains equals the muzzle energy in foot pounds. That would be a 30-grain pellet going 671 f.p.s. However, this is a Hatsan airgun, so I expect the energy to be quoted consevatively.
Do you own one?
Today I start testing something very different. I welcome the comments of anyone who own this rifle. I am in a place I have never been and I'm not quite sure of what to do. It would be nice to hear what you who have owned and used this rifle think about it.