by Tom Gaylord
Writing as B.B. Pelletier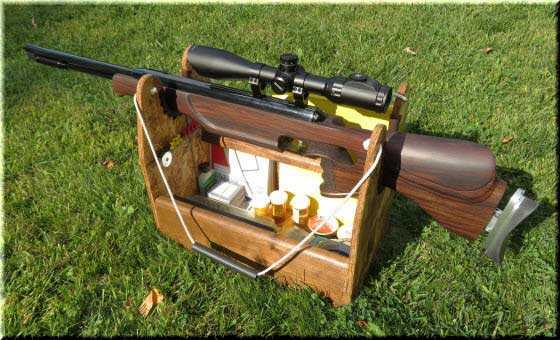 The Range Box set to go.
Today's report is written by blog reader Vana2. He thought that a nice range box was needed by many shooters and he decided to show us how to build one. Here we go!
If you'd like to write a guest post for this blog, please email me.
And now, over to you, Vana2.
DIY Range Box
This report covers:
The New and Improved Cardboard Box
The Range Box Design
The Requirements
The Materials
The Basic Construction
Finishing up
Summary
The New and Improved Cardboard Box
OK, so it doesn't look like a cardboard box but that is how it started out. Initially the small cardboard box was a convenient way carry a couple of cans of pellets, some targets and a screwdriver to adjust the scope.
It didn't take long to start adding other essentials – note pad, pen, push pins, a roll of tape, calipers, insect repellent, sunscreen, more tools, etc. etc. requiring a much bigger box.
I finally decided to make something more convenient to carry that would hold my stuff and a rifle besides. I did a review of what I needed to carry, the materials I had at hand and put together my custom Range Box in a couple of hours. I thought I would share what I have come up with.
The Range Box Design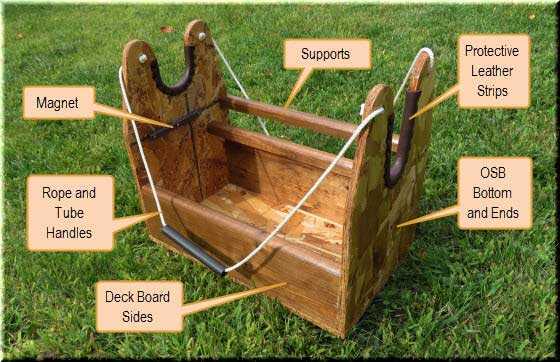 The overall design of the Range Box is developed from my rifles and the stuff that I use at the shooting bench.
Getting organized to shoot involved juggling rifle, targets and the rest of the stuff while carting it out to the bench. That usually meant several trips into the house to get everything and inevitably having to go back to get what I had forgotten.
The Requirements
For convenience, so I wouldn't have to be putting things down and picking them up while opening and closing doors, I wanted something to carry the rifle with (so I didn't have to lean it or put it on the ground) and something to hold my shooting stuff that I could carry in one hand. One coffee and a couple of doodles later I was ready to start.
I took measurements from the forearms and the grips of my rifles to determine the size and width of the notches needed for the cradle and the distance between them. The box needed to be tall enough to allow easy access to the insides with the rifle sitting in the cradle and it needed to be wide enough to be stable.
For my needs the overall size of the box is 10 inches wide; 17 inches long and 14 inches high. A quick survey of the things I would put into the box confirmed that it would be big enough to hold everything and still be easy to carry in one hand.
The Materials
I wanted to use 1/2-inch OSB because it was rigid enough, light enough and I had lots of it. The problem with (thin) OSB is that it is difficult to put a screw into the end-grain without splitting it. To work around that I used 5/4-inch thick spruce "deck board" sides that the OSB could be glued and screwed to. The 5 1/2-inch wide deck board too tall for the sides so I ripped off a 3/4-inch strip and used them as supports to hold my note pad and targets up against the side of the box and out of the way.
Solid wood, plywood or whatever you have available can be made to work… the scraps of deck board I had were ideal for the sides but a 2×4 ripped in half would also work well.
The Basic Construction
I wanted to keep things simple so I cut the sides and bottom to 10 inches wide and cut them to length. Then the cradle notches on the sides were laid out; cut out and a series of holes drilled along the edges. Next the rope handle holes were drilled and the final shaping of the sides was done. The side pieces and supports were cut to length, and everything was glued and screwed together.
A comment on drilling holes in OSB… for best results use a Forstner bit or a sharp Spade bit (the ones with "spurs") and with light pressure, drill from both sides to minimize tearing out chips. A drop of Super Glue will reinforce the hole nicely.


Drill bits for OSB.
I rough-sanded (60 grit) to remove splinters and round off the edges then gave the whole thing a light coat of clear gloss water based finish. The OSB is very porous and absorbs a lot of finish so it is best to avoid oil based finishes as they will take a long time to dry.
Finishing up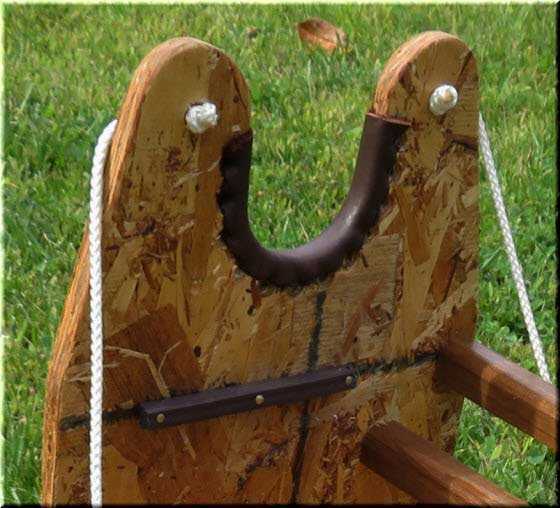 Here is a detailed view of the inside of the Range Box, showing the handle attachment, leather padding, magnetic strip and how the two supports are installed to hold my targets up out of the way.
As final touches, there are just a couple of things to be done; add the handles, the cradle liner and the optional magnetic strip.
I made my carrying straps from 3/8 inch nylon rope with a couple of pieces of plastic tube for handles. An overhand knot was used to secure the ropes and then I trimmed the tag end short before fusing it with a flame. It is good to add drop of Super Glue on the knots to be sure they don't slip.
I wanted to have something to protect the finish on the rifle from being abraded by the wood in the cradle. Initially I used a rope threaded through the holes I drilled as an edge protector but didn't like how it turned out so some leather from an old belt got stitched into service. It needn't be fancy; a couple of layers of duct tape would probably suffice.
On a whim, I added a magnetic strip to hold my push-pins, a couple of Allen keys and the washer I use to adjust my scopes. Works great as I don't have to grovel around in the bottom of the box to find these small items.
Summary
So there you have it, how I made a quick range box. After using it for a while I wonder why it took so long for me to get a round tuit. Hope this is of interest!