by Tom Gaylord
Writing as B.B. Pelletier


Artemis PCP air pistol.
This report covers:
Fill
Slow regulator
The test
First shot
JSB Hades
Air Arms 16-grain domes
Wait a day
No luck!
Summary
We have been looking at the Artemis PP700S-A PCP pistol over the past several months and today is the final test at 25 yards. Because the Artemis uses a proprietary fill probe, I've set up the Nomad II air compressor as a dedicated fill station.
Fill
I get 20 shots per fill because the pistol does not work well at its maximum operating pressure of 250 bar. I learned in Part 2 from watching the power curve that this pistol wants to be filled to a maximum of 2800 psi (193 bar) and it falls off the curve around 150 bar. That's where the 20 good shots lie.
Slow regulator
The pistol I am testing has an extremely slow regulator. I once had a Daystate Huntsman Mark II reg that took 25 seconds to stabilize, but the one in this pistol takes over two full minutes! Readers told me to use silicone oil every time I fill the gun, so I did that 4 times for the tests you are about to see and nothing has changed. Other readers say it just takes a lot of shots to break in the regulator of this pistol and I am beginning to think that is correct. Nothing else seems to work. So, for the first 600-1,000 shots, just give it a lot of time to fill, because if you don't your shots will go everywhere. Whoever gets this one next should know that I have put a couple hundred of those shots on it already.
The test
I shot off a bench from 25 yards. The pistol was rested directly on a sandbag. The pistol was scoped and sighted-in in Part 4, so no adjustments were made to the scope because I'm not looking for shots in the center of the bull. I'm looking for all the shots going to the same place. The scope can always be adjusted.
First shot
The first shot was taken about 10 minutes after disconnecting from the compressor, so the reg had filling the firing chamber completely and that shot was powerful. I started with JSB Exact Jumbo pellets.
The powerful first shot went to the left of the next four shots that I waited 2 minutes apiece for. I saw this through the spotting scope, so I took the target down and photographed it for us. The five are in 0.979-inches with the centers of the last 4 being just 0.569-inches apart.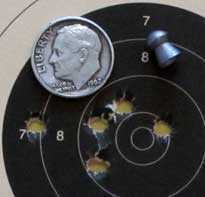 The pellet to the left was the first shot that was more powerful than the 4 that followed. The Artemis put 5 JSB Jumbo pellets into 0.979-inches at 25 yards with the final 4 in 0.569-inches.
After photographing this target I remounted it and shot a second five. The time that lapsed between stopping to photograph and resuming shooting was at least 10 minutes and more likely 15. And once again the first shot was more powerful than those that followed. That pellet went into the SAME HOLE as the first shot! Doesn't that suggest that the reg is filling slowly and needs to speed up? It sure does to me!
The final five pellets went into a (now) 10-shot group that measures 1.385-inches between centers of the two pellets farthest apart, with the 8 shots that were each two minutes apart in 1.033-inches.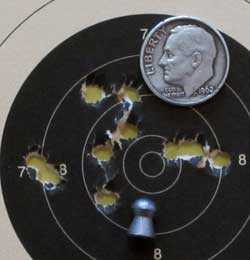 A long pause between shooting the first and second groups sent the first pellet of the second 5 shots into the same hole as the first pellet from the first 5 shots. Ten shots in 1.385-inches at 25 yards with 8 in 1.033-inches.
I'm a good enough shot with a pistol that the hole-in-hole first and 6th shots means as much to me as anything. I think this pistol is capable of accuracy at that level. But this is a test, so let's move on. From this point forward I only shot 5-shot groups because waiting two minutes between shots was eating up a lot of time.
JSB Hades
The next pellet I tested was the new JSB Hades hollowpoint. It weighs the same as the 15.89-grain dome I just shot, but that doesn't mean it goes to the same place. I forget why there was a long pause between the last group and the start of this one. And BAM! Once more the first shot was loud and powerful and went to its own place on the target. The shots that followed were each two minutes apart and were less loud and less powerful. So, this time I did something different. I let the first pellet hole stay and then fired 5 more pellets. And, look what happened.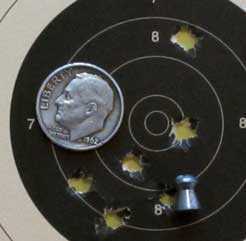 Guess which shot went first? That's right, the high one. Six Hades pellets in 1.509-inches at 25 yards with 5 in 0.951-inches.
If that doesn't convince you that the reg fills slowly, then nothing is going to. I am convinced and plan to do something about it.
Air Arms 16-grain domes
The last pellet I tried on this day was the 16-grain Air Arms dome. Five went into 0.904-inches with four in just 0.513-inches between centers at 25 yards. That gave me a lot of hope that I had found the magic pellet at last. But was I burned out from shooting? I had also tested the Umarex Synergis rifle the same day, so there was a lot of shooting going on in the Pelletier house.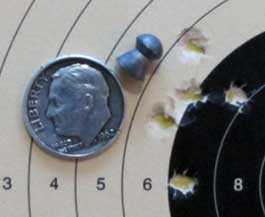 Five Air Arms domes went into 0.904-inches at 25 yards, with 4 in 0.513-inches.
Wait a day
I decided to wait until the next morning to shoot a final group of Air Arms domes. I would refill the pistol and then shoot the first shot deliberately away from where I wanted to aim. Then I would wait 2 minutes between each shot and see what I could do. I had really high hopes for this!
No luck!
The next morning I set everything up and did exactly what I said above. The first three pellets landed almost touched, but shot number four proved antisocial and left the group. This time I was following the exact procedure of waiting 2 minutes for each shot and there was no called pull. That shot just went wide for reasons of its own. Then the next and last shot went back into the group. So five pellets are in 0.948-inches at 25 yards, with four of them in 0.476-inches.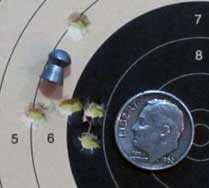 Even a day later and waiting between shots I could not get 5 pellets to group. Five Air Arms pellets are in 0.948-inches with 4 in 0.476-inches.
Summary
I find the Artemis PP700S-A PCP pistol a fine air pistol, with a somewhat serious flaw. That slow regulator is going to give poor accuracy until it breaks in and starts working as it should. Once that happens, though, this pistol is pretty wonderful. It develops a solid 12 foot-pounds and gives stunning accuracy with a good range of premium pellets. It seems to be well-built, though everyone says the o-ring seals will eventually have to be replaced.
I think this is an air pistol for a shooter who is already in the hobby and knows what to expect. At the price, it is a very good deal.