by Tom Gaylord
Writing as B.B. Pelletier
This report covers:
Vintage firearms — Nelson Lewis
Sniper rifle
Henry Deringer
Remington American Boy Scout
Exceptions
Observation
What about airguns?
Crosman Trapmaster
Crosman Mark I and II pistol
Erma ELG-10 
Winsel — a turkey?
What's happening?
Opportunity
Hold out
Summary
Today I write a report that has been on my mind for months. I even wrote down the title to remind myself it needed to be written. Today is the day.
Several months ago I was talking to my shooting buddy, Otho, and the subject was older firearms. I told him I was getting tired of shooting some of mine and he said to sell them. I responded by telling him that I would, but the prices people were getting for most of them was so low right now I would lose my shirt if I sold them.
Saying that prompted me to look deeper, and I found I was right. Many older firearms are losing their value.
Vintage firearms — Nelson Lewis
Let's start with vintage firearms. I have a double-barreled combination rifle/shotgun that was made by Nelson Lewis in the 1860s. Nelson Lewis is a fairly well-known maker of fine sporting and military arms from Troy, New York. My gun is in antique excellent condition and functions fine. I paid almost $2,400 for it 10 years ago but today I see similar combination guns by Lewis being offered on Gun Broker for $1,800, with nobody bidding on them!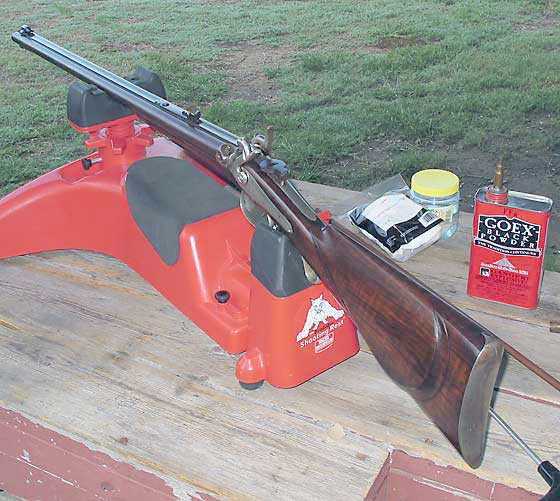 My Nelson Lewis combination gun is a beauty that nobody but me seems to care for anymore.
Sniper rifle
Nelson Lewis is one of several famous gunmakers who supplied long-range sniper rifles to the Union Army during the Civil War. Those rifles weigh from 15 lbs. to over 35 lbs and came with false muzzles and other accoutrements for precision loading. Rifles like this used to start at $6,000 and quickly go higher, but there is one I have been tracking on Gun Broker that has a starting price of $3,650 and no apparent interest.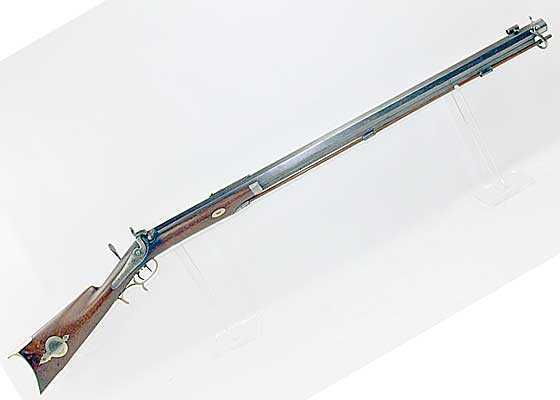 This Nelson Lewis long-range rifle has a false muzzle and was drilled and tapped for a scope, which means it may have been used as a sniper rifle in the Civil War.
Henry Deringer
Most people know of the derringer pistol that was made by Henry Deringer through its association with the assassination of Abraham Lincoln. I remember when they would start at $2,800 and attract a lot of interest. Today nice ones start at $1,850 and no one bids on them. A Henry Deringer rifle is starting at $2,000, where that would have been almost double a decade back.
Remington American Boy Scout
If you like .22 rimfire rifles you probably know about the Remington single-shot rolling block that was made for the American Boy Scouts. They were not the Boy Scouts of America, but a lesser-known and competing paramilitary organization that was founded by William Randolph Hearst in 1910. They changed their name to United States Boy Scouts in 1913 and, after many years of conflict with the International Scout Movement and the BSA, they changed their name several more times and eventually faded into obscurity.

Remington's American Boy Scout rifle is a rimfire collector's dream!

Not the Boy Scouts of America — the American Boy Scouts were a competing organization!
The rifle they convinced Remington to make for them is one of the most collectible single-shot .22 rifles ever made. It came with a bayonet that today is extremely rare and sought after. Nevertheless, a very nice example with the bayonet has been languishing on Gun Broker for some time at a super-low starting price of $1,850. I say the price is super-low, but with the trend I'm reporting today, maybe it isn't.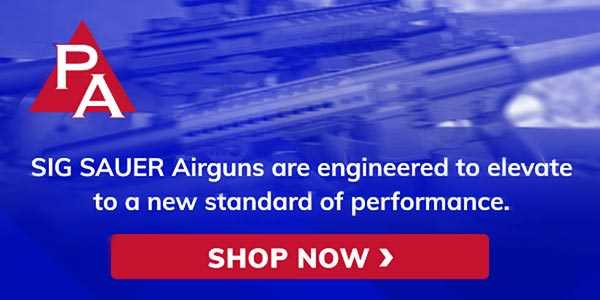 Exceptions
Of course there are exceptions to this. Garands seem to hold their price well, as do some Winchesters from the 19th century, though I see a .22-caliber 1873 that's starting at $1,600 with no reserve and no bids. There were a lot of 1873s made, but the .22 was not common.
Observation
My observation is the firearms collecting market has gone flat and even receded in many cases. It's primarily the older firearms that are affected. Relatively modern firearms like the Colt Python or the Winchester model 70 still seem to hold their valve and increase steadily over time.
What about airguns?
When I realized that, it prompted me to look at my airgun collection, to see if the same thing is at work. And, sure enough, I think it is.
Crosman Trapmaster
One gun that has been flat for many years is the Crosman Trapmaster air shotgun. This CO2-powered .380-caliber air shotgun was all the rage 25 years ago. People couldn't get enough of them. But in the last five years I have seen beautiful examples languish on tables at airgun shows. Guns that are nearly new in the box no longer seem to attract the attention they once did. And the mechanical trap that throws the aerial targets that went with the shotgun cannot be given away! I guess people just don't have room to display it.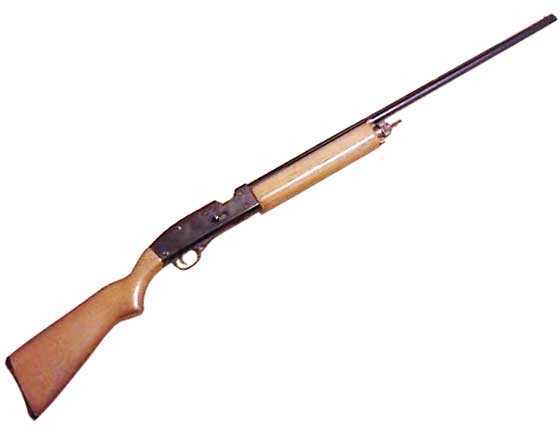 The Crosman Trapmaster 1100 air shotgun that closely resembled the Remington 1100 is no longer in the airgun public's eye.
Crosman Mark I and II pistol
There was a time 10 years ago when a Crosman Mark I pistol would fetch $200 and up. When the UK relaxed their laws regarding CO2 guns, the Crosman Marks I and II and the model 600 were cleaned out of the American airgun market overnight. I remember working model 600s fetching $300 for a short time. 
Well, all that has settled down and it's possible to buy a Mark II pistol that needs seals for $50 these days. I just bought a pair of them for that price. Mark Is still pull in $100 — especially when they hold gas. And model 600s that hold and shoot will bring $125-150 all day long. If you bought one when the bubble was inflated it may be a long time before you see your money again.
Erma ELG-10
The Erma ELG-10 spring-piston air rifle is an airgun that has been flat the longest. They brought $550 in the early 1990s and they still bring that today.

|
The Erma ELG-10 rifle has been flat as long as BB has been writing about airguns!
Winsel — a turkey?
I remember when a boxed Winsel at an airgun show stopped the crowd. The Winsel was a CO2 pistol made in 1950 and sold under a ridiculous marketing campaign. They gave you a cardboard mailing box for when your CO2 tank ran out of gas, so you could mail it back to the company to be refilled! What genius thought that up? I don't think the company was in business long enough to ever return a refilled tank. I did talk to one owner who sent both tanks in and never heard from them again!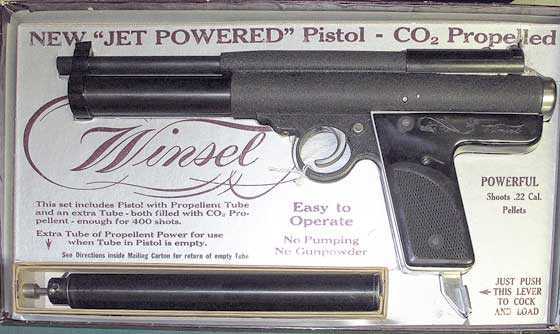 The Winsel came with two CO2 tanks and a cardboard box to mail one back for a refill.
Their marketing campaign was used by the federal government for years as an aptitude test for employees they were considering to draft the new income tax code. If you thought Winsel had a good idea, you got the job!
Winsels use to grace tables at airgun shows with price tags of a thousand dollars. Perhaps they still do. Or perhaps the one or two that are still on the tables have been there all along. I never saw one that was not like new in the box. I suppose people used up the gas and then gave up.
What's happening?
I think what is behind this is the people who liked those older airguns and firearms aren't around anymore. Time has thinned the herd. It isn't them selling their collection — it is their family. Recent airgun auctions have borne this out with numbers that were surprisingly low.
But some guns are immune to this principal. Those guns that hold their value are the ones that actually perform — guns you can actually shoot — like the FWB 124 and the Colt SAA, though the Colt is another one that's starting to flatten out.
The airgunner of today is getting younger through attrition. If he served in the military he most likely carried the M16 or the current arm of his country, rather than the guns of the past. And many have never had to serve (thank goodness!). While there will always be those who are interested in history, as time advances, history advances with it.
Opportunity
What this can mean for those who are interested in the odd and unusual airguns of the past is that many of those airguns are now becoming affordable. Some, like the FWB 300, will never fall into this category, but target rifles that were sold at the same time might well become bargains.
Hold out
One thing to watch is pricing. People unaware of all I have written will still put an exorbitant price tag on an airgun and lay it on their table. But a year later, some of them will soften up and be open to offers. You don't have to wait a year for this to happen if you peruse the online auctions. A little checking can often turn up when an item was initially listed, and that will tell you how much time has passed.
Other dealers are hard-headed and never soften up. When you discover that, skip them and move on. Their airguns may become part of a large estate sale at some point, but until then they are priced out of your reach.
Summary
While today's report sounds like good news for many of you, it's not so good for others. We bought our collectibles when there were still people around who knew what they were. Now we have airguns that only we can appreciate.
Use this information wisely if you are one who likes the old stuff. This is the sort of thing that can help you put together a nice collection over time!