by Tom Gaylord
Writing as B.B. Pelletier
02-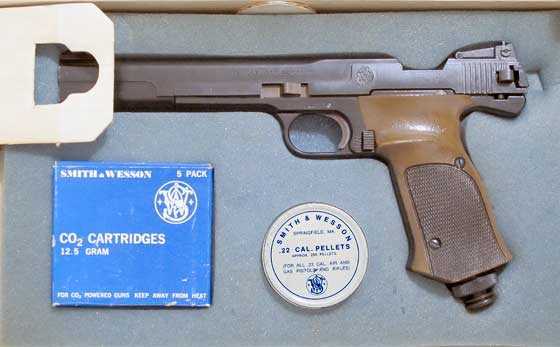 A very early S&W 78G air pistol. Though the picture looks matte because of the cloud lighting, this one has glossy paint. It's like new!
This report covers:
Behind the curtain
This pistol
How early is it?
Refinished?
Let's look
So what?
Trigger
Interests?
Summary
What? Another S&W 78G? BB — we know you love this air pistol but you just finished a 5-part blog on one last June! Enough already!
Behind the curtain
There is a good reason why I needed to write this blog. I spent 10 hours yesterday (all day Friday) and this morning (Saturday) trying to tune my Diana 27S air rifle so I can report on it. At this point I have one piece of advice to anyone trying to tune one of these rifles. DON'T REMOVE THE TRIGGER BLADE ASSEMBLY!!! Eight and one-half of those ten hours have been spent trying to reinstall the trigger assembly and it still isn't in! I will get the rifle back together and give you a great report on the tune and troubles I had in good time, but if a blog was going to be published today it had to be something else that was quick and easy.
This pistol
At the 2019 Texas airgun show I made a tentative deal with a man to buy his S&W 78G that was in excellent condition in the box. The reason I wanted it is because it had an adjustable trigger. The early ones had that feature, but it went away shortly after production began — maybe in the first year, or so.
Well, that man went home to the east coast and I never heard from him again, so when another early 78G popped up several months ago, I was ready for it. I gave a lot for this pistol, but that didn't matter because I got what I wanted and the other guy got what he both wanted and needed as well. So, it was a case of my $5,000 dog for his two $2,500 cats.
How early is it?
The title of this report says the first S&W air pistol, but I don't want to deceive you. This one isn't the very first. It's the 3,248th one. And this one isn't in excellent condition. This one is like new in the box!


There is the end flap of the box with the serial number.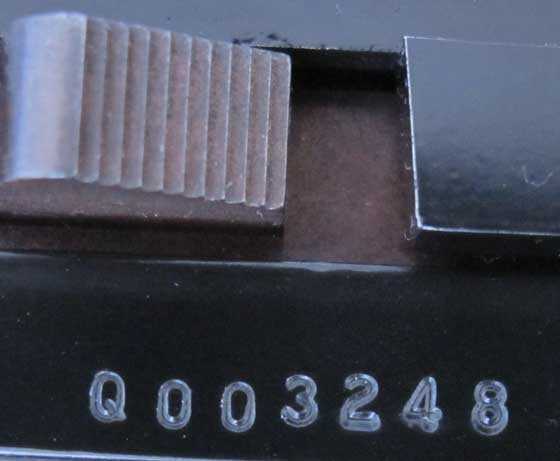 And there is the serial number on the gun.
Refinished?
"Well, BB, maybe this pistol has just been refinished. Maybe you only think it's new in the box because someone did a good job."
Sorry, Mr. Killjoy, this one hasn't been refinished. Want to know how I know? This is where 50 years of collecting and evaluating firearms comes into play. Any time a gun, be it a firearm or an airgun, is refinished, the surface has to be prepared first. That preparation always softens the original markings on the gun. I don't care if it's refinished by the best guy in the world, he always leaves the markings softer!
One of the reason a Turnbull refinish job on a Colt pistol costs $4,000 and up is because Doug Turnbull has had special punches made so he could refresh the markings on Colt pistols. A Turnbull job is the best there is, and even then an expert can tell that work has been done, most of the time.
Let's look
So let's now look at the markings on this air pistol. The best mark to look at is the most delicate one — the Smith & Wesson trademark. Because it is so large it had to be impressed with lower pressure to avoid damaging the part.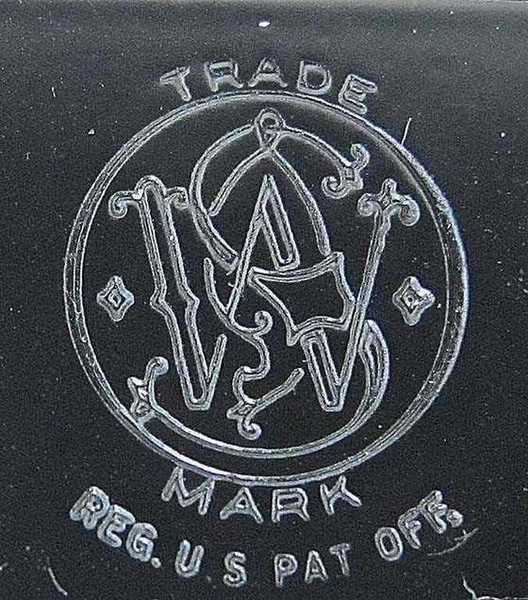 See how sharp and crisp the trademark is? No refinisher can equal this.
So what?
I knew, just from looking at the serial number that the gun was untouched. But so what? Who cares that this is a like-new S&W 78G?
Trigger
I care — that's who. Because the adjustable trigger is rare on this particular air pistol and this one gives us the chance to evaluate a gun that's just as it was 49 years ago when it was made. Yes, this is a 78G made in Tampa, Florida, before the airgun division moved to Springfield, Mass. to be with the rest of the company. Oh, the box says Springfield, because they didn't want their customers to know where things were done, but from 1971 through '73 they were made in Tampa. This pistol is a time capsule.
And the pristine-ness of the finish tells me that Bubba hasn't had his hands on this one! However — this pistol was recently resealed. Yes, it was. The guy who did the work was extremely careful not to mess up the finish. In fact, just doing that job gave him the heebie-jeebies about owning and using a pistol this fine. He didn't want to be the guy who….  You fill in the blank.
BB Pelletier also has those same heebie-jeebies. This one is not an air pistol to shoot and enjoy. This is one for a collector. But while I have it I am going to take advantage of the opportunity to see how well she works. My other 78G has been hot-rodded and bears very little resemblance to the airgun Smith and Wesson made. And my other gun doesn't have an adjustable trigger.
Interests?
I want to know how fast. I want to know how accurate. And I want to know how nice that trigger can become. Reader Ian McKee, who goes by 45Bravo here on the blog, says the S&W adjustable triggers can never quite equal those found on the Crosman Mark pistols. We shall see!
Summary
Today you are reading about a failure that I have turned into a success. The Diana 27S is still in pieces on my kitchen table while I ponder how to grow the third hand I need to get the trigger assembly back in the gun. That's going to be a great tale of its own!
And so is this one. I've had this air pistol for months, wondering how to work it into the blog. Today I figured it out and here we go!