by Tom Gaylord
Writing as B.B. Pelletier
This report covers:
Dust Devil
The Mark 2
BB weight in grains
Smaller belly band
Production is up to speed
How can I test them?
499
Legends MP40
Future BB gun tests
Impact tests
Bada Bang
Is that all?
Old Dust Devils
New Dust Devils
Daisy Premium Grade BBs
Summary
I have been waiting for this day for a long time. The new Air Venturi Dust Devil Mark 2 is finally here! And that begs the question — what makes it a Mark 2? In recent years we have become used to companies launching new but not fully developed products, in a rush to get them to market. Then they bring out the improved Mark 2 version the following year, after all the fatal flaws have been found and fixed. Hard goods are now being treated like software releases!
Dust Devil
Well, not so, the Dust Devil. It has worked as advertised from day one. It's a steel BB made from steel dust, so it fragments back into into dust on contact with a hard surface. I have tested it in dozens of different BB guns over the several years it has been around. Which begs the question — why is there a Mark 2?
The Mark 2
According to the Pyramyd Air website the Mark 2 Dust Devil has a tighter weight tolerance, BB to BB. Is that really the case? I weighed 10 of each BB for you and provide the following.
BB weight in grains
Old Dust Devil………Dust Devil Mark 2
4.3………………………….4.6
4.4………………………….4.6
4.3………………………….4.6
4.4………………………….4.6
4.3………………………….4.5
4.3………………………….4.6
4.3………………………….4.7
4.4………………………….4.5
4.4………………………….4.7
4.4………………………….4.6
Okay, that's 10 of each BB straight from the container. It's not scientific and the sample size is too small, but it's what came out of the packages. The old Dust Devils had five that weighed 4.3 grains and five that weighed 4.4 grains. The new Dust Devils had six that weighed 4.6 grains, two that weighed 4.5 grains and 2 that weighed 4.7 grains. So the old Dust Devils varied less, light to heavy, and the new Dust Devils have more that weigh the same. Incidentally, these are the same ranges of weight variation seen in most premium BBs today, only the solid steel ones all start at around 5.1 grains.
The second thing we learn from this is the new Dust Devils are heavier than the old ones. The difference is small, but at that low weight it is significant.
Smaller belly band
The description also says the new Dust Devils have a smaller belly band that aids in accuracy and in feeding in certain spring-loaded BB magazines. I will test the BB magazine feeding later, but today let's look at the belly band.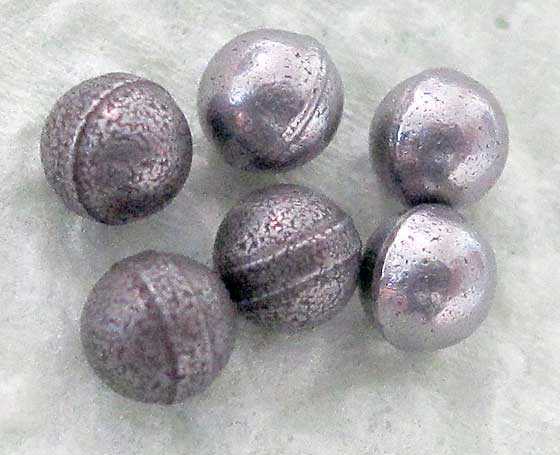 It's easy to tell the difference between the old Dust Devils and the new ones. Not only is the belly band reduced in size, the new ones are much shinier.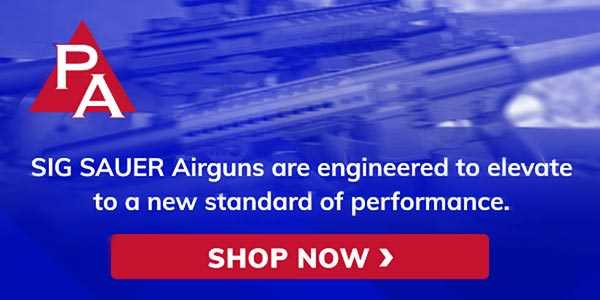 Production is up to speed
The first time Dust Devils were launched they sold out in a couple days and people had to wait for production to catch up. With this launch Pyamyd Air has waited until they had a large stock of the new BBs before announcing it. I knew they were coming a long time ago and kept my mouth shut until production was fully ramped up.
How can I test them?
I have many things I want to test for you. I think first I will start with the Springfield Armory M1 Carbine that is my most accurate general-purpose BB gun. I will test the old Dust Devils, the new ones, a standard premium BB and maybe a BB that my Carbine found the most accurate.
499
Of course I will also test them in the Daisy 499 — the world's most accurate BB gun. And there I will pit them against the Avanti Precision Ground Shot that I expect to be the most accurate. But I will also shoot the old Dust Devils for comparison. I will try to test both the Carbine and the 499 in the same report. I think once it is established these are accurate you don't need to see more testing to make your decision to purchase. But I will continue to test.
Legends MP40
For feeding reliability I will test them in the Umarex Legends MP40 BB submachinegun. I have so much wanted a safe BB for that gun!
Future BB gun tests
And of course I will shoot them in most future BB guns tests I conduct. I like to test all the types of BBs in most guns and these are definitely one type that has no equal anywhere.
Impact tests
I plan on shooting them at a concrete floor and also into a steel pellet trap. For this test I will use a lower-velocity BB gun so we see if they really do break apart as specified. The old ones did, so let's see about these.
Bada Bang
I'm about to start testing the Bada Bang electronic target for you and I waited until I could test it with the new Dust Devils. The Bada Bang is a very rugged target that will stand up to 12 foot-pounds of energy, but it will also function with much lower-powered BB guns. It is a steel target, so of course the BBs have to be safe from rebounds.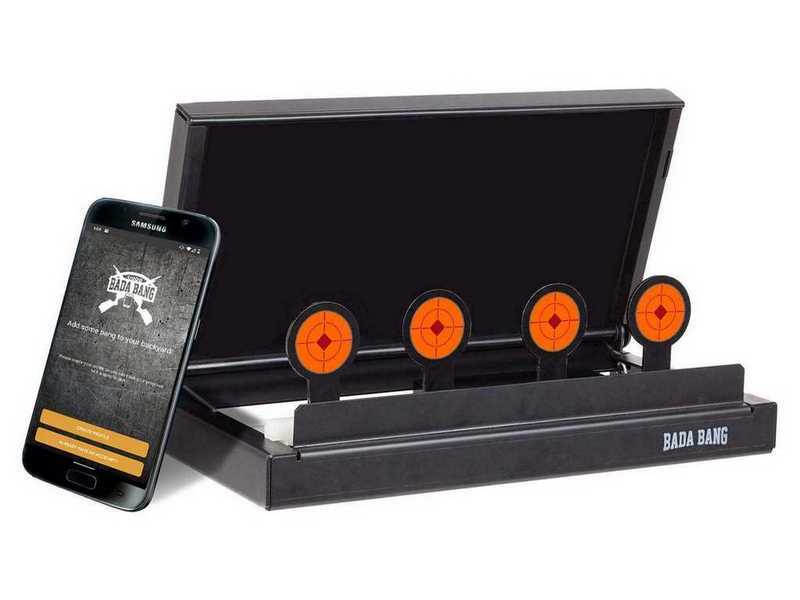 The Bada Bang electronic target begs to be shot fast with an accurate BB repeater!
Is that all?
I weighed and photographed both BBs today. Let me now test their velocity for you and give you a standard premium steel BB for comparison. I will use a current Red Ryder to test both velocity and feeding reliability in a gravity-feed BB gun.
Old Dust Devils
Old Dust Devils averaged 303 f.p.s. from a modern Red Ryder. The low was 283 and the high was 312 f.p.s., so the spread was 29 f.p.s.
New Dust Devils
New Dust Devils averaged 274 f.p.s. from the same BB gun. The low was 261 and the high was 284 f.p.s., so the spread was 23 f.p.s.
Daisy Premium Grade BBs
With Daisy Premium Grade BBs the Red Ryder averaged 282 f.p.s. The low was 274 and the high was 286 f.p.s., so the spread was 12 f.p.s.
Summary
We have a new Dust Devil to test. I will keep after them, but you should know if they are what you want after the first accuracy test. That will be next.