by Tom Gaylord
Writing as B.B. Pelletier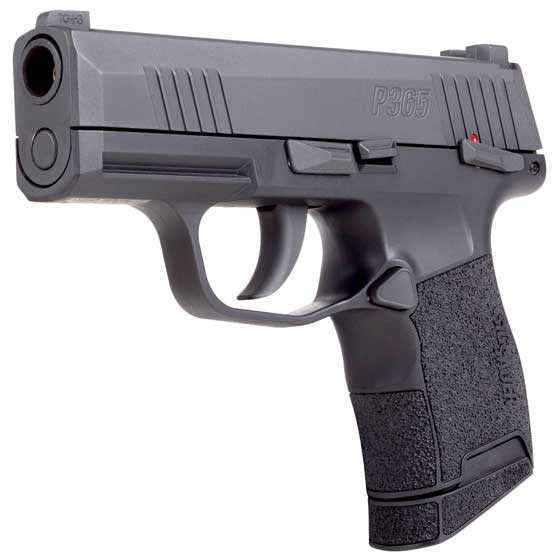 Sig Sauer P365 BB pistol.
This report covers:
Gun returned in February
Oiled the gun
Installed the cartridge
Sig BBs
Blowback
Daisy Premium Grade BBs
Dust Devil Mark 2 BBs
Shot count
Average for the first string of Dust Devils
Fresh CO2 cartridge
Trigger pull
Realism
Summary
A lot of time has passed since Part 2 of this report. The Sig P365 BB pistol I was testing back in early September of 2019 failed after the velocity test, so I never got to perform the accuracy test. I sent it back to Sig at their request. I then had several conversations with Ed Schultz, who was still working at Sig at that time, and I learned a few things. Most significantly, the valve in this pistol is very small because of the pistol's overall small size. That makes this valve more sensitive than most CO2 pistol valves. There isn't as much room for the gas to flow so it tends to flow directly out of the cartridge and through the gun, rather than through a longer gas channel inside the valve. There is a channel but it is very short. That means things either have to work right or perhaps not at all.
Sig dived into the pistol I sent back right away. I got the impression that mine wasn't the only one that was returned. Sales were suspended for several months.
This pistol is extremely small, yet offers full blowback. There have been other CO2 pistols that were even smaller than this one, but they didn't have blowback. The P365 is something of an engineering triumph. But that triumph came at the cost of some initial hiccups.
Gun returned in February
Sig sent me another P365 last month and that is the one I'm testing today. I will do the velocity test again, because this is a different airgun.
Oiled the gun
In Part 2 I told you that Ed Schultz advised me to oil the slide of the pistol. The owner's manual that came with this new pistol says nothing about this oiling, but I know my Sig P365 firearm needs to be oiled, too, so I went ahead and oiled the slide of this BB pistol. I used Crosman Pellgunoil.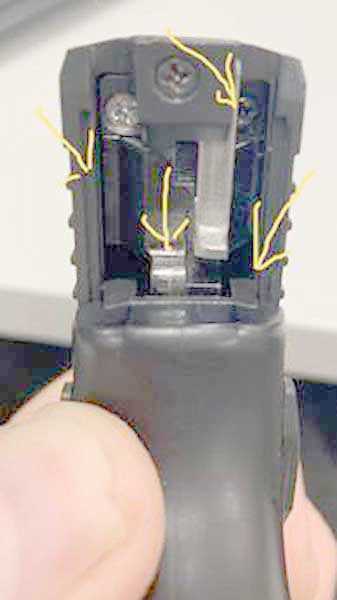 This is the photo Ed Schultz sent me, showing where to oil the slide.
Installed the cartridge
I first installed a fresh CO2 cartridge. I remembered that the Allen wrench that's used to pierce the cartridge has to be turned far to seal the cartridge as it pierces, so I put both hands in a position to be able to turn it far very quickly. Because I did that it sealed immediately.
Sig BBs
Sig doesn't have their own brand of BBs yet, but they do send a small package of BBs with the pistol, so they were the first I tried. They loaded easily into the stick magazine, whose spring-loaded follower stays down under a slot that's on the side of the BB column to hold it. Just don't let that follower slam up when you release it or BBs will fly out the top of the mag.
Ten Sig BBs averaged 277 f.p.s. The low was 255 and the high was 314 f.p.s. That's a spread of 59 f.p.s. That's a large spread for a CO2 pistol and probably has something to do with the smallness of the gun and valve. I will also note that the 314 f.p.s. velocity that I saw on the first shot was the only time the pistol got over 300 f.p.s. with this BB. The next-fastest shot went 285 f.p.s. which was a spread of just 30 f.p.s.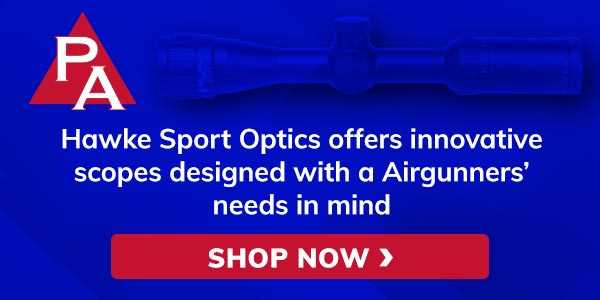 Blowback
The P365 has full blowback, meaning the slide travels all the way to the rear on every shot. The gun does not bounce in your hand because the line of the P365 bore is so close to the web of your shooting hand. In other words the pistol sits low in the hand. The P365 firearm also does not bounce when shooting 9mm cartridges for the same reason! The BB pistol just fires with a strong pulse in your shooting hand. You definitely feel it, but the gun remains level and stable. 
Daisy Premium Grade BBs
Next to be tried were Daisy Premium Grade BBs. Ten of them averaged 272 f.p.s. The low was 265 f.p.s. and the high was 280 f.p.s. That's a spread of just 15 f.p.s. It could be that when the CO2 cartridge is fresh some liquid CO2 escapes through the valve to expand in the barrel, which results in those higher velocities. Maybe the next BB test will tell us.
Dust Devil Mark 2 BBs
I purposely did not test the old Dust Devils for velocity. I may test them for accuracy, but since they are no longer available and they are lighter than conventional steel BBs I thought there was no benefit in seeing how fast they go.
The new Dust Devils are a different story. We know that, at 4.6-grains, they are a little heavier than the old Dust Devils (4.3 to 4.4-grains) but still a little lighter than conventional steel BBs that are about 5.1-grains. It will be very interesting to see how they do. This time I will show you the entire shot string so I can talk about it.
Shot……Vel.
1……….278
2……….296
3……….275
4……….did not register
5……….DNR
6……….279
7……….DNR
8……….275
9……….274
10………DNR
11………276
12………268
13………261
14………253
Okay, that is the 10 shots that were recorded, plus four more that didn't register. The average for those 10 shots was 273 f.p.s., but I have a problem with that average. Looking at this string, I believe the CO2 ran out at shot 12, which was the 41st shot fired since the cartridge was fresh. There were also several times in the previous two shot strings when the shot did not register through the chronograph, which is why the total shot count is so high at this point.
To show you what I mean about the CO2 being exhausted, I continued shooting with the same Dust Devil 2 BB. For this string I will show the actual shot count since the cartridge was new.
Shot……Vel.
44………DNR
45………245
46………243
47………DNR
48………226
49………224
Shot count
Shot 49 is where I stopped shooting. It should be pretty clear that the gas is running out. You would not have to stop at that point but the end would come within 5-6 more shots. That's because all the liquid CO2 has evaporated into gas and that gas pressure is falling with every shot. So let's say the P365 gets 50 good shots per CO2 cartridge. That is a reasonable number for a pistol that has full blowback, and this one was still cocking itself each time until the end. This is another good reason to own a chronograph!
Average for the first string of Dust Devils
If we take the last string of 10 Dust Devils, which are shots 30 through 43 on the first CO2 cartridge, the average velocity is 273 f.p.s. The low was 253 on the last shot (shot number 43) and the high was 296 f.p.s. which was shot 2 (shot 31 since the cartridge was installed). That's a spread of 43 f.p.s., but as I said, it is not representative.
Fresh CO2 cartridge
To get a velocity that is representative for the Dust Devil 2 BBs I installed a fresh cartridge. I will show the whole string, since this one begins with the first shot on the cartridge.
Shot……Vel.
1……….305
2……….285
3……….292
4……….297
5……….294
6……….288
7……….295
8……….DNR
9……….DNR
10………DNR
11………281
12………280
13………DNR
14………284
This string is more representative for the new Dust Devil. The average is 290. That first shot is the only one over 300 f.p.s., which is also what I wanted you to see. This string allows you to see not only how the P365 BB pistol does with Dust Devils but also how all BBs do when the cartridge is new. The spread for this string runs from a low of 280 to a high of 305, which is 25 f.p.s. Throw that first shot out and the high becomes 297, making the spread 17 f.p.s. — which is close to what we saw with the Daisy BBs, above. That spread of 15 – 17 f.p.s. is probably representative of what the gun gets and the average velocity with Dust Devil 2 BBs is probably 2 or 3 f.p.s. slower than the 290 f.p.s. shown here. They are somewhat faster than standard steel BBs, but still close.
Sig rates the P365 at 295 f.p.s. and that seems to be a maximum velocity. I believe the numbers I have obtained in this test are representative.
Trigger pull
The trigger pull measured 5 lbs. 12 oz. on my electronic scale, but there is more to tell. Several times the trigger seemed much lighter than that and the gun fired before I was ready. And two times in the 63 total shots in this test the trigger was impossible to pull. At first I thought the gun was not cocked, but it was. I guess the trigger linkage has some slop and you have to allow for it from time to time. What you do when this happens is squeeze and relax the trigger blade several times until the gun fires. That may smooth out as the gun breaks in. If I see signs of that happening I will report it.
Realism
This is the most realistic airgun replica I have ever seen! Here is why I say that. At one point in my testing I picked up the P365 and pulled the slide back to get it ready for the next velocity test and, what to my wondering eyes should appear — a 9mm cartridge! Earlier in the morning I had taken a photo of both pistols for this report and had not holstered my firearm again. It is always loaded and cocked, since it is my carry pistol that I use for security duty at church twice each week and any other time I carry. I had picked it up by mistake! That mistake was corrected on the spot by putting that gun back into the holster.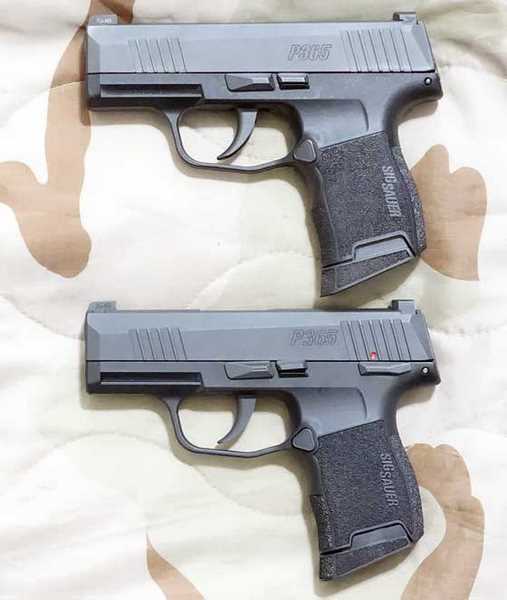 You are looking at the most realistic BB pistol replica I have every seen. This one is so good it's scary! I have to handle the P365 with extra care because I cannot afford to make mistakes! The one at the bottom is the BB gun. The BB gun has a safety the firearm doesn't have.
Summary
If you fully appreciate what I am saying today you will recognize that the Sig P365 BB pistol is a landmark in realistic airgun replicas. Maybe the sofa engineers will wave their hands at the technical difficulties I have mentioned and wonder why Sig didn't just get them all right the first time, but I am amazed they have been able to do what they have done! Designing a breakthrough pistol like this is not the same as re-skinning a proven design and calling it something else. Sig has stepped into an airgun design realm that has never before been explored. And Sig is a firearm company! Firearms are not the same as airguns, yet with both the ASP20 rifle and this P365 pistol they have innovated in a big way.
We still have to test accuracy and I have some concerns there, as well. Can BB Pelletier hold this small pistol steady enough to keep all his shots on the target at 5 meters? Because what I want is what the rest of the shooting world wants — a realistic BB pistol that can be used as a trainer for my carry pistol — for $80!!! If this airgun can do that, it is a world-beater!