by Tom Gaylord
Writing as B.B. Pelletier


The new Crosman 760 Pumpmaster Classic.
This report covers:
Dot sight
The test
Sight in
RWS R10 Match Pistol pellets
No sight change
Sig Match Ballistic Alloy pellets
Gamo Match
H&N Finale Match Light pellets
Discussion
Summary
This will be our last look at the Crosman 760 Pumpmaster Classic. It has some surprising results, though not in a good way. But, like so many things, we sometimes learn by doing.
Dot sight
Way back in early February at the end of Part 4 I said I needed to return to this airgun and test it with a dot sight. I half-kidded about using Sig's Romeo5 XDR that costs 9 times what the 760 costs. I would have done it for a laugh but it proved to be impossible. The Sig sight design is so focused on rifles with Picatinny rails and pistols that accept insert plates that it does not adapt to 11mm rails — even with the UTG 11mm to Weaver adaptor. So I had to find something else.
I wanted to use the UTG Micro Reflex sight, but it is dedicated to another test, so I defaulted to an old standby — a Tasco Pro Point red dot sight. It was already mounted in BKL medium one-inch rings, so it went right on.
Please bear in mind that the 760 is a smoothbore airgun. I am doing this test because it showed some promise in the Part 4 test.
The test
I shot from a rest at 10 meters. I shot 5-shot groups because the 760 is a multi-pump and each shot takes time to get ready, as well as time to load, since the dot sight is partly in the way of the breech.
Sight in
I started the sight-in at 12 feet and after three shots and adjustments I backed up to 10 meters. But even at 10 meters I could not get the shots to go to the bull I was aiming at. If I aimed at the center bull on the sheet of 5 bulls on a 10-meter target, the shots went to the bull below and to the right. So that is how I shot the test — going downrange and turning the target paper each time I changed pellets for a fresh bull.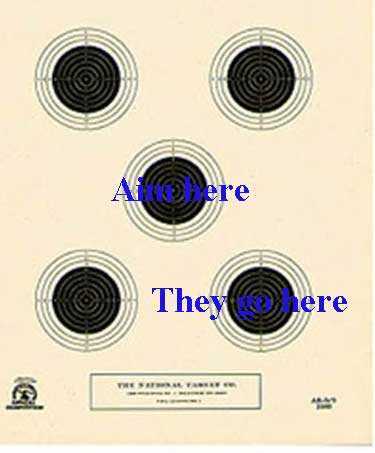 This is the best I could get the dot sight adjusted on the 760.
RWS R10 Match Pistol pellets
First to be tested were the pellets that did the best in Part 4 — the RWS R10 Match Pistol pellets. These were the very best pellets in the 760 and were really the reason I did today's test. I figured if it could put five shots in 0.458-inches at 10 meters with open sights, how much better could I do with a dot sight?
The answer is — no better. Only worse. With the dot sight the 760 put five R10 Match Pistol pellets in a group that measures 0.873-inches between centers. That's almost twice the size of the group shot with open sights!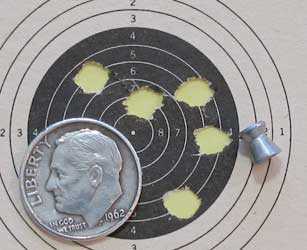 With the Tasco Pro Point dot sight the smoothbore 760 put five RWS R10 Match Pistol pellets into 0.873-inches at 10 meters.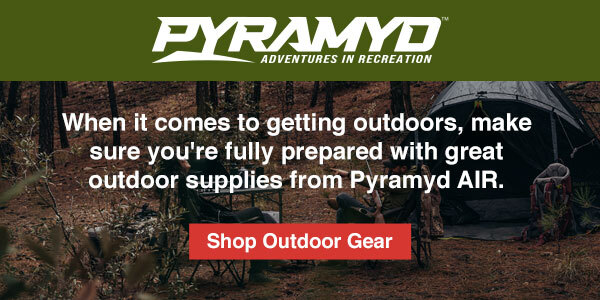 No sight change
After this first group I decided to leave the sight adjusted as it was. Since I had to turn the target paper for each pellet, the groups will seem to move around a bit, but that's more from turning the target paper than from the shift of the pellets, though they will shift as well. At this point in the test I realized that I may have gone a step too far with the dot sight. The 760 does fine with the open sights it comes with.
Sig Match Ballistic Alloy pellets
Next to be tested was the Sig Match Ballistic Alloy pellet. They did second-best in Part 4 with the open sights, so I hoped they would also do well here. Well, I may have goofed up and only fired 4 pellets this time. Looking at the target it sure looks that way. I didn't realize it until I looked at the picture as I was writing this report. Those 4 or 5 pellets went into 1.161-inches at 10 meters — not too good!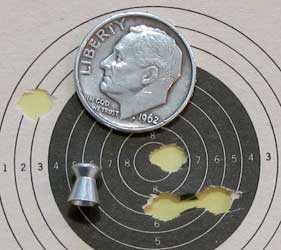 Four Sig Match Ballistic Alloy pellets went into 1.161-inches at 10 meters. I'm pretty sure there are only 4 pellets in this target.
Gamo Match
Since Pyramyd AIR was kind enough to send me a tin of .177 caliber Gamo Match pellets, I tried them next. Five went into 0.781-inches, which is better than the first two pellets.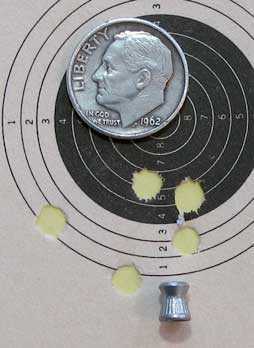 Gamo Match pellets did better than the first two, but still nowhere near what the gun did with open sights. Five in 0.781-inches at 10 meters.
H&N Finale Match Light pellets
The last pellet I tested was the H&N Finale Match Light pellet that, despite the name, is the heaviest pellet of this test. I figured slowing things down might help. And it did! This time five pellets went into 0.672-inches at 10 meters. This is the smallest group of the test.

Five H&N Finale Match Light pellets made this 0.672-inch group at 10 meters.
Discussion
The 760 did not become more accurate with the dot sight. We can blame the sight for not adjusting to the point of aim, but that doesn't explain the group sizes that are larger (generally speaking) than those shot with open sights. I had the dot's brightness turned down as low as I could see it , so it was just not a good day for me, I guess. 
I think that the 760 just wants to be what it is — an inexpensive, smoothbore multi-pump pneumatic that shoots both BBs and pellets. Mounting an expensive sight on it seems a waste of money and effort. Just shoot the thing the way it came from the factory. At least it doesn't have fiberoptics!
Summary
This completes my report on the modern Crosman 760s Classic airgun. We may hear from other 760s in the future but they will be older guns that are no longer in production.
I have to recommend the current 760 to anyone who wants what this gun offers — reasonable power and accuracy at a very affordable price. I have told you how it works — the decision is yours.