by Tom Gaylord
Writing as B.B. Pelletier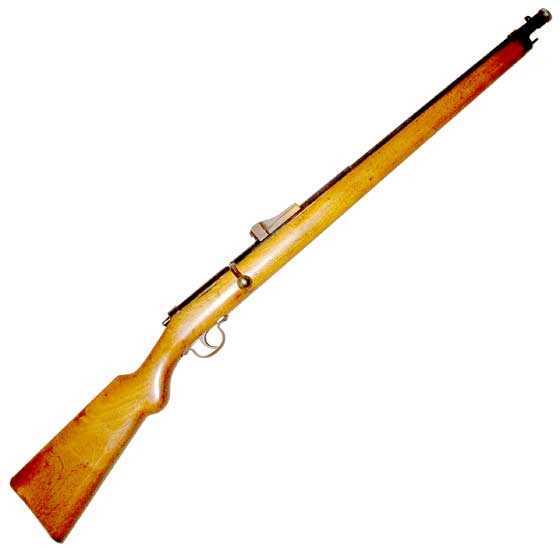 This military-looking BB gun is large and good-looking!
This report covers:
Daisy Premium Grade BBs
4.4mm lead balls
4.4mm copper-plated lead balls
H&N 4.45mm
No more steel BBs
Trigger pull
Cocking effort
Summary
Today we test the velocity of the Tell BB gun. There was a lot of interest in this strange old BB gun in Part 1. Let's get right to it.
Daisy Premium Grade BBs
First to be tested were Daisy Premium Grade BBs. They averaged 275 f.p.s., with a 21 f.p.s. spread from 266 to 287 f.p.s. However I noticed something very strange when testing them. Although my backstop was only 2 feet from the muzzle, BBs were hitting 3 inches apart. Several BBs went high and to the left after exiting the nuzzle. That led me to believe that smaller steel BBs might not be the right ammunition for this gun. Reader Brent suggested I try 4.4mm lead BBs. At 0.173-inches in diameter, as opposed to 0.171-0.172-inches for the Daisys, they should have fit better.
4.4mm lead balls
I tried some unplated 4.4mm lead balls. When I measured them they ranged in size from 4.33mm (0.1705-inches) to 4.4mm (0.1735-inches) in diameter. They are similar in size to Smart Shot. They also weigh 7.6-grains, on average, so they should also shoot slower. They averaged 241f.p.s. and the spread went from 228 to 259 f.p.s. — a difference of 29 f.p.s.
4.4mm copper-plated lead balls
Then I tried some copper-plated lead balls — also 4.4mm. They also ranged in size from 4.36mm (0.1716-inches) to 4.4mm (0.1735-inches) in diameter. They averged 236 f.p.s. with a spread from 226 to 259 f.p.s.
H&N 4.45mm
The last balls I tried were H&N precision round balls that measure 4.45mm When I checked a few I found they measured 4.4mm (0.1735-inches) to 4.44mm (0.175-inches). They weigh an average 8.3 grains, so they should be slowest of all, but the average velocity was 250 f.p.s. — much faster than I expected.The low was 238 and the high was 258 f.p.s., a difference of 20 f.p.s.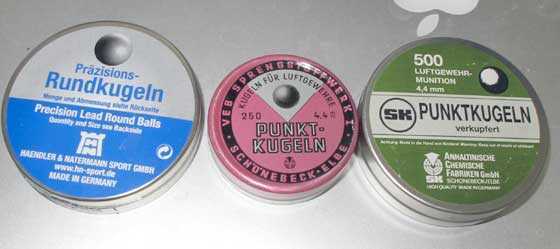 These are the balls that shot the best in the Tell gun.
These balls stuck in the bore almost every time about one inch in from the muzzle. But when I pushed them from the breech through to the muzzle with a .177 cleaning rod that was the only tight spot in the barrel. Given the higher-than-expected velocity and the smaller velocity spread I'm thinking these balls fit the bore better and may prove to be the most accurate. It will be interesting to see. I rammed each one down after loading it, though once it passed the rough spot it went in easy..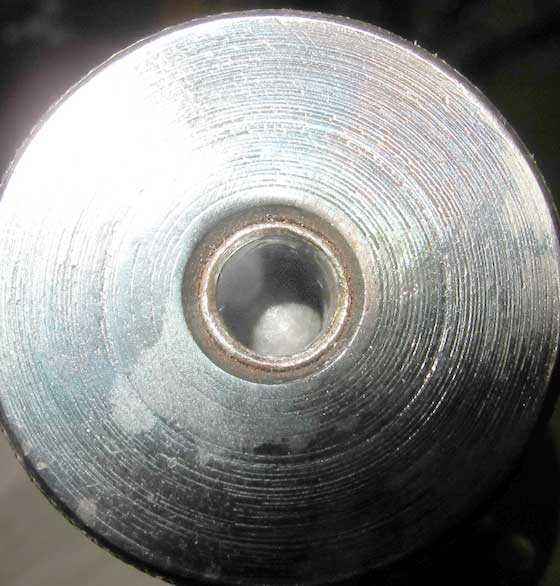 When dropped down the barrel the largest lead ball came to a stop about one inch from the muzzle.
That rough spot or constriction may have been what's throwing the steel BBs all around. I don't know, but I do know I will start shooting targets with steel BBs from 5 feet. I'm hoping the larger lead balls will be okay at 5 meters.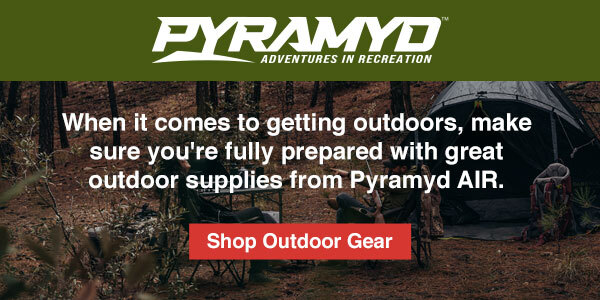 No more steel BBs
After shooting the larger lead balls I decided not to shoot the steel BBs anymore. Why bother? They are more erratic and I don't trust them.
Trigger pull
As robust as this gun is, I almost expected to see an adjustable trigger. But no, it's not adjustable. It's two-stage. Stage one is 1 lb. 10 oz. Stage 2 is crisp and breaks at 2 lbs. 4 oz.
Cocking effort
Remember me telling you that this is not a youth BB gun? Well, with a cocking effort of 60+ pounds you can bet that it isn't! That's correct — it takes 60+ pounds of force to close the bolt on this gun. At the end of the bolt travel where the resistance is greatest, the handle has to rotate down. The palm of my right hand is sore from it!
Summary
Now that I know something about this Tell BB gun I'm ready to see how accurate it is. I hope it's good!