by Tom Gaylord
Writing as B.B. Pelletier
This report covers:
Really want
Think as the world thinks
Do whatcha shouldn't
For sale in shop
Scruples
Something else
Winchester 427
Too much money!
Two hours later
Summary
I'm going to cover a topic today that I never thought I would write. You can read the title, and that's what it's really about — how to cheat when you really want something! As I am writing this I am doing the very thing that I'm telling you.
Really want
Yesterday reader Ridgerunner posted a link to Gun Broker. I followed it and saw a beautiful Diana model 75 recoilless target rifle. The seller was scrupulously honest and had chronographed the rifle for his listing.
I have wanted to test a Diana 75 for you for many years, and this one looked ideal. Furthermore, it was offered by the original owner who said he had bought the rifle from Beeman Precision Airguns in July of 1982. He has the original receipt, a copy of which which he sent me! He knew for a fact that only 2,330 pellets have been shot through it. Guys — when somebody says things like that and has things like that, he is one of us! This was a rifle I wanted. Let me show you the listing.
Offered is a Right-Handed Diana 75 side-cocking, recoilless, spring-piston air rifle that was designed and sold for use in Olympic 10 Meter air rifle competitions. I purchased this rifle new in July 1982; at that time, this model was being imported and sold by Beeman Precision Airguns as the Beeman 400. This rifle is apparently a transitional model as while I purchased it from Beeman, there are no Beeman markings on the rifle and it is clearly marked as a made in Germany Diana 75 (see photos).
By documented count, this rifle has only had 2330 pellets through it since new, nearly all in the period between 1982 and 1993. The rifle then sat in the safe for more than 23 years without being used. In December 2016, I sent the rifle to noted airgun tech David Slade at Airgunwerkes for service and seal replacement (see scanned invoice). When the rifle was returned to me in February 2017, I fired two pellets through it to check function. It was not fired again until today (11-1-2020) when I put 25 pellets through it to check function again. The rifle sounded slow so I set up a chronograph and it looks like it is only getting about 425 fps with an 8 grain match pellet (it got 600 fps when it was brand new). I don't know if that was the velocity it got immediately after seal replacement or whether having this rifle sit around without being used for 3 ½ years was not a good thing for the new seals. I had planned to start this auction at $700 but since the rifle is running slow, and another seal replacement could be necessary at some time in the future, I am lowering the starting bid to $500. Those of you that are into these old spring-piston guns know that seals are always an issue, especially in these complicated recoilless models.
Condition is as shown in the photos. The exterior finish is in excellent condition. There is some light soiling from normal use on the stippling of the pistol grip portion of the stock. The metal is in near perfect condition.
Mounted on the rifle are the original front and rear target sights. The front sight has interchageable inserts and all of the original inserts are included in the sale. The trigger is fully adjustable with the pull weight factory set at 150 grams (~5 oz); pull weight is adjustable from 100 to 400 grams (3.5 to 14 ounces). The trigger blade is adjustable for position and cant.
Included in the sale is everything that originally came with the rifle: all original papers and instructions including the factory test target, all tools, the front sight inserts and related tool, etc. (see photo). Also included is a loading tool (the item in the photo with the pocket clip), a .177 cal scoring aid, and some cleaning pellets.
So, we have for your consideration a very gently used Diana 75 competition air rifle, in excellent cosmetic condition, with a documented history, and offered by the original owner. The only negative is the slow velocity that may require seal replacement in the future (let your groups tell you when). This rifle would be a nice addition to a vintage air gun collection.
No FFL is required for this purchase but buyers must be 18 years of age or older if required in your jurisdiction; I will require a proof of age before shipping.
Shipping is $60.00, insured, to the lower 48 states. Actual cost to AK or HI. No international shipments. Shipment will be by UPS Ground. The rifle will be shipped in a new Plano hard case (see photo).
That was the listing I saw on Gun Broker, but the auction had 13 more days to run! What to do?
Think as the world thinks
In other words, wise up, be sharp (crafty, sly etc.). Fortunately I have been stymied several times recently in the online auction game by others who were smarter (craftier) than I. What did they do?
Do whatcha shouldn't
WARNING — Some of you are about to get very angry when I tell you this! I know I got angry when what I am about to tell you happened to me. It happened not once but at least three successive times. Three times when I was patiently awaiting the end of an auction, it suddenly closed without warning the day before — or longer. No excuse was ever given, because when an item is no longer listed, it's gone!
The first time it happened I suspected what had happened. The second time I was certain and the third time I figured this must be how online auctions are going these days, and I just didn't get the memo. Somebody offered the seller enough money privately and he simply took the offer and cancelled the auction.
For sale in shop
I know what you are thinking — that the auction items were also for sale in the seller's shop and somebody just walked in and bought them. Well, in a case like that what's supposed to happen is — IF there have been no bids on the item and IF the seller has listed that the item is also for sale in his shop, then someone could legally walk in off the street and buy it. But IF there are bids that's not supposed to happen. Only it did. To me. Three times! And none of those items were listed that way. So, I smelled a rat. It would be like telling an auctioneer that you will give him money on the side if he hammers an item you want (sells or ends the auction) when your bid is high. 
Is it unscrupulous? I think so. Is it illegal? I don't know enough about auctions to answer that question. There may be rules I don't know about that permit it to happen without the law being broken. All I know for sure is it does happen.
So, I did something I am not proud of. I contacted the seller with the following message.
Hello, My name is Tom Gaylord. I write the blog for Pyramyd AIR. I would really enjoy testing this air rifle for my blog. /blog/ Your starting price is very reasonable. And this gun has been resealed. The original seals all failed, so that is a big plus. I am offering you $750 plus $60 shipping right now. I pay by cashier's check and I will pay immediately. I know this sounds underhanded but I have had several airguns slip away before the ending date of the auction, so I assume others are doing it. Thank you, Tom
What will he do? He sounds like a very honest person and I think what he should do is either ignore my message or contact me and tell me what I have proposed is against the rules. Or he may confirm that what I have suggested is acceptable but I haven't offered enough money for the rifle. Or he may accept my offer, in which case I hope to have a very nice Diana 75 to test. I might even have to get it resealed, based on what he says in his listing. And guys — that listing is the kind of listing I like dealing with, because you know the seller is being honest. I would have shown you all the pictures, but there were too many. Just envision a like-new air rifle and you have the picture.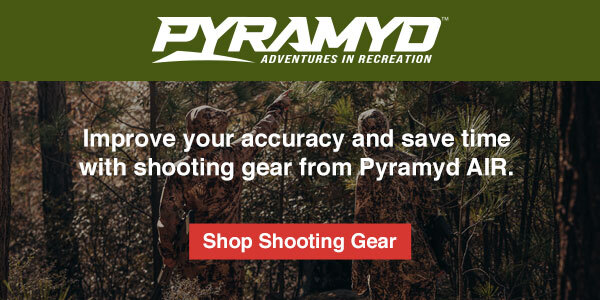 Scruples
Why am I telling you this? I'm telling you because some of you are doing what I'm doing — looking for nice old airguns in the online auctions. You are following what you believe to be the rules, but sometimes when those "deals of a lifetime" come along, odd things happen and the auction goes away before you have a chance to bid. I think I have discovered what happens when that occurs and I'm trying to do something about it.
Something else
Okay, let's change the subject. Every time I write about a Diana model 27 breakbarrel some of you get all gushy and say things you don't mean. Things like, "If only I had known!" Well, brace yourselves because today is the day that you know!
I have a link on eBay to a Winchester 427 which is a Diana 27 pellet rifle. Just type in Winchester .22 pellet rifle and you'll find it. The pictures are horrible, but I have told you what to do about that long ago. Let's look.
Winchester 427
Here is the first photo in the listing on eBay:


There is something that could be an airgun laying on some kind of background.


By just removing the heavy darkness and brightening things up we see a nice-looking Winchester 427.
And here is a photo of the writing on the rifle.


I wonder what that is? It seems to be a Winchester?
And after some Photoshop cleanup.


Not much more I could do with this picture except it shows something pretty well. It shows deep bluing!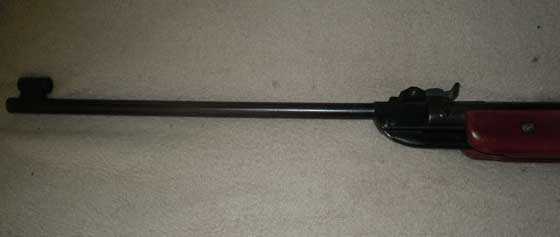 Okay, here is the barrel.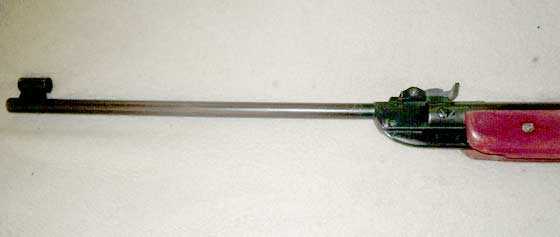 And this is what the barrel really looks like! See — it even has a front sight!
Too much money!
This is a Buy it Now sale, which means you just pay the price and it's yours. The seller wants $255 for the rifle and $35 for shipping. That's $290 to your door. Is that too much money? Yes — if you are one of the tire-kickers who will end up buying three Chinese breakbarrels over the period of two years to soothe yourself for not getting this one. No — if you are someone who genuinely wants a nice Diana 27. This is a Winchester 427, so it's on the premium side of Diana 27s. Not like my Hy Score 807 that's on the low side.
Have I ever seen these rifles cheaper? Of course. Is this one working perfectly? The only way to know that is to shoot it through your chronograph. Oh, wait — you don't own a chronograph? Well, think about one.
Two hours later
In the two hours that I was writing this blog I was waiting to hear from the seller of the Diana 75/Beeman 400. Here is his reply:
Hello Tom,
I have never stopped a GunBroker auction before but made an exception this time as I know the rifle is going to a knowledgeable airgunner. I was concerned that someone not familiar with air guns would purchase it and then complain that it didn't get 1000 fps with a hunting pellet. Also, as an author myself ( https://www.fnbrowning.com/book-fn49-last-elegant-military-rif ), you get bonus points for your work on the blog.
So, I have cancelled the auction and accept your offer of $750 + $60 shipping = $810. You can send the funds to:
his address
In addition to the material shown in the auction photos, I will also send you a copy of the original receipt, and some chronograph data from 1983 that may be of interest when you are writing up the gun.
Thanks for making the offer and I am VERY glad that the rifle is going to a good home.
Regards,
Wayne
Summary
What I told you today is the truth. It happened yesterday and some of you got to watch it. This approach does work and yes, the fact that it does makes me a little skittish. But you can see what I offered him, which I think is a fair offer. In scripture we are told to be wise like the world and that's what I think I have done today.
Did I get the rifle for the absolute lowest price possible? Nope. I wanted Wayne to feel he got a fair shake, too. As I have said in the past, if saving money is all you're after cut a coin slot in the top of your head.
By the way, I think my business is going to purchase Wayne's book, too. I'm not doing it today because I don't want to pressure him any more than I already have. But that book looks really interesting and I want it in my gun library.