by Tom Gaylord
Writing as B.B. Pelletier

Umarex ReadyAir portable compressor
This report covers:
The price
What about eBay compressors?
What is the ReadyAir?
Set but don't forget
The noise
The connectors
The test
Maintenance
Summary
Today I start looking at the Umarex ReadyAir portable air compressor. When Umarex sent me their press release on the second of December, I asked specifically to be able to review a media sample. I did that for one simple reason — the price.
The price
Yes, it was the price that attracted me to the ReadyAir. At the SHOT Show last January they hoped it would retail for $500, which is a killer price. It's gone up a little since then, but not that much. It's now retailing at $550, but I see that Pyramyd Air has already deflated that a bit.
Why am I so impressed by the price? Because if Umarex stands behind this compressor it should work as advertised. And today I'm going to tell you some nice things about the scheduled maintenance Umarex recommends that supports that notion.
Price has been a deterrent to a great many people who want to get into precharged airguns. They are stopped by the apparent lack of an affordable high-pressure air supply. The air rifles themselves have decreased in price over the past 15 years until now you can buy a rifle with a lot of desirable features for under $300 — the price-point PCP (PPP)! But, other than a high-pressure hand pump, there has not been a good way to get air into those rifles for less than an outlay of twice what the rifle costs.
Not everyone is willing or able to use a high-pressure hand pump. That's what make an affordable small compressor so desirable.
What about eBay compressors?
Yes, there are cheaper high-pressure air compressors. You'll find several on eBay for prices that seem impossibly cheap. Are they any good? I really don't know because I haven't tested any of them. Reader GunFun1 has had one or two and sometimes talks about them, and that is the limit of my exposure. People believe that if something sells for very cheap, the seller is forgoing all the expenses of a storefront, advertising and such. That's true but it also means they can pull up their tent stakes at any time and leave you holding the now-expensive and non-functional bag.
The ReadyAir, in contrast, is backed by Umarex USA as well as by Pyramyd Air, which means that parts and service should be available for a long time. Of course the ReadyAir is also made in China — as are most of the affordable air compressors for airguns these days. But when a company that has a reputation to protect gets into something like air compressors, they make certain there aren't going to be any quality issues up front. And when there are, because stuff always happens, they are right there to resolve it with you! That and maintaining a strong support chain adds cost to the unit.
There are seals in a high-pressure compressor that the Chinese can put in but up to this point I don't believe they have. Even Crosman and AirForce Airguns, who both developed small compressors, ran into this problem. A compressor is something you simply cannot beat down to a price and expect it to hold up.
What is the ReadyAir?
The ReadyAir is a portable high-pressure air compressor for filling airguns. It fills to pressures up to 4,500 psi, which makes it ideal for many PCPs that have come to the market with fill pressures above 3,000 psi
The ReadyAir is made to fill airguns — not larger air tanks. However, Umarex does give the times it takes to fill a 13 cubic-inch tank, such as found on the Gauntlet (0-3,000 psi in 7 minutes), a 17 cubic-inch tank like the one on the AirSaber (0-3,625 psi in 11 minutes) and a 32 cubic-inch tank like you find on the Umarex Hammer (0-4,500 psi in 27 minutes).
The ReadyAir is portable. It weighs 26.5 lbs. without the cables and hoses. A handle on top makes it easy to carry. It is an oilless compressor, which means the required maintenance is low, but heat is something to watch out for. So the compressor shuts off if the operating temperature is exceeded. It also has a 40-amp fuse to protect the internal circuitry.
The ReadyAir operates on either 110V household current or 12V car current. The company advises you to leave the car running when you fill that way. The compressor is air-cooled, so there is no water to worry about. Louvers on all sides of the case allow for air circulation and Umarex advises to run the compressor in the shade if you're outdoors. And leave some space around the unit if you're running it indoors.
Set but don't forget
The ReadyAir has a single control panel that shows and runs everything. It can be set to show English or Spanish. The temperature display can be set to Fahrenheit or Celsius. And the air pressure can be shown in psi or bar. You can set the air pressure at which the pump stops pumping, which would normally be the max. fill pressure of the gun you're filling. You can set the temperature at which the pump will cut off, which can be set as high as 160 degrees F, and no higher. At 87 degrees F the internal fan will start and it will run until the temperature drops below 87 degrees F. So when you finish filling a gun you can bleed the line and disconnect the gun but leave the fan running — i.e. don't unplug the pump until the fan stops. If the ambient temperature is above 87 degrees, allow at least 15 minutes of cooling before you pull the plug.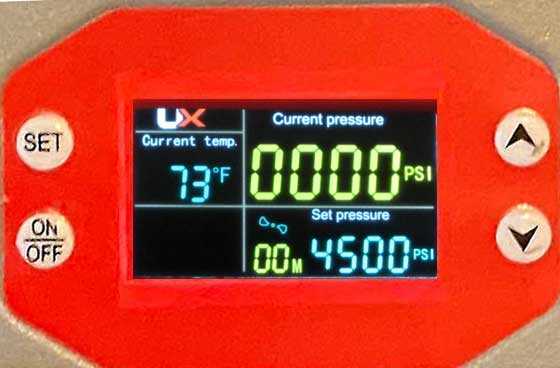 The display with the compressor under no load.
Umarex says to stay by the compressor while it runs. That is, don't set it and walk away. Since it is only filling airguns that shouldn't take too much time, because we don't shoot them down to empty. So, the times listed above will be less in the real world.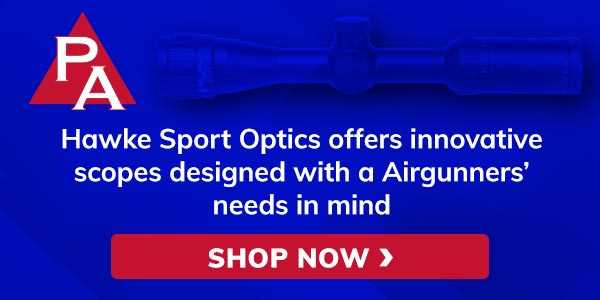 The noise
The ReadyAir is not as quiet as other small compressors I have tested. But it's quieter than a full-sized compressor that will fill a large tank. Under no load it registered 86.3 decibels on my sound meter. That's too loud to have in the same room if you expect to converse, so I think the garage or utility room is the place to run it.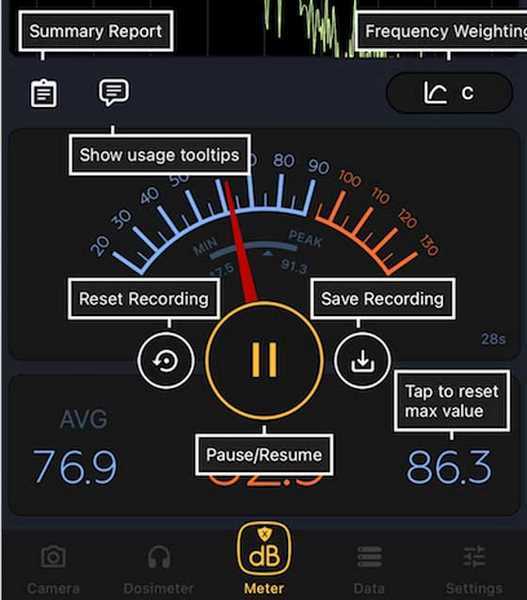 The microphone was held 3 feet from the compressor for this reading (left number, only).
The connectors
The compressor comes with both a 110 volt house current cord and 12-volt cables for a car. There is also an air hose that terminates in a female Foster fitting.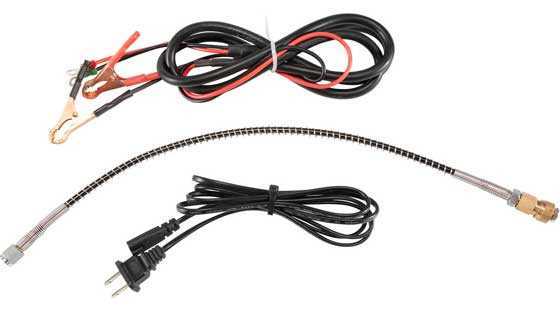 All the cords, cables and hoses you need come with the compressor.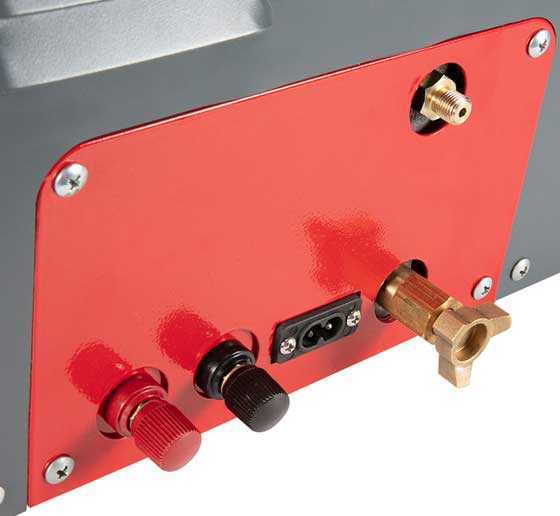 All the connection ports and terminals are in the same place on the compressor.
The test
I will test the compressor both indoors and outside. I will time it filling an airgun of known size. But that's as far as I can take it.
If you want to know how long it will hold up under such-and-such an ap-plication, I can't tell you. For that you will have to watch the comments as they come in. And longevity is the true test of these smaller compressors.
Maintenance
The compressor comes with a replacement 40-amp fuse and it is recommended that you keep several around to use when required.
Every 20 hours of use it is recommended that you replace the high-pressure piston rings and seals. Umarex provides an excellent 22-minute video that shows how to do this. I recommend to everyone considering buying one of these ReadyAir compressors to watch the full video, because it shows you an in-depth look at what keeps the compressor operational.
It takes a long time to put 20 hours on this compressor. Remember, this compressor fills a typical air rifle in a few minutes. Many shooters will use it for a year or more before the first rebuild is required. The compressor comes with all parts necessary for one rebuild.
Every 20 hours it is also recommended that you replace the compressed activated charcoal filter. That is held in by one Allen bolt and is spring-loaded for easy removal. A replacement filter comes with the unit. This is covered in the manual.
Summary
The ReadyAir is the lowest-cost high-pressure air compressor on the US market that has factory support. Will it change the face of airgunning in this country? Probably not. But with the push the PPP gave in 2017, this is another big shove in the right direction!