by Tom Gaylord
Writing as B.B. Pelletier


Benjamin's new Semiauto Marauder repeating PCP.
This report covers:
What is it, again?
JSB Exact Jumbo — huge learning curve!
Wait a minute!
String two
Beeman Kodiak
JSB Exact Jumbo RS
Sound level
Shot count
More power?
The trigger
Summary
Today we start testing the velocity of the new .22-caliber Benjamin Semi-Automatic PCP air rifle (SAM). Your comments to Part 1 were thoughtful and enlightened. I was hoping you readers would understand that this rifle is no more a Marauder than a NASCAR racer is a stock car. And you did!
What is it, again?
The SAM is a semiautomatic air rifle. It looks something like a Marauder, and Crosman has chosen to brand it that way, but this rifle is quite different from what we have all come to know as the Marauder. Some of that will come out today. Let's get started.
Crosman said they sent this rifle out tuned to around 22 foot-pounds, which they say is around 900 f.p.s., but of course that depends on the pellet. It's also going to vary a little from rifle to rifle, but since the hammer spring can be adjusted, we can tune it higher.
JSB Exact Jumbo — huge learning curve!
Okay — sometimes BB Pelletier is just as confused as anyone, and this was such a time. The first pellet I tested was the 15.89-grain JSB Exact Jumbo. Let me show you the first shot string.
Shot…………Vel.
1…………….802
2…………….528
3…………….529
4…………….556
5…………….536
6…………….791
… and the magazine was empty! HUH? How did I shoot 10 pellets in 6 shots? Unless…
Wow! The SAM is double-feeding with most shots! I gotta tell my readers about that! Unless…
Wait a minute!
Oh, THAT is what semiautomatic means! I don't have to pull the bolt back, cock the hammer and reload for the next shot. But I did! I treated the SAM like it is a bolt-action repeater. Crosman, copy that explanation and show it to whoever said the Vigilante is a semiautomatic revolver.
Yes folks, old BB was bamboozled by this plumbum launcher! He forgot it was semiautomatic! Never mind what the title of this report is — old BB plumb forgot.
Okay, erase, erase. BB gets a do-over. This time he'll make it work.
String two
Same pellet only now BB knows what semiautomatic means. Let's see.
Shot…………Vel.
1…………….802
2…………….804
3…………….806
4…………….802
5…………….806
6…………….802
7…………….805
8…………….802
9…………….806
10..………….800
So — better numbers, no? The average for this string was 804 f.p.s. At that speed this 15.89-grain pellet generates 22.81 foot-pounds of energy. The velocity spread was a mere 6 f.p.s., which can be attributed to the regulator. So far, so good.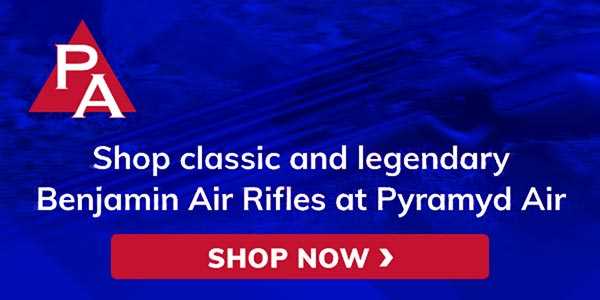 Beeman Kodiak
The next pellet I tested was the obsolete Beeman Kodiak dome, which is an H&N Baracuda by another name. This pellet weighs the same 21.14-grains as the Baracuda and should be the most powerful one I test in the SAM because it's the heaviest.
The first shot was 537 f.p.s., which I thought was slow. Shot two went out at 688 f.p.s., which was more like it. The last 9 pellets averaged 684.11 f.p.s. At that velocity this pellet generates 21.97 foot-pounds. So the way the rifle is currently set up, the JSB Exact Jumbo is the most efficient. And the real spread for those last 9 shots was just 9 f.p.s.
But what about that first shot? What happened there? I have to know because this cannot be a hunting rifle with that kind of thing happening!
JSB Exact Jumbo RS
The last pellet I shot was the JSB Exact Jumbo RS — a 13.43-grain dome. Ten of them averaged 865 f.p.s. and old BB learned what he did wrong on the first shot of the previous string. He didn't push the forward assist after inserting the magazine. The manual tells you to do that for a very good reason.
Pushing the forward assist ensures that the bolt probe is all the way forward. When the rifle fires, the inertia of the bolt as it cycles carries it forward all the way, but when you load a new magazine, the bolt probe may not push the pellet far enough into the breech and the velocity will drop. I will prove this in a little bit.
The low for this string was 862 and the high was 867 f.p.s. — a difference of just 5 f.p.s. At the average velocity this pellet generated 22.32 foot-pounds of energy.
Sound level
The SAM is pretty quiet. It registered an 84.3 on my sound meter.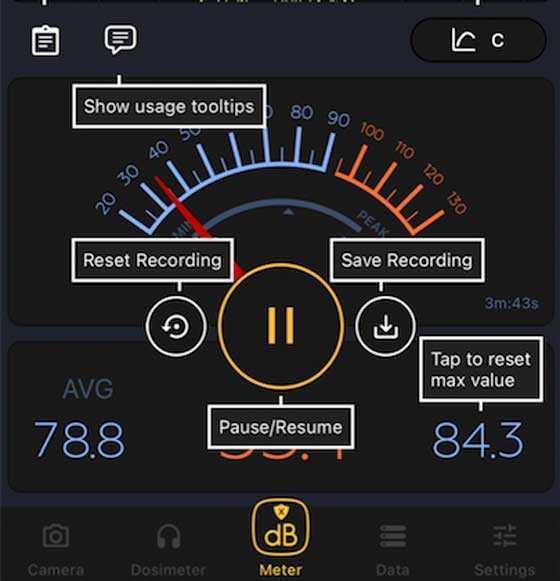 The SAM registered a quiet 84.3 decibels on the sound meter.
Shot count
To this point I have fired 36 pellets on the fill. Now I shot 20 blank shots to avoid wasting all my expensive pellets. That brings us up to 56 shots fired since the fill. The onboard gauge reads about 2,300 psi remaining, and well more than half of the green scale on the pump dial remains. In other words, the rifle is still on the power band. Then I shot another string of JSB RS pellets because I have more of them than the other two types. Let's see what I got.
Ten RS pellets averaged 864 f.p.s. on this string. That's just one f.p.s. different than the string 20 shots ago. But this time the high was 873 and the low was 857 f.p.s., so the spread has opened to 16 f.p.s. And that's 66 shots on the fill.
The next string, which was shots 67 through 76 is shown below.
Shot.…………Vel.
67…………….853
68…………….855
69…………….853
70…………….853
71…………….855
72…………….848
73…………….851
74…………….854
75…………….849
76…………….852
Looking at this string it seems like the rifle is nearing the end of its useful pressure, but even then, at an average 852 f.p.s., the velocity may have fallen (from 864/865 for the RS pellet) but the total variance, low to high, is only 6 f.p.s. The rifle is not off the reg, but it has settled down to a slower average. I think you could still shoot at this average and be fine out to 50 yards, because the difference between this string and the first one is still not that much. That's at least 76 shots on a fill, when the SAM puts out 22 foot-pounds.
Let's look at the next string of JSB RS pellets.
Shot.…………Vel.
77…………….593 (I forgot to use the forward assist!)
78…………….850
79…………….839
80…………….841
81…………….831
82…………….828
83…………….840
84…………….833
85…………….828
86…………….830
Here is where we might argue. The SAM is still shooting pretty well, but I think we would have to scale it back to 35 yards. Discounting that first shot for a moment, there is a 22 f.p.s. variation in velocity and the rifle is definitely slowing down. You could still shoot it and do okay, but maybe not on those farthest targets. Let's add 4 more shots and say the SAM has about 90 shots for 25-35 yard plinking and at least 60 good consistent shots for long-range hunting, when the hammer spring is set as it came from the factory.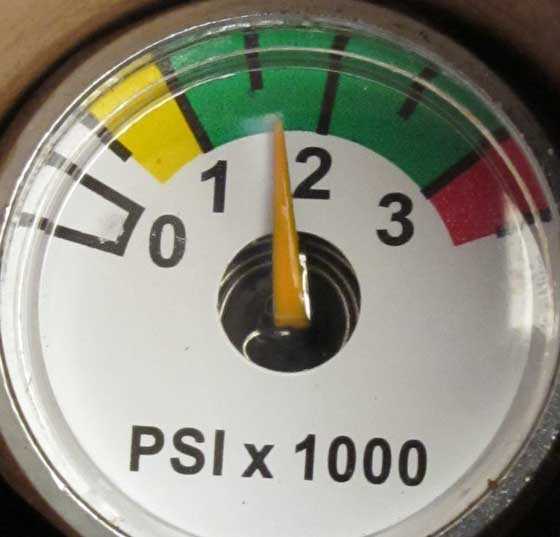 After 86 shots on one 3,000 psi fill, this is where the SAM pressure gauge reads.
Secondly, I forgot to use that forward assist after inserting the magazine and there is the velocity drop again. So that's what it is and don't let anyone tell you different. The magazine has functioned perfectly in this test.
More power?
Yes, there is more power available and I will adjust the rifle to get it for you. But not today. We're already doing too many things in this report.
The trigger
Here is something else I'm not going to change. I like this trigger — for this rifle! It has a long, smooth second-stage pull that I can work with. But I'll show you what it looks like inside.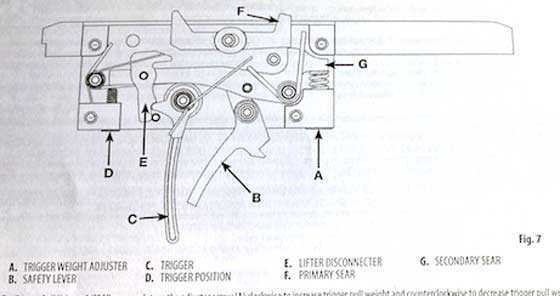 The SAM trigger parts, as shown in the manual.
Trigger pull
The two stage trigger has a 5.7-ounce first stage, followed by a long second stage that breaks at 2 lbs. 5 ounces. It's not what I'm familiar with, but I like it.
And I am going to recommend that you always store the rifle with the safety on. Remember — this rifle is a real semiautomatic. As long as there is air in the reservoir, it will fire when the trigger is pulled.
Summary
By golly, we got through it. But next time we're going to adjust the power up and do it all over again. I hope I can remember to push that forward assist!