by Tom Gaylord
Writing as B.B. Pelletier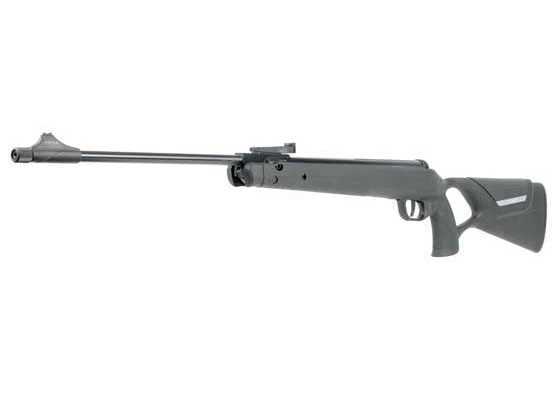 Diana 34 EMS with synthetic stock.
This report covers:
The test
RWS Hobby
Norma Golden Trophy
JSB Exact Heavy
The trigger
Firing behavior
RWS Superdome
Impressions so far
Today we begin looking at the accuracy of the new Diana 34 Easy Modular System (EMS). It's a breakbarrel with a conventional coil-wound steel mainspring that will, at some time in the future, be convertible to the N-TEC gas piston system. It will also be able to exchange the barrel at some point in the future, which means the user can change calibers.
We have already seen that this rifle has some power without being ridiculous. The trigger is light and vague, and today we will find out how that affects things downrange.
The test
I decided to just get used to the rifle today by shooting at 10 meters and using the open sights. I got rid of the fiberoptic rear sight and replaced it with the black notch Diana included with the rifle. The target was lit brightly, which canceled out the fiberoptic front bead, allowing me to aim precisely at each bull. The front sight post is rounded, but I was able to balance the black bull on the rounded center of the post.
I shot 10-shot groups off a rest, using the artillery hold. The rifle was held as lightly as possible, but the thumbhole stock makes it hard to use a true artillery hold. Still when you see the results I think you'll see I did okay.
RWS Hobby
Because this is a Diana rifle, I figured RWS pellets would be good. I started with 7-grain Hobby wadcutters. Sight-in took 4 shots and then I moved to a clean bull for the first group. Ten pellets went into a scattered group measuring 1.019-inches between the centers of the two widest shots. That rules out Hobbys for this rifle.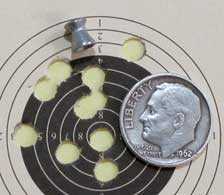 The Diana 34 EMS put ten RWS Hobbys into a 1.019-inch group at 10 meters.
Norma Golden Trophy
Next I tried ten Norma Golden Trophy domes. They gave me a second scattered group that measures 1.54-inches between centers. One pellet that hit below and to the left of the main group was not a called pull.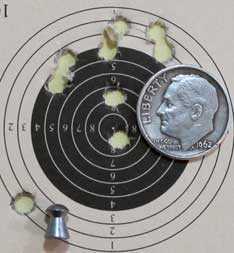 Ten Norma Golden Trophy domes went into 1.54-inches at 10 meters. The pellet that's low and left was not a called pull.
JSB Exact Heavy
The next pellet to be tested was the 10.34-grain JSB Exact Heavy dome. People have reported doing well with this pellet in the EMS.
Ten made a tight 0.392-inch group at 10 meters. Now, we are talking! This is the sort of performance I expected from a Diana 34.
0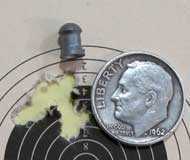 Ten JSB Exact Heavys went into 0.392-inches at 10 meters. The Diana 34 EMS can shoot!
The trigger
By this point in the test I had fired 34 rounds and had gotten accustomed to the trigger. Although it is a two-stage unit and although I can feel when stage two begins, it acts much more like a single stage trigger. It moves smoothly through stage two and releases at an unknown point that I was able to get used to. There is no creep in the trigger — just a smooth travel of the blade through stage two. If you like a single stage trigger you will love this one!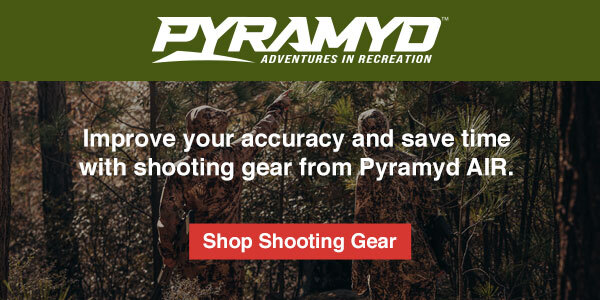 Firing behavior
The firing cycle is quick and solid. I don't see how a gas piston could do any better. Maybe because the piston would be lighter there would be less of an impulse at firing, but that's about it.
Now I know for certain what the Diana 34 EMS reminds me of. It reminds me of a Diana 34 that has been tuned with a Vortek PG3 HO kit. I have tuned a number of different rifles with that kit and this EMS shoots exactly like one of them. The action is quick and there is no residual vibration. Diana, you did an excellent job in designing this one!
RWS Superdome
The last pellet I tried in the Diana 34 EMS was the RWS Superdome. Just before shooting these I dialed the rear sight down several clicks. Ten Superdomes went into 0.562-inches at 10 meters. I now know two pellets I will try when I scope this rifle!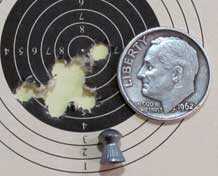 The Diana 34 EMS put 10 RWS Superdomes into a 0.562-inch group at ten meters.
Impressions so far
Diana did this one right. It's accurate, powerful and free from vibration. The trigger acts like a smooth, light single stage. The open sights adjust well. I'm looking forward to trying the rifle with a scope.