by Tom Gaylord
Writing as B.B. Pelletier
This report covers:
NightStalker
Velocity?
Why did "they" drop it?
They built it before
What about the Crosman 600?
Would a new Crosman 600 sell today?
Summary
Today started out as one thing and quickly transitioned into another. I wanted to write a Part 5 to the Daisy 35 report. It was time for a test with BBs. But last week I shipped all the airguns I've tested for the past several years back to Pyramyd AIR and unfortunately the Daisy 35 was among them. I'm sorry, but it was a busy week and that one slipped past me.
So then I wanted to run the test of bedding the IZH MP532. I shot a "before" group using my old glasses, but then I discovered that the bedding that needs to be corrected is not as straightforward as it seemed. I want to do that work under the watchful eye of my neighbor, Denny. We conferred this morning but the work will have to be done later.
NightStalker
While searching for the Daisy 35 my eyes fell on a Crosman NightStalker that is standing in the corner of my closet.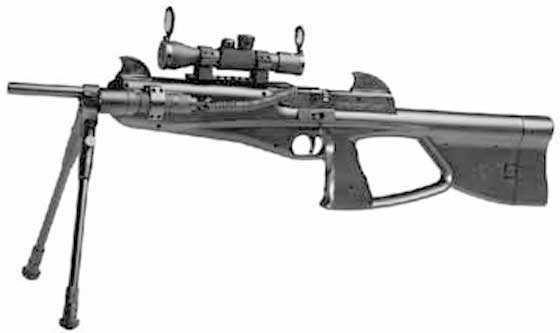 Crosman NightStalker.
The NightStalker is a 12-shot semiautomatic carbine-sized pellet rifle that uses an 88-gram AirSource CO2 cartridge. It was launched in November of 2005 and lasted through 2007, so not that long. The cartridge fits in the butt and gives the all-synthetic gun some weight.
Velocity?
I don't have velocity numbers for you but I think it would be in the same range as the Crosman 1077, which is to say somewhere in the mid 500s with 7.9-grain Premier domes.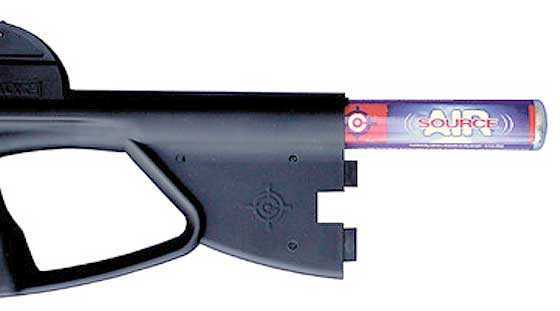 An 88-gram CO2 cartridge fits inside the butt and gives over 300 shots at maybe something in the mid 500 f.p.s. range.
The gun has real blowback that does cock the hammer on every shot, but Crosman elected not to allow the clip to advance to the next chamber. So, unlike the Crosman 600 that has an incredibly light trigger pull, the pull on the NightStalker is heavier and the blade moves through some distance as the clip rotates. The trigger breaks at about 7 pounds on my gun.
But this is a 12-shot semiautomatic! And surely something could be done to lighten the trigger by half. At least that would be my vote.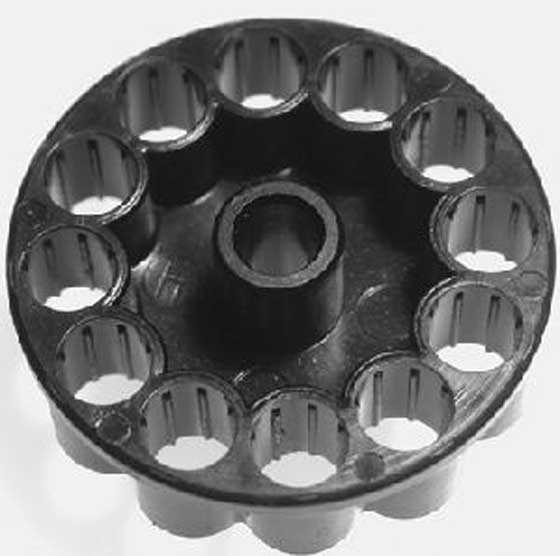 The NighStalker used this 12-shot circular clip.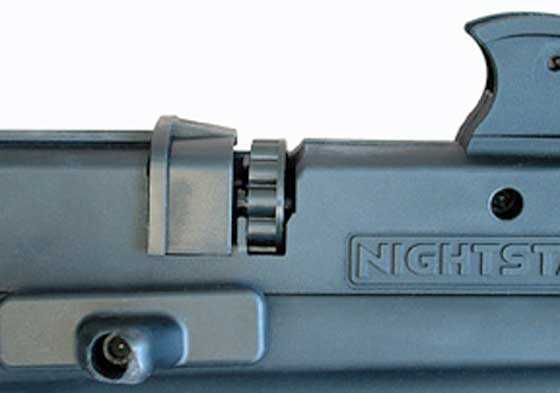 The NightStalker clip slips into the receiver and then the trigger advances it one chamber at a time.
Immediately I thought of contacting Ed Schultz to tell him that Crosman ought to bring back the NightStalker. Well, they may (and I am not saying that I know they will) but, and this is a really big but, if they were to bring it back it would be like creating an all new airgun.
Why did "they" drop it?
Why does any company stop production of anything? Well, the answer isn't always as simple and straightforward as you might think. You might think that the sales were not high enough, and that might be the case, but not high enough for what? What if Crosman placed the NightStalker under the management of someone responsible for sales of guns to large discount stores — maybe the same person who was also responsible for the 760? Well, the 760 probably sold for $29 at that time and the NightStalker was priced at $200. You can't sell as many airguns for $200 as you can for $29, and the manager would have noticed that right away.
Also the NightStalker is a semiautomatic, where the 760 is a multi-pump, so the level of complexity for the semiauto is much higher than for the single shot. It's so much higher that, regardless of the price, it may be too complex for a typical discount store buyer.
I am not saying this is what happened and that it was the reason Crosman dropped the NightStalker. Maybe someone who was the NightStalker's champion left the company and his replacement didn't care for it. Or perhaps some of the folks who were old-timers in the company wanted it gone.
It could have been any of those reasons or others we don't know about. Whatever the reason, the NightStalker was dropped from the line just two years after it was launched. But Crosman built the gun. Surely they could do it again if they wanted to?
They built it before
Why wouldn't it be easy for Crosman to build the NightStalker today? They were still making it as recently as 2007. Why couldn't they just build it again? Well, let's see — why can't Ford build the Model A again? Not that they would want to, but Ford is in no position to build the Model A in 2021. They don't have the tooling, the metal or any of the parts they need. Maybe if they wanted to they could fabricate a good copy, but it would just be a one-off. They couldn't produce Model As, even if they wanted to.
I chose the Model A to illustrate the difficulty of the problem. It's so old and obsolete that it's easy to see why it couldn't be manufactured today. If I chose a car that was closer to a model of today people might think it would be easier for Ford, and in some respects it would be. Materials for a near-term obsolete car would be easier to come by than the metal for a Model A. But the tooling and machine settings would have to be redone from scratch, just like they were back in the day.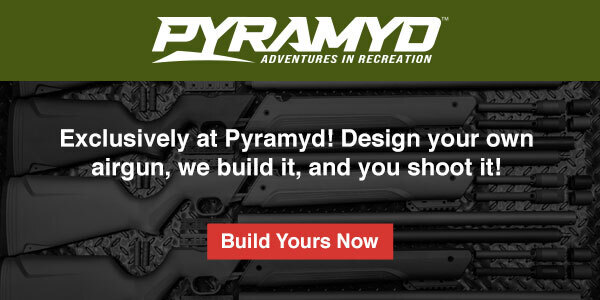 What about the Crosman 600?
Why am I going on about the NightStalker? I am because it was a real semiautomatic pellet gun — just like the older Crosman 600 that many airgunners love.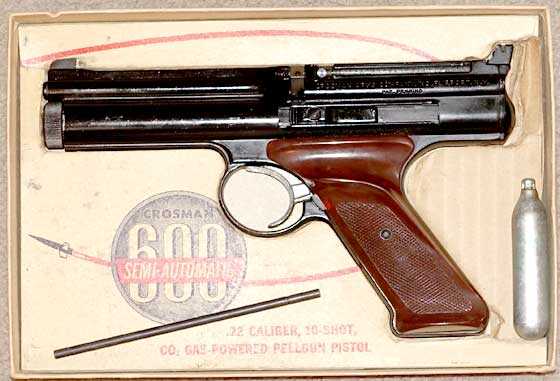 Crosman 600.
The Crosman 600 is a .22-caliber 10-shot semiautomatic air pistol that feeds from a linear magazine located on the left side of the receiver. Because of how it fed it was a little pellet picky, but it still functioned with a lot of domed pellets and even some wadcutters. The trigger was superb, releasing at less than one pound with reasonable crispness.
The 600 is such a good pellet pistol that they sell for high prices today. Anyone who has shot one wants to own one. But could Crosman make a 600 today? They could if they were willing to reverse engineer it and start from scratch, but it is not a matter of dusting off the blueprints. It would be a ground-up design. And the generations of machines used to make airguns have changed twice in the time since the 600 left the range.
Would a new Crosman 600 sell today?
Forget the 1965 price tag. How about somewhere around $250 today? The same guys who complained about them when they were $19.95 (and I was one who did) would complain about them today.
And what about that light trigger? It certainly isn't going to pass legal muster today. So, as much as I would like to see the Crosman 600 come back, I don't expect to ever see one new again. The model name might be recycled, but the design — never.
Even the NightStalker would challenge Crosman today, though it would be less of a problem than the 600. Some of the machines that made a NightStalker have gone away, too, and remaking it would present a new set of challenges. So I won't be calling Ed Schultz with a, "What you outta do." message anytime soon.
But a true semiautomatic airgun that is accurate and has a good trigger would sell, if the price was reasonable. Crosman calls the 1077 a semiauto, but shooters know different. My advice to the company would be to do it right if you plan to do it at all. Give us true semiauto feeding, a good trigger and accuracy. Don't let the lawyers talk you into compromising in any of those three areas. The price can be a place to fudge if you have to, but give us the rest of it or forget the whole deal.
One last note. It appears that Sig is about to end production of the ASP20 rifle, if they haven't already. Six months after that they wouldn't be able to restart the line without a significant investment of time and money. So love 'em while they last. And with some companies like Weihrauch and AirForce, that can be a very long time.
Summary
We sometimes think that if a company manufactures airguns they can make anything. But AirForce can't make a 1077 without breaking their manufacturing model, and Crosman would turn themselves inside-out to produce a TalonSS. The iconic airguns of the past are just as hard for the companies to make as they are for other companies who don't compete in the same market.
Why do I tell you all of this? Well, I'm really telling myself, because when I saw that NightStalker in my closet I was about to call Ed.