by Tom Gaylord
Writing as B.B. Pelletier
This report covers:
Dot sight?
The test
Accurate with JSB Exact Heavys
Adjusted the rear sight
H&N Baracuda Magnum
H&N Sniper Magnum
Adjusted sights
10 shots
Summary
It's been a while since we have looked at the Benjamin 397 Variable Pump Air Rifle. This is a multi-pump .177-caliber air rifle that was advertised as getting 1,100 f.p.s. It can be pumped up to 10 times and we learned that the test rifle was good for 773 f.p.s. when shooting RWS Hobby pellets. A thousand f.p.s. takes trick pellets that nobody uses.
It's not a quiet airgun, because from two to 10 pumps of air it produces 105 dB pretty consistently. So it's not friendly for small suburban backyards. But it is a shooter!
Dot sight?
I intended to shoot the rifle with a dot sight or a scope, but there was a question about whether the scope base that attaches to the two holes that are drilled and tapped into the receiver will work with scope bases that are for older 397s, or even with peep sights that I have for my older Benjamin multi-pumps. I tried them both and discovered they won't fit. The holes are in the wrong place.
The Air Venturi intermount is a sight base that fits this receiver, if it is 0.540 to 0.565-inches in diameter. The test rifle receiver measures 0.567-inches in diameter and I'm going to order one of these bases to see if it fits.
The test
I shot today from 25 yards off a sandbag rest with the rifle rested directly on the bag. Obviously I used the open sights that came on the rifle. I used a 6 o-clock hold on a 10-meter pistol target, which is perfect for this distance when you use open sights. I shot 5-shot groups because of the pumping, but I did shoot one 10-shot group at the end with what I felt was the best pellet. I pumped six times per shot.
Accurate with JSB Exact Heavys
At 10 meters we discovered the 397 is very accurate with JSB Exact Heavy pellets. So they were the pellets I started with today without adjusting the rear sight. Five pellets went into 0.689-inches at 25 yards. It was high on the bull and to the left.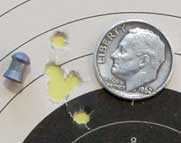 Five JSB Exact Heavy pellets went into 0.689-inches at 25 yards.
Wow! That is a good group for me with post-and-notch open sights at 25 yards! I lost my glasses on Saturday and I had to use reading glasses to see the front sight, but the bull at 25 yards was very blurry. I normally wear my regular glasses for 25 yards. Let's try a different pellet.
The test at 10 meters showed this rifle likes heavier pellets and also prefers pure lead pellets to harder ones like Premiers. So today I'm exploring the heavier pellets
Adjusted the rear sight
Since the first group was high and left, I adjusted the rear sight. The next pellet was 60 percent heavier than the first one so I left the elevation where it was, but I adjusted the windage to the right a little. The manual does not tell how to adjust windage, but what you do to go right is loosen the left screw a little then tighten the right one.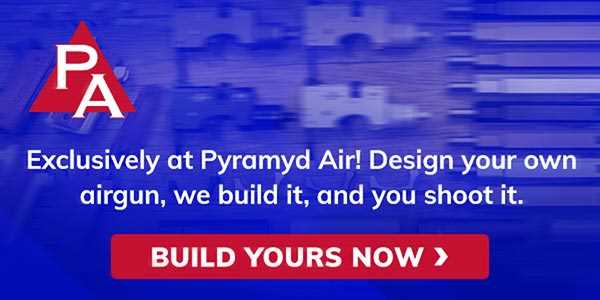 H&N Baracuda Magnum
Next up was the 16.36-grain H&N Baracuda Magnum. This pellet is extremely heavy in .177 and I don't see it for sale on the website anymore. Six of them went into 3.7-inches at 25 yards. I guess I lost count! But this is obviously not the right pellet for this air rifle.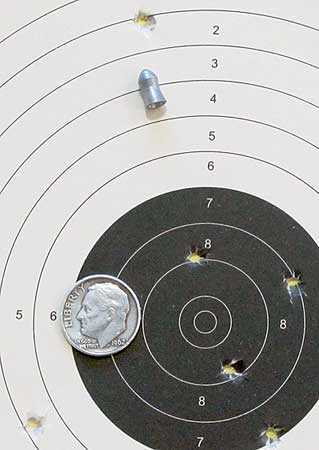 I don't need a dime for this group, I need a manhole cover! Six Baracuda Magnums made a 3.7-inch group at 25 yards. Not the pellet for this 397!
H&N Sniper Magnum
The last pellet I tested was the .177-caliber H&N Sniper Magnum. This one weighs 15 grains in .177 and I no longer see it on the website, either. The 397 liked them, though, and put five into 0.709-inches at 25 yards.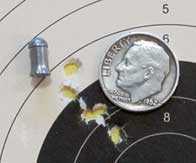 Five H&N Sniper Magnum pellets made this 0.709-inch group at 25 yards.
Adjusted sights
It was time to take the best pellet and shoot a group of 10. I adjusted the rear sight more to the right and down. Then I set out 10 JSB Exact Heavy pellets.
10 shots
I hate to make excuses but on this group I was having a hard time seeing the sights and the sight picture. And my target shows it. Ten shots went into 1.241-inches at 25 yards. The group is completely open and I think it's obvious it was me and not the rifle. My eyes just couldn't keep up. I want to try this again when I have regular glasses and am fresh.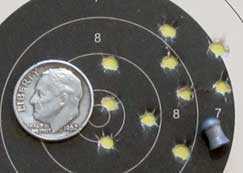 Ten JSB Exact Heavy pellets went into this scattered 1.241-inch group at 25 yards.
Well, I may have lost it but at least we know the rear sight adjustments work as they should.
Summary
This new Benjamin 397 is a wonderful follow-on for the line that began back in the 1940s. It has a longer pump stroke that's more efficient, though 1,100 f.p.s. is a pipe dream unless you shoot only trick pellets — and nobody who wants to hit the target does that!
The synthetic stock is not right for use with open sights, and to my mind this rifle is made for open sights. Also, changing the hole pattern for the peep sight wasn't such a good thing, either. Now I have to abandon the handful of sights and bases I have for these rifles and get something new.
I plan to test the rifle with a dot sight and perhaps with a scope if I can get it mounted securely. And I have a secret up my sleeve that only one reader knows about. So you will see the new 397 again, and again.