by Tom Gaylord
Writing as B.B. Pelletier
Today we have a guest blog by reader Paul Fitzgibbon who goes by the handle fitz. He tells us about his incredible new//old BSF S55N air rifle. This is a great story, guys! When Paul told me about his find I asked him to please document everything, from the opening of the box. He did just that!
If you'd like to write a guest post for this blog, please email me at blogger@pyramydair.com.
Take it away,fitz.
My new/old BSF S55N
by fitz
This report covers:
ARH catalog
Bought it
Family grows
Beeman rises
Bought the R10 back
Memories
Ah HA!
A sniper
Package arrives
Cocking link
Sticky trigger
It's still nice!
Not tellin'
My air rifle experience began with a gun at Christmas in 1960, this eight-year-old received a Daisy BB gun from an uncle. A future Christmas yielded a Crosman 760 that fit in the $15.00 budget for 1965 from Santa Claus. My eyes eventually turned to a Sheridan Blue Streak, a little too pricey for me then, around $32.00, I did hold one at a hardware store, however, more than once.
ARH catalog
Then, in 1968, while reading small ads in back pages of Popular Mechanics I saw an ad for a place in West Virginia, called Air Rifle Headquarters. I mailed my quarter for their catalog.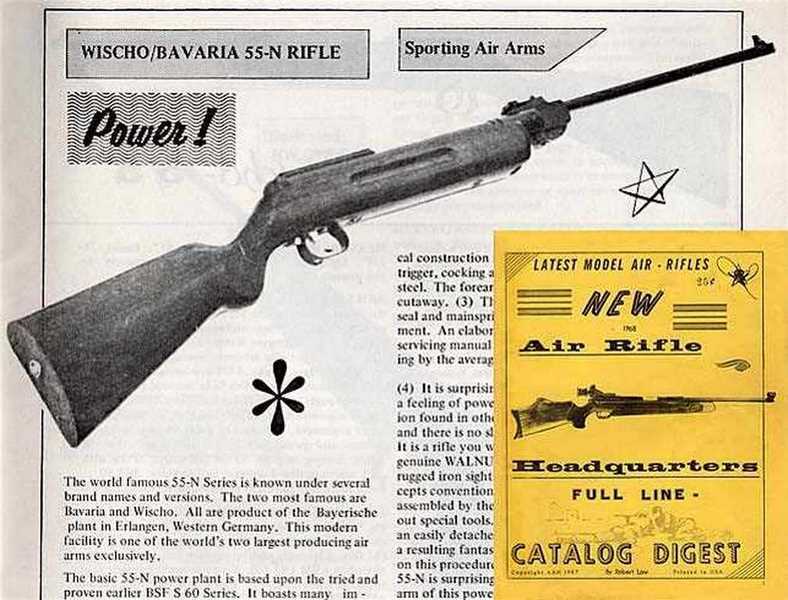 Air Rifle Headquarters catalog.
Every word in that catalog was read more than a few times. I found what I thought was the ultimate air rifle, quiet discharge and no more slap bang pumping scaring every living thing away.
In 1968 the BSF Wischo/Bavaria 55N was $56.50, equivalent to $430.00 today. It was made in Erlangen, Germany.
Bought it
I eventually had enough money and one was ordered. My eyes were well-suited to the open sights back then. I was shooting birds in flight many times.
In 1971 the draft lottery called, and I decided on the Army. In basic training we qualified at the rifle range with the M16 that had open sights. The furthest human silhouettes were 300 yards and would lower when hit and then raise again. It came down to me from Wisconsin and another young man from a southern state. The two of us shot until one of us missed. It took a while, but I either inhaled or exhaled at the wrong time and he beat me.
Family grows
In 1979 I still owned the 55N, but college was ending, first child was on the way, money was in need, I sold it for what I paid for it, the equivalent air rifle to it in 1979 was around $150.00.
Beeman rises
In 1990 Mr. Beeman was in full force, I bought a Beeman R10 in .20 cal. for my 11-year-old son's Christmas present. It had deluxe stock, select group and select barrel angle, and set me back about $400.00. I did have an ulterior motive though, I wanted to shoot it also.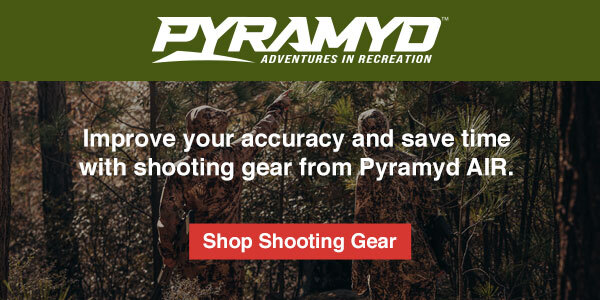 Bought the R10 back
Several years later his first car needed repairs, I bought the rifle from him for $400.00. In 2015 I purchased a Beeman R1 in .20 cal. from Pyramyd AIR. The R10 and R1 are mint and now nicely scoped, I will soon be 69 years old.
Memories
The Wischo 55N always was a nice memory. Over the years I would plink on the internet, seeing what came up, not much, usually the same old links, or a few photos of hard-used specimens in someone's collection. I really missed that rifle, a simple air rifle from simpler times. But I basically had given up. Over a half a century had passed for that rifle and for me.
Ah HA!
As with many things in life, one does not truly give up. I was recently on eBay looking at some things, I typed in BSF Wischo 55N and there was a 7-day auction that had just started, starting price was $199.00. I watched and waited as the bidding slowly moved upwards.
A sniper
It looked really good in the photos. The N in 55N is Nussbaum, German for walnut. The seller was a new and used sporting goods store in Rose City, Michigan. I decided to be what is called a "Sniper" on Ebay. It is someone who does not bid until only seconds are left. I watched as the eBay clock counted down and at 19 seconds I placed a very high bid, this was not going to get away from me at this point in my life. Another "Sniper" then appeared and my automatic bids beat him.
Maybe it is possible that the young man from that southern state on that Army rifle range was the other "Sniper" going for the 55N, but this time I won. Probably not, but that's my story and I am sticking with it.
It cost me $445.00 to win, about the equivalent of $56.50 back in 1968 when I sent my money to the late honorable Robert Law from Air Rifle Headquarters.
Package arrives
The package arrived quickly, I waited a while before opening, photos looked good, but sometimes, well, you never know. I opened the eBay box to reveal the original Air Rifle Headquarters aged box. As I unwrapped the bubble wrap on rifle it became clear to me, it was as they call it, a "Dead Mint" specimen. Fired several times, at most. Factory grease on pivot point. Leather breech seal factory mint. Metal and wood perfect. Not as robust as a Weirauch, or as polished, but I do not care one bit.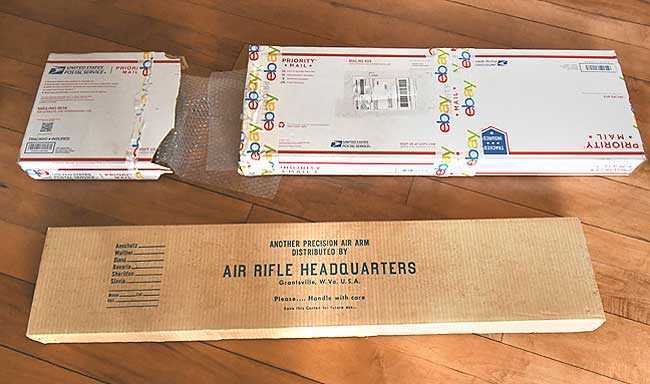 New in the box!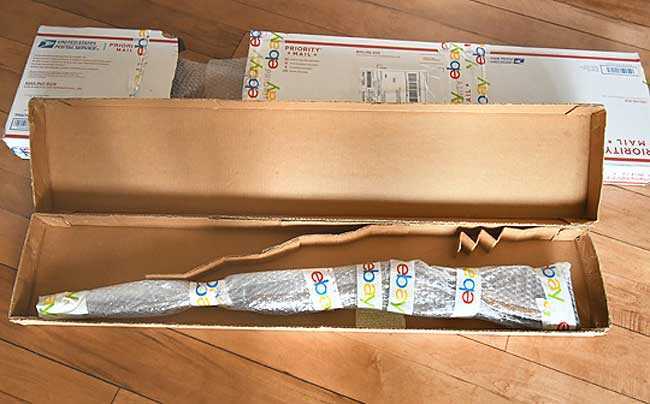 This is just like Christmas!


And there it is.
Like I said, over a half a century had passed for that rifle and for me. Seeing this 55N in factory mint condition, I felt it was 1968 again.
Cocking link
The 55N cocking is a little different than the Beeman Weihrauchs I own. It is an articulated design. Robert Law had a sticker in the box concerning cocking, dry-firing and other things.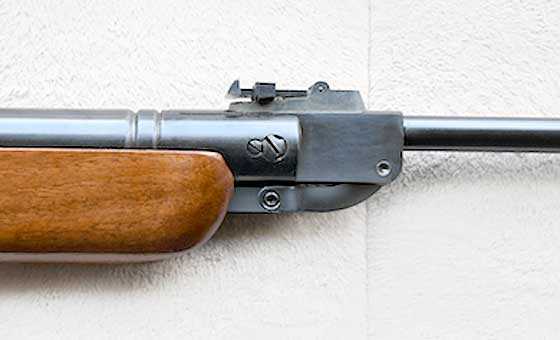 The rifle has a 2-piece articulated cocking link that allows the cocking slot in the forearm to be shorter. That helps reduce vibration.


This view of the underside of the forearm shows how short the cocking slot is in the stock.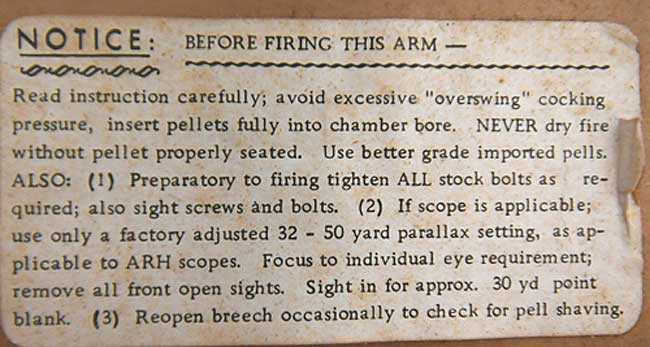 The ARH sticker.
Sticky trigger
I thank Tom Gaylord for the advice he gave me. I knew the leather piston seal would need some silicone chamber oil through air transfer port, although the rifle seemed to have good power from the start. But the BSF trigger was very sluggish from not being used. The factory lube had hardened. With Tom's help I easily restored the trigger to good working condition.
As Robert Law stated, that BSF trigger needs a lot of breaking in, and Tom now today agrees, as he is an owner of a very broken-in 55N.

The BSF S55N is a compact breakbarrel that handles well.
It's still nice!
I forgot how nice the 55N feels as far as overall weight and the size of the stock. This rifle will never have a scope installed, at least not by me.


There is the scope rail that I'll never use.
This is the European air rifle that started it for me, and shooting it again made me realize something. The 55N is my favorite of all time, past, present, and future. All these years I never pretended to be looking for the Holy Grail that would be a 55N in factory mint condition, I am a reasonable man. But I did find that Holy Grail, or perhaps, it found me.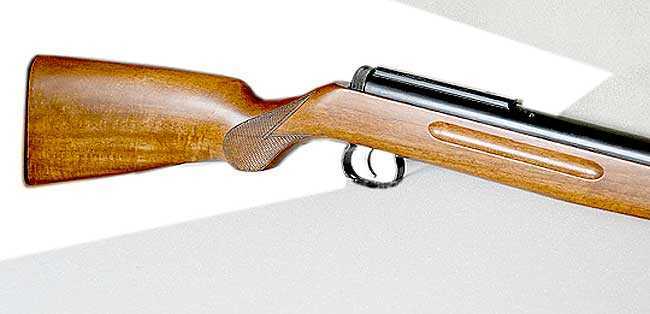 It looks just as nice on the right.
Not tellin'
Some readers might ask what my maximum high bid was on eBay, only three people know that number, me, myself, and I. I will take that number to my grave. On that happy note, thanks to all who read my story.
Paul Fitzgibbon
Neenah, Wis