HW 30S : Part 6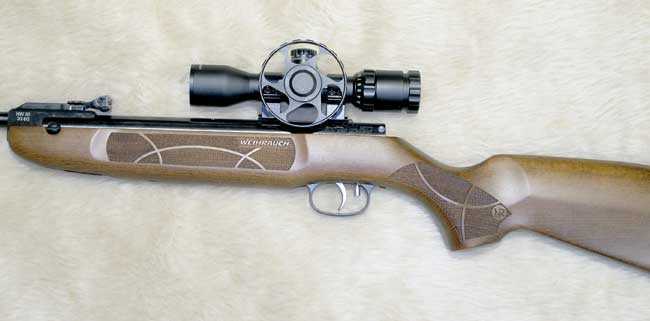 The 3-12 Bug Buster looks like it was made for the HW 30S.
Part 1
Part 2
Part 3
Part 4 — Rekord trigger
Part 5 — lube tune
This report covers:
The scope
The test
Sight-in
JSB Exact 8.44-grain dome
Norma Golden Trophy FT dome
RWS Superdomes
RWS Meisterkugeln Rifle
Discussion
Summary
Today we will see the results of scoping the HW 30S, and be able to compare them to the groups that were made with open sights in Part 3.
The scope
What scope should I mount on the HW 30S? If that isn't an obvious choice you must not be an airgunner. The only scope for this little sweetie is one from the UTG Bug Buster line. I selected the Bug Buster 3-12X32 scope with one inch rings.
The test
I tested the rifle off a bench at 10 meters. The rifle was rested directly on the sandbag. It's now shooting very smooth and a bag rest is fine. I shot 10-shot groups with the three best pellets from the first accuracy test with open sights. That was in Part 3 and I told you I was having trouble seeing the correct sight picture that day, so this will be the chance to compare what I did then to a scoped rifle.
I also tested a Norma pellet that is new. The other day when I asked about testing pellets the best advice I received said to find a rifle or pistol that shot them well, because there is no way to establish a baseline for accuracy without shooting groups. All the measuring and weighing in the world is meaningless without accuracy results. Therefore I will go right on doing what I have been — running new pellets into my accuracy tests from time to time, to identify those up-and-coming pellets. Let's begin.
Sight-in
The first task was to sight-in the rifle, since I had just mounted a scope. Since this is a Bug Buster that focuses down to nine feet, there was no problem. At 12 feet the pellet struck the target to the left and low, but close enough to the aim point that I knew I would be on paper at 10 meters.
From the bench at 10 meters the second shot was slightly higher and even more to the left. Two more shots with scope adjustments had the pellet on the left side of the bull.
Remember, with a scope I'm not interested in hitting the center of the target. That destroys my aim point and allows the group size to grow. If I were sighting-in the rifle for general shooting I would of course get it shooting to the aim point, but for accuracy testing that center dot must be preserved.
JSB Exact 8.44-grain dome
The first pellet I tested for accuracy was the JSB Exact 8.44-grain dome. It was also the sight-in pellet. Ten of them landed in a group that measures 0.24-inches between centers. When I shot the same pellet with open sights in Part 3, five of them went into 0.49-inches. So today with a scope, twice as many pellets made a group half the size! I'd say that was an improvement!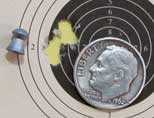 At 10 meters the scoped HW 30S put 10 JSB Exact 8.44-grain domes into 0.24-inches.
Okay, we're on a roll. This is the kind of accuracy I was expecting from this rifle. Let's try a Norma pellet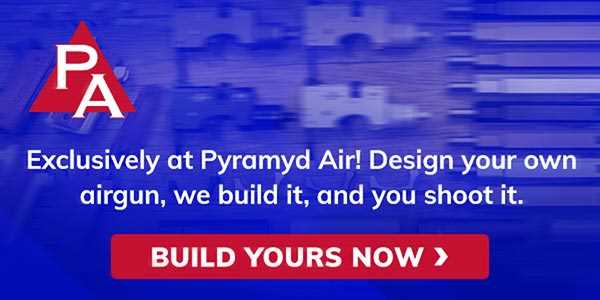 Norma Golden Trophy FT dome
The next pellet I tested was the Norma Golden Trophy FT dome. These pellets are supposed to be the equivalent of RWS pellets, and I am told this one is the equivalent of the RWS Super Field domed pellet. In my past testing this pellet hasn't done well, and I was told that their head sizes are intentionally small because 10-meter target shooters advised the design team. So today I thought I would measure some pellet heads with my Pelletgage.
Out of ten pellets, five fell through the Pelletgage hole at 4.48mm. The rest measured from 4.47 to 4.51mm. No wonder they are not accurate in most airguns! First of all, their heads are way too small. I search for pellet head sizes of 4.53mm and larger in .177-caliber pellets because they are what most sporting airguns prefer.
The variance of five of the ten pellets from 4.47mm to 4.51mm is a second reason they are not accurate. Measure a tin of JSB domes and you will seldom see a variance of more than one-tenth of a millimeter.
Ten Norma Golden Trophy FT domes made a group that measures 0.415-inches between centers at 10 meters. It is a small group, but it is also the largest group of this test and substantially larger than the groups made by the other pellets that were tested. I'm glad I measured their head sizes because now I believe I know why they perform like they do.
I didn't test these Norma pellets in Part 3 so there is no comparison to be made.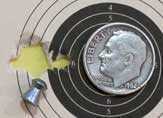 The HW 30S put ten Norma Golden Trophy domes into this 0.415-inch group at 10 meters. Except for that lone stray off to the right, they stayed together well.
RWS Superdomes
The next pellet I tested was the RWS Superdome. Ten Superdomes went into 0.20-inches at 10 meters — the smallest group of the test. In Part 3, shooting with open sights, five of these same pellets made a 0.533-inch group at the same 10 meters. So this time the scoped HW 30S put twice as many pellets into a group that is almost one-third the size of the group made with open sights at the same 10 meters.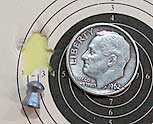 The HW 30S put 10 RWS Superdomes into this 0.20-inch group at 10 meters. It is the smallest group of today's test.
RWS Meisterkugeln Rifle
The last pellet I tested was the RWS Meisterkugeln Rifle wadcutter. The HW 30S put 10 of them in 0.327-inches at 10 meters. In Part 3 the same rifle shooting with open sights put 5 into 0.542-inches.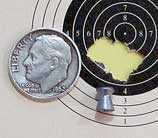 Ten Meisterkugeln Rifle pellets made a 0.327-inch group at ten meters.
Discussion
The HW 30S did extremely well today. Apparently I was having a lot of difficulty with the 30S and open sights when I shot in Part 3. I think it was because I used a square post with a Vee rear notch.
I think the rifle will do just as good when I mount a rear target sight for the next test. I will also install the front aperture insert. The good thing about that is I can adjust the sights to hit the center of the bull for that test, because it won't ruin my aim point.
Summary
With today's test we have established that this HW 30S is quite accurate. The trigger has been adjusted to perfection and the powerplant has been de-buzzed with Tune in a Tube without loosing any velocity.
The next test will be with a target aperture rear sight. Then I will disassemble the rifle to look at all the internal parts and finally I will tune it with a Vortek PG-2 SHO kit and test it again for velocity and accuracy. For the accuracy test I will use the most accurate method of sighting that has been discovered during this testing.
Tags In
Tom Gaylord is known as The Godfather of Airguns™ and has been an airgunner for over a half-century, but it was the 
Beeman
 company in the 1970s that awoke a serious interest in airguns. Until then, all he knew were the inexpensive American airguns. Through the pages of the Beeman catalog, he learned about adult airguns for the first time. In 1994, Tom started
The Airgun Letter
 with his wife, Edith. This monthly newsletter was designed to bring serious reports about airguns to the American public. The newsletter and
Airgun Revue
, a sister magazine about collectible airguns, was published from 1994 until 2002, when Tom started
Airgun Illustrated
-- the first American newsstand magazine about airguns. Tom worked for three years as technical director at
AirForce Airguns
, the makers of the 
Talon, Condor, and Escape
 precharged air rifles. Today, he writes about airguns and firearms for various publications and websites. He also makes videos, and you'll find short clips embedded in some of his artices on Pyramyd Air's website. Tom is a consultant to Pyramyd Air and writes under the name of B.B. Pelletier.