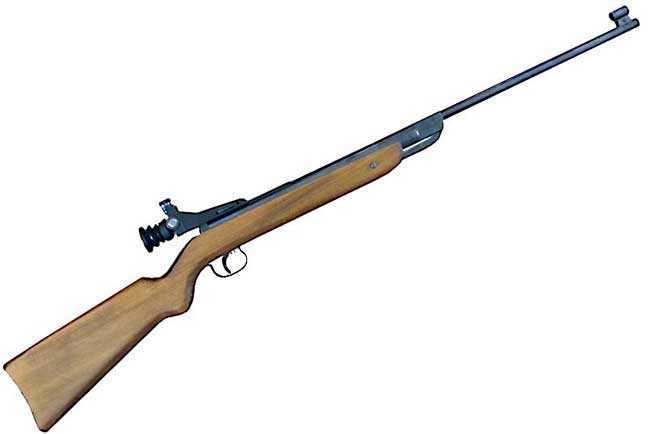 Hy Score 807 with target peep sight.
This report covers:
Today's test
Diana peep sight
Remove the rear sight
The test
Vibration
However
Calmer shot cycle
Where are we?
Summary
Just when you think you have seen it all, something else pops up! Today we look at the accuracy of the Hy Score 807 pellet rifle that is a .22 caliber Diana 27.
Today's test
I thought today would be a straightforward accuracy test and I was looking forward to being surprised by yet another accurate .22 caliber Diana 27. But that didn't happen. Let me tell you what did.
Diana peep sight
First I mounted a Diana target peep sight on the rear of the Hy Score. When it was secure I looked through the sight and all I could see was the sporting rear sight notch and the front post. For extra credit can someone please tell me why that was a good thing?
Remove the rear sight
Since it was in the way, the sporting rear sight was removed. Then I could see the front post clearly through the peep hole. I set the sight as far back as it would go which made sighting easy for me.
The test
To get ready for today's test I read Part 8 of the 9-part report, Tuning Michael's Winchester 427, where I learned that Falcon pellets from Air Arms did the best. And his rifle did best when shot directly off a sandbag. So that is what I did for today's entire test. 
I shot 5 shot groups at 10 meters so I could test more pellets. That was fortunate because in the end I shot 11 different pellets. RWS Superdomes worked better than the rest, but they were still not as good as I had hoped. I wanted to find a second pellet that worked better. But nothing did!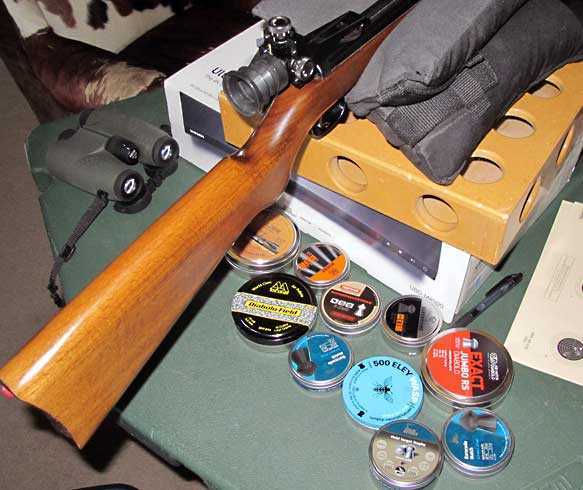 I tried many different pellets. Heavy ones, light ones, middleweights. It didn't seem to make a difference.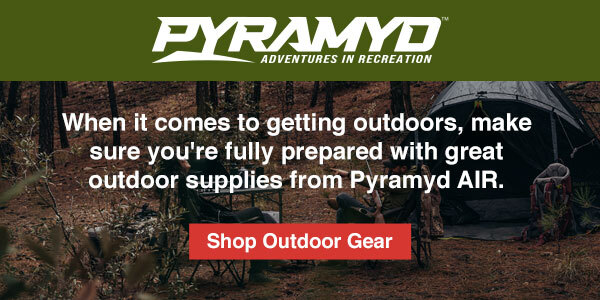 Vibration
But as I shot, I did notice that the rifle lunged forward with each shot. There was also a small spike of vibration with each shot. I noticed it mostly because when it stopped happening the rifle seemed calmer. And it did stop happening while I was shooting. I'll tell you about it when we get there.
It took me two shots to sight in and then I shot the first group. But the group was scattered around the bull and not what I had hoped.
The third group was the Superdomes and they did okay, but only just. Five pellets went into 0.535-inches at 10 meters, more or less. I say more or less because the Superdome tears a ragged hole that's difficult to measure.
I'm not bothering to show you all the groups except in the one photo below, because you get the point. The point being, this Diana 27 isn't shooting as well as expected.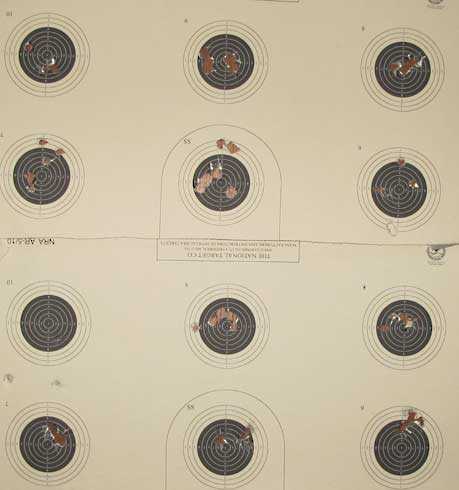 I shot a lot of pellets but didn't do very well. The Superdome group is at the top right.
However
Aren't you glad there is a "However"? I sure am. When the Superdomes did better than the rest, it started me wondering if RWS Superpoints might do even better. They have long been a favorite for my .22 Diana 27s. But I think I'm out of them. However, I do have those Norma pellets that I have been testing and among them there is a .22 caliber pointed pellet that weighs 14.5 grains. It's called the Superpoint Strike. I wonder…?
What the heck. At this point I had fired 50 shots and should have been getting tired, but I shot a couple more groups with them, just to see. The first group was five in 0.345-inches. The second group was five in 0.328-inches. And by this point in a test I'm usually getting tired and dipping deep into my excuse bag.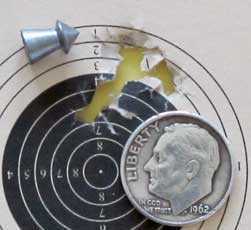 The first group of Superpoint Strike pellets measures 0.345-inches between the centers of the two widest shots.
Following the first group I adjusted the peep sight down and to the left. The second group moved accordingly.
This time five Superpoint Strike pellets went into 0.328-inches at 10 meters. For a second group and with 60 shots under my belt, that's darn good.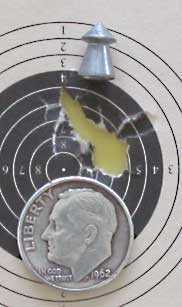 This group of 5 Superpoint Strike pellets at 10 meters measures 0.328-inches between centers.
Calmer shot cycle
But the other interesting thing is the rifle was very quick and calm when it shoots this pellet. It was noticeably different from the other pellets tested. This pellet has a smaller head that this Diana rifle appears to need for best results.
Where are we?
So, where does that leave us? Well, I still do want to disassemble this rifle and to lube it with Tune in a Tube to quiet the powerplant a bit. I also want to clean the ball bearing trigger parts and lube them with light oil. What I'm looking for is a smoother shot cycle and a trigger whose first stage is lighter and more easily felt.
Summary
As the famous sage, Rosanne Rosannadanna, wisely said, "It's always something." After being surprised by the velocity of this Diana 27 I found myself stumped today by its lack of accuracy. But I think I can do something about that.
I can clean the bore and I can quiet the vibrations with TIAT. It may lose some velocity but there is a lot to spare. We shall see!