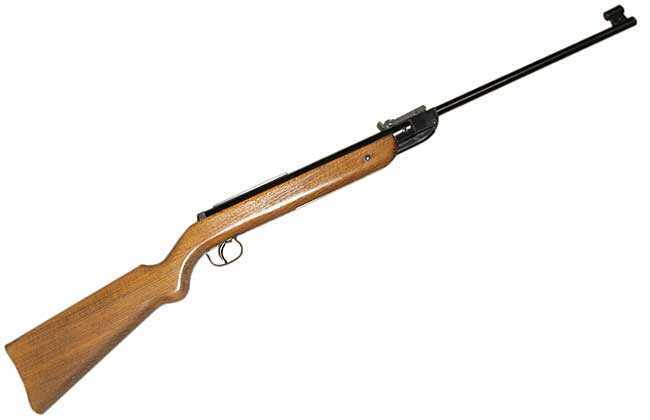 This Hy Score 807 is also a Diana model 27.
This report covers:
It's a beaut!
What is a Hy Score 807?
Many names
Description
Power
Sights
Trigger
Summary
Several months ago (April 11, to be exact) reader David Enoch contacted me to tell me about a really good buy he saw on eBay. Here is his message.
Tom, there is a nice wow cal Hyscore 807 on EBay with a buy it now of $125 plus about $30 shipping. Good price but I don't need another and once the shipping is added there is not enough left to resell it. If were a 177 I would buy it though.
David Enoch
I thanked him but told him I didn't need another .22-caliber Diana 27, which is what that rifle really is. I almost posted the information on the blog for one of you readers to take action, but as the day advanced I realized that I just couldn't pass it up. Not at that price. So I broke down and bought it.
It's a beaut!
When the rifle arrived I was more than pleased. My other 807 is not as nice, cosmetically, as this one. The bluing is deep and the wood is fine. It has different markings than my other rifle, and the date stamp tells me it was made in October of 1973.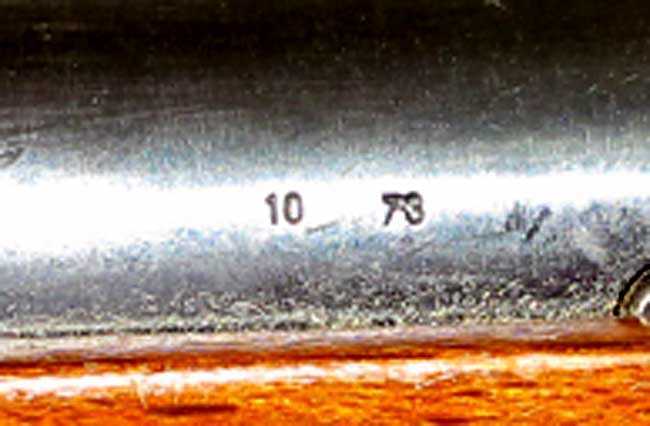 This rifle was made in October of 1973.
Then I shot it, not knowing what to expect. Oh boy. The trigger needs a lot of adjustment and the rifle vibrates when it fires. I guess you know what that means?
What is a Hy Score 807?
We have quite a few new readers who may not know anything about this air rifle. So now is the time for them to find out.
Diana produced several classic breakbarrel spring-piston air rifles in the 1950s through the '70s, and the most well-known of all is the Diana model 27. They were made in both .177 and .22 caliber, and I have owned both calibers but for some reason I always like the .22 best. I suppose that's because my first experience with one was a rusty old Hy Score 807 I bought for $18 in a pawn shop in Radcliff, Kentucky, while I was stationed at Fort Knox.
I didn't expect much from that old rifle, as rusty and beat up as it was, but I had an old straight-grip Webley Senior at that same time, andthat pistol shot like a champ. Just ask RidgeRunner, who owns it now. Much to my surprise, the Hy Score also shot very well. It was quite accurate for what it was, and at 20 yards it was hard to miss what I shot at.
Many names
At the time I thought Hy Score was an airgun manufacturer, and they did make a couple air pistols. But they also bought airguns from overseas and had their name put on them. The German company, Diana, was one with whom they did a lot of business.
Other companies also put their own names on Diana airguns. Winchester called the .22-caliber Diana 27 a model 427. Beeman called it their model 100 and also the Original 100. Milbro also made this model and no doubt called it some other things.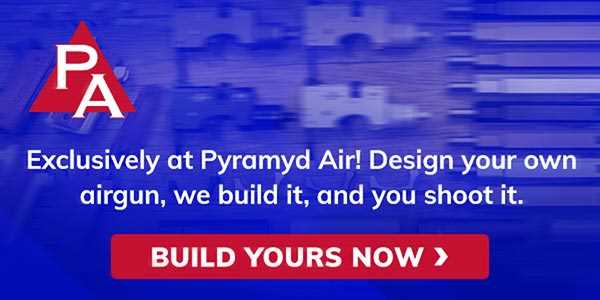 Description
The rifle I am examining is 42-3/8-inches long with a 17-3/8-inch barrel. The length of pull is 13-3/4-inches. My other 807 has a 12-3/4-inch pull, so there were differences over the years. That rifle has a date stamp of August 1967, so it's 6 years earlier. The gold embossed stamping on the buttstock is different, too.


The new rifle butt stamp is on the left. It's larger than the old one and only on one side of the butt.
The stock is made of beech and is well-shaped in the case of the rifle under examination. As I remember it my rusty old 807 stock was slab-sided, but that's pushing my rememberer back 40 years.
The forearm of both 807s is plain. In that respect the old and new air rifles appear identical.
All the metal is deeply blued and polished just past matte. I can't see any difference between the older and newer rifle in this respect.
The rifle under examination weighs 5 lbs. 15 oz. That makes it a couple ounces heavier than the older airgun, and the size of the stock is probably where that comes from.
Power
I haven't chronographed the new rifle yet but I can see from the penetration of the pellet in duct seal that the new gun is off its feed. The breech seal looks fine, so whatever the problem is, it lies within the powerplant.
Sights
The front sight is a globe-type with a raised square post. It's fixed and not an insert, so you have to work with it.
The rear sight is a sporting type that has four different notches to choose from. The rifle came to me with the square notch selected so that's how I will leave it. However — The elevation adjustment knob is missing and I assume that the spring and ball-bearing detent are missing, as well. A replacement rear sight sells for around $55 on eBay and $63 at Chambers airgun spares. I don't believe I will go that route.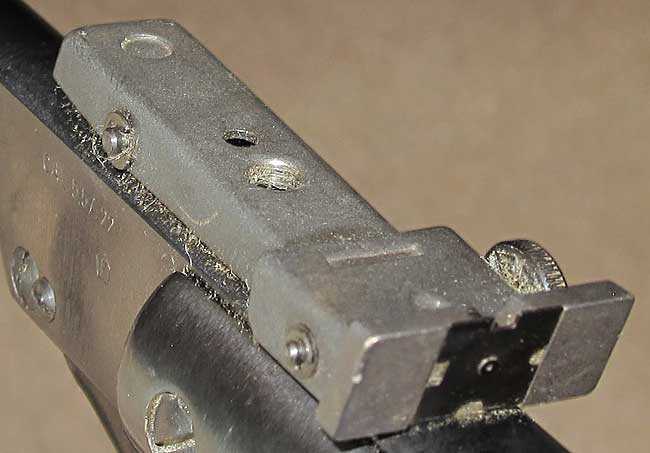 The rear sight is missing the elevation knob, but the notch is set correctly for the squared front sight. It looks like a U here but that's just lighting. It's really square.
Instead this will make the perfect platform for a Diana peep sight. I have a couple of them from past tests. I'll remove the sporting rear sight and bag it in case something good comes along.
Trigger
One thing I really like about the Diana 27 is its ball-bearing trigger. I read an online report that said they are "notoriously difficult to adjust." Nothing could be farther from the truth. The trigger adjusts easily and you can get a great two-stage pull with a crisp second stage let off.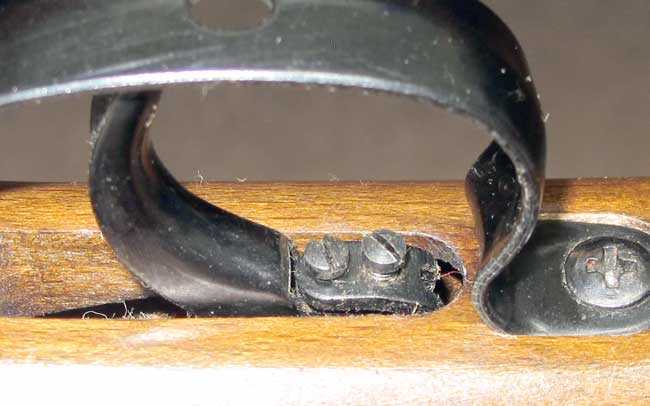 The Diana 27 ball-bearing trigger adjusts easily to a nice two-stage pull, if you know what to do.
Someone has bubba-ed the adjustment on this trigger to a light and vague one-stage pull that can't be predicted. Fortunately, I know the secret to adjusting the trigger and pretty soon you will too.
Summary
Well, that's enough to get us started on yet another Diana 27. This one needs some love that I am itching to give!