Daisy 20th Century Cast Iron Frame BB gun.
This report covers:
History
Fragile
Construction
Shot tube
Description
Markings
Last cast iron BB gun
BB shot?
Summary
It is my sad duty to inform you readers that Robert David Beeman, PhD. passed away on August 25. He was on this earth from March 23, 1932 until his passing and he changed the horizon of airgunning around the world. Much of what we have today is because of what he did.
When I became an airgunner as an adult I was influenced most by his writings, both in the first edition of the Airgun Digest, and also in the pages of his many colorful catalogs. I visited his store in Santa Rosa and I met him and talked with both him and his wife, Toshiko, many times at the SHOT Show. He was always a bit larger than life, as such personalities often are.
This day had to come, for in life this is the inevitable end, but it leaves those who are left behind with a hole in their hearts. My thoughts are with the Beeman family, as they cope with their loss. Robert — you left us a legacy and made the world a better place for those who enjoy shooting with just air. Your name will live on in our thoughts and our hearts. Rest in peace, Doc.
Today I have a real oldie for you. It's a Daisy 20th Century BB gun with a cast iron frame.
History
Daisy made two different models that they called the 20th Century. The first was a cast iron frame model that came in four different variations as a single-shot and in two variations as a repeater. All of these are scarce, but the repeaters are the scarcest and command the highest money when sold. The gun I will be showing you in this series is a 4th variation single shot that I am rating as 60 percent condition. It works, which attests to the rugged but simple design that has lasted for well over a century. All variations of this model were made from 1898 through 1902. A gun in the same condition as the one I'm reporting on sold at auction for $750 in 2006.
In 1903 Daisy dropped the cast iron frame model and replaced it with a folded sheet metal frame, but they kept the name 20th Century. That must have been a big deal in those days.
That sheet metal gun exists in seven variations as a single shot and four variations as a repeater. Both of the sheet metal versions were produced from 1903 until 1910. And these date are approximations from data like catalog entries. No doubt there was some offset from the precise dates expressed.
The sheet metal frame gun looks significantly different than the cast iron gun, though it operates exactly the same. All the 20th Century guns are cocked by pushing down on the buttstock, which pulls two wire rods that connect to the plunger, which is what the piston is called in a BB gun. And Yogi — just for you I have included the angle for the cocked gun on cardboard.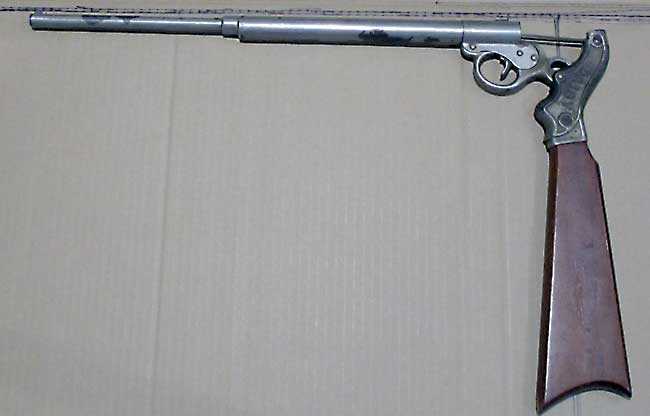 There you go, Yogi. The gun is cocked over two 90 degree lines.
Folded sheet metal was the future for Daisy. It did away with the iron castings that were both difficult to cast and fragile to operate. Folded metal was the future of BB guns.
Fragile
Say cast iron to people and fragile isn't the first thing that comes to mind. But it can be very fragile. Drop a folded metal gun on concrete and it will scratch and possibly dent. Cast iron can fracture. So, of the number of guns that were produced, and the attrition over the years from leaving them outdoor, moms throwing them out, etc, there are far fewer BB guns of any kind today. Add the fragility of cast iron and the number decreases again. If you search for them on the internet you'll find some with cracked frames.
Construction
The cast iron 20th Century BB gun came with either a wire stock or a wood stock. My fourth variant has a wood stock. The sights are fixed, front and rear, but they bear some consideration. The rear sight is a peep sight! The peephole is large and the sight doesn't move, but how strange that Daisy knew to do that at the turn of the 20th century.

The rear sight is a peep that's not adjustable.
The front sight is attached to the removable shot tube. It is low and wide and more than that I can't say until I try to shoot the gun for accuracy.
1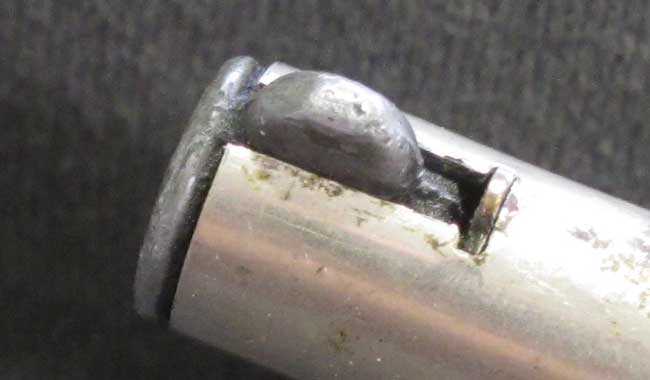 The front sight is attached to the shot tube.
Shot tube
The shot tube removes to clear jams. Remember, these guns are meant to shoot BB shot, which is nominally 0.180-inches in diameter.


The brass shot tube comes out like this. This is for clearing jams.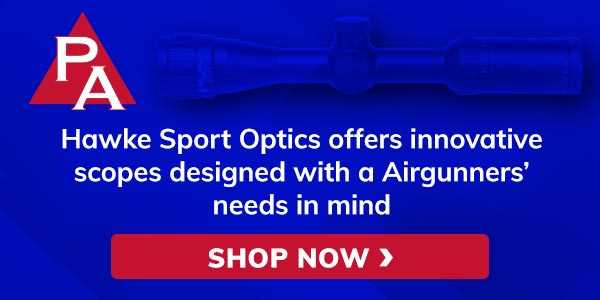 Description
The gun is 30.25-inches long and weighs 1 lb. 15.4 oz. The length of pull is 12.5 inches. The wood butt is deeply scalloped for the shoulder and when you hold the gun you get a sense that it was made for youngsters.
Markings
The word DAISY is cast into the left side of the grip. On the first variant, there is a bullseye on either side of the name.The right side of the pistol grip says 20TH CENTURY. Daisy has also impressed their mark on the left side of the buttstock.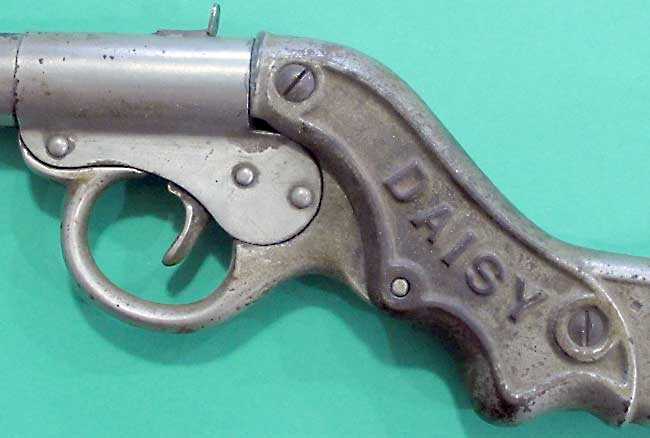 The left grip has DAISY in raised letters. Note the beginnings of folded sheet metal on the front of the frame. The trigger and triggerguard are cast iron.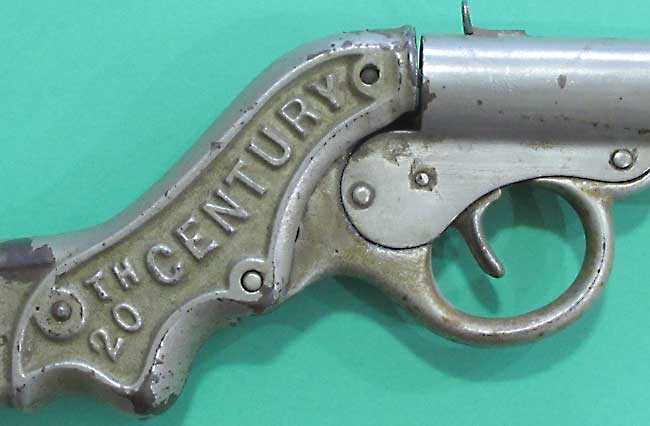 The right grip says 20TH CENTURY in raised letters.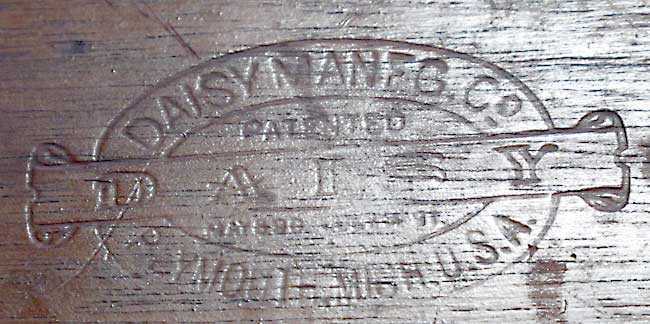 The buttstock says DAISY MANFG Co, Patented, DAISY, May 6, 90 July (something) 91, PLYMOUTH MICH U.S.A.
Last cast iron BB gun
The 20th Century is the last cast iron BB gun Daisy made. From this point forward they used folded sheet metal to form their BB guns. It is also one of the last to shoot real BBs. Within a few years Daisy made a smaller (0.175-inch) lead ball they called Air Rifle Shot, and in the mid-to-late 1920s they switched over to steel BBs, again reducing the size of the ball.
BB shot?
I thought I had a tin or two of real 0.180 BB shot on hand. I may not, but I will look. Lead BB shot is unavailable online unless I want to pay over sixty dollars, which I don't. The good news is those oversized Marksman BBs (0.176) do fit loosely. They work, though they aren't very powerful.
Summary
Because of the age of the gun and the ammo problem I will combine parts 2 and 3 in the next report. This short series will be a chance to see a BB gun that many of you will never see again. This is what our grandfathers and great-grandfathers played with when they were little boys.