The Gauntlet 2 precharged rifle from Umarex.
Part 1
Part 2
Part 3
Meopta MeoPro Optika5 2-10X42-PA: Part 1
This report covers:
11mm and Picatinny base
P.O.I. rings
Today's report
One minor problem
Nope!
The problem
Found them!
For you guys
Wait a minute
What?
Sight in
Meopta scope
Summary
Boy, do I have one for you today! I started down the merry road to happiness but ended up in a junkyard and had to fight my way out! This will be fun.
On this day I was supposed to mount the Meopta MeoPro Optika5 2-10X42-PA on the Umarex Gauntlet 2 using UTG P.O.I. low mounts for one-inch rings. And therein lies the problem, as we shall see.
11mm and Picatinny base
The Gauntlet 2 has a Picatinny scope base with an 11mm dovetail scope base above it. That is a feature I didn't cover yet. Great! Except for one small detail. No Picatinny or Weaver scope rings will fit this base! I should have read my report on the Gauntlet 1, but I wanted to be impartial, so I purposely didn't read it. Oh, how I wish that I had!
P.O.I. rings
Unfortunately Pyramyd Air doesn't stock P.O.I. rings that are low and also for one-inch scope tubes. Most high quality airgun scopes have 30mm tubes these days, so that's what they stock.
But Leapers sent me a gift package several months ago and it contained several P.O.I. rings, including these low ones for a one-inch tube. I really love that UTG has managed to make all the screw heads the same size so just a single Torx driver is needed, and of course they supply it with the rings.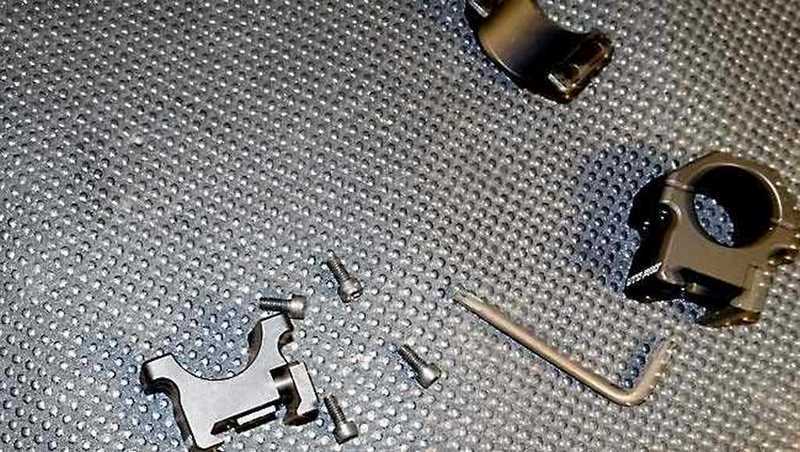 Leapers' UTG P.O.I. low rings come with a single screw head size. Hurrah!
Today's report
Today's report was SUPPOSED to let you look over my shoulder while I calmly and carefully mounted the Meopta scope. But that's when the clown car drove into the ring, honking and squirting me with seltzer, and I knew today would be a circus.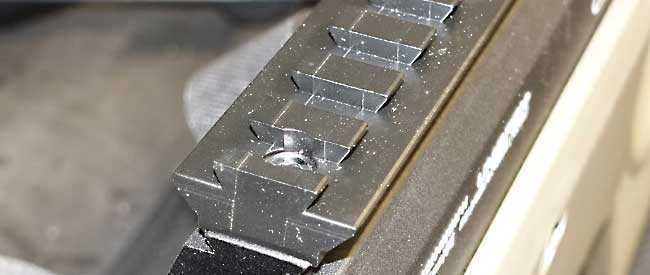 Oh, look! The Gaultlet 2 has a clever Picatinny AND an 11mm base! Neat-o!
One minor problem
There is just one problem with the Gauntlet 2 scope base. IT ISN'T MIL-SPEC. AND NO PICATINNEY OR WEAVER SCOPE MOUNTS WILL FIT!!!!! At least none that I know of.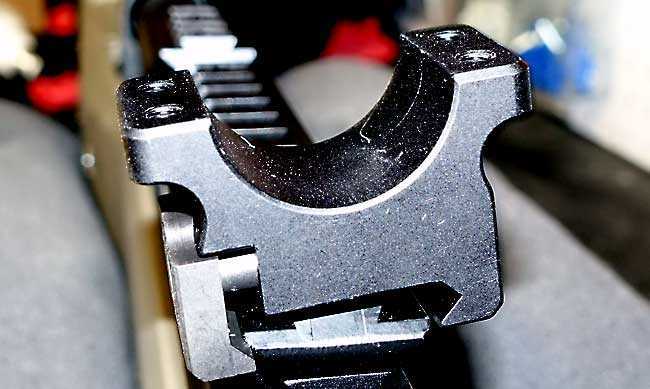 Whoops! Apparently the 11mm dovetail projection on top of the Gauntlet 2 scope base is too high for the bottom of the Mil Spec P.O.I. rings to clear. Yes, the cross key on the bottom of the ring base is down into the cross slots on the rifle base as far as it will go. What you are seeing is the top of the 11mm dovetail hindering the bottom of the P.O.I. ring base. This will never work!
Well, that can't be too bad, can it? Old BB has more than 40 sets of 2-piece scope rings. A short one-piece ring set that would fit the scope would also work. But no Weaver or Picatinny scope ring that I tried would fit because of that tall 11mm dovetail.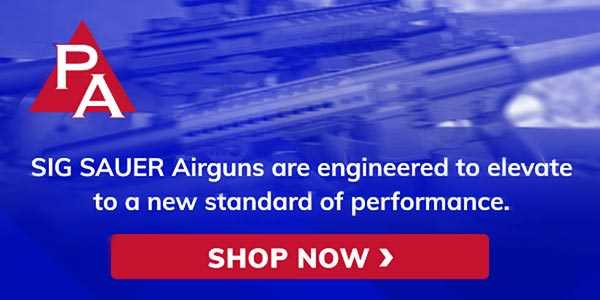 Nope!
Old BB looked through two drawers of rings, then through a cabinet of scopes with rings already on them and finally on as many rifles as he had that were already scoped — maybe 20 airguns and firearms.
The problem
You see what I needed was something that is rare and hard to find. It had to be a low ring set with an 11mm bottom and one-inch rings. 20 years ago that would be easy to find. Today — not so much.
The problem is that 11mm extension on the top of the Gauntlet 2 receiver. If that wasn't there and if the base was JUST a Picatinney base, then any Picatinny or Weaver ring would fit. With that extension on top, only 11mm rings can be used.
Found them!
And then I found them on a scope in my scope cabinet. Eleven millimeter low mounts! Quick like a bunny I removed them from the old scope and mounted them to the Gauntlet 2. Oh, happy day! I got them secured to the rifle and then mounted the scope. These would make the 20th set of 8 screws that I would tighten this day. Let's see now, time to position the scope for the correct eye relief. Why won't these rings snug down on the scope?
NOOOO! I have mounted 30mm rings on the rifle when I needed one-inch rings! Oh, the humanity!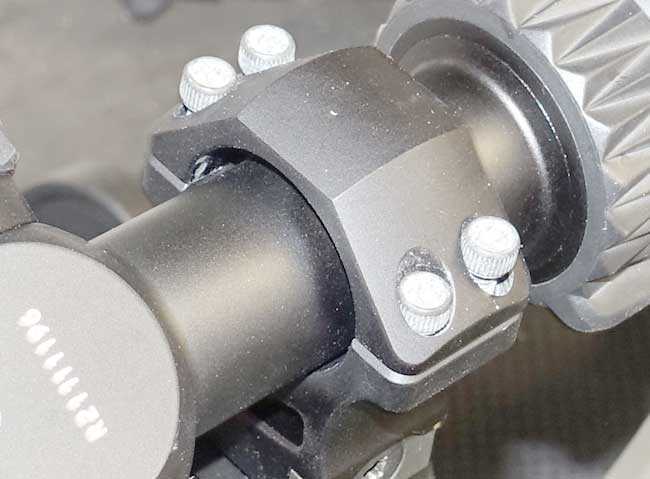 And the hits just keep coming! In my haste I mounted 30mm rings!
Oh, I'm sure that Umarex has thought this through and that somewhere there is a set of rings that fit the Gauntlet 2 perfectly. But I didn't have them, nor did I know what they were! To this point I had spent two hours trying different rings. Has mighty Casey struck out?
For you guys
BB Pelletier doesn't write this blog for Pyramyd Air. Yes, they do pay me, but the blog is not for them and they are fine with that. And this blog is also not for Umarex, Meopta, Leapers or any manufacturer. This blog is for you readers. Here I am, flipping around like a fresh-caught fish in an aluminum boat because I am in the same spot you could find yourself in with this air rifle.
Wait a minute
Don't get me wrong and don't put words into my mouth. I'm not saying that the Gauntlet 2 has a problem. I'm also not saying that Leapers and Meopta have problems. I am saying that BB Pelletier has a problem and you have just seen what it is!
In my vast collection of scope mounts I had difficulty finding a scope mount that would allow me to mount the Meopta MeoPro Optika5 2-10X42-PA riflescope with a one-inch scope tube on the Gauntlet 2 rifle. I also wanted very much to mount it in those P.O.I. low mounts, for the reasons I mentioned yesterday and also because those mounts are so precise. What to do?
What?
Time to read the report I wrote on the first Gauntlet several years ago — especially Part 7. Know why? Because that is where I found the solution last time. The Gauntlet 1 doesn't have this same scope base, but it does have an 11mm scope dovetailed base that I had to find mounts for. And I did! I used P.O.I. 2-piece mounts (small world, eh!) and put the UTG 11mm to Weaver adaptor in their bases! Ta-da!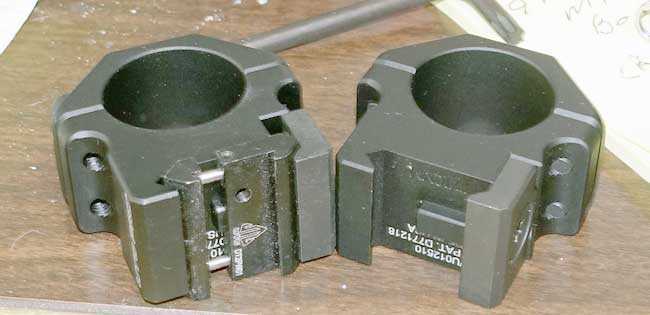 UTG adaptors to the rescue! Now I can use those low P.O.I. mounts that I wanted.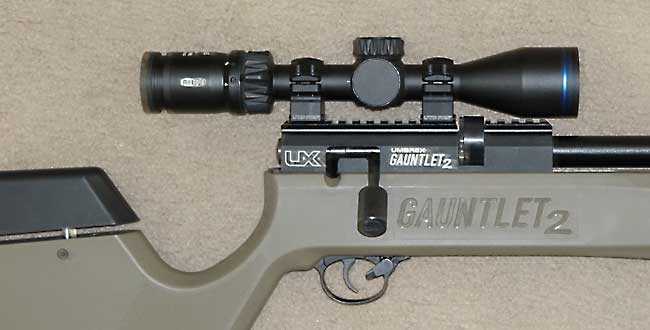 Once the adaptors were in the ring bases, the rings fit perfectly.
Sight-in
Reader RidgeRunner lectured me on the rings in response to what I said last time about shimming them. So I left the shims out and mounted the scope in the naked rings. The P.O.I. rings fit the scope tube so precisely that the scope didn't even move with the caps off. And here is part of what he said.
"You would be foolish to shim this scope. Since you are going to buy this scope, buy a couple of sets of fully adjustable mounts like the Sportsmatch. I have a set of these on my HM1000X holding my UTG Bubble Leveler scope. With these rings you can center your optical adjustments on the scope and just about zero your rifle. Then do the fine tweaking with the scope adjustments."
Well, thanks for spending my money, RidgeRunner, but I wanted to used these low P.O.I. rings — remember? I also wanted to do this accuracy test today. Those Sportsmatch rings cost $150 and although they are worth it I wanted to use these rings. And I wanted to do it today — not wait several weeks for a delivery.
I loaded a magazine for the rifle. This is a .25 so the mag holds 8, right? Then I dialed the scope down to 2 power and the parallax to 10 yards and sighted in at 12 feet. Shot one landed low and left, but it wasn't that bad. RidgeRunner was right. Hey, a blind squirrel…
I adjusted the scope up and to the right. Shot two hit closer to the center and higher. A little more up and right on the scope. Shot three is about where I want it.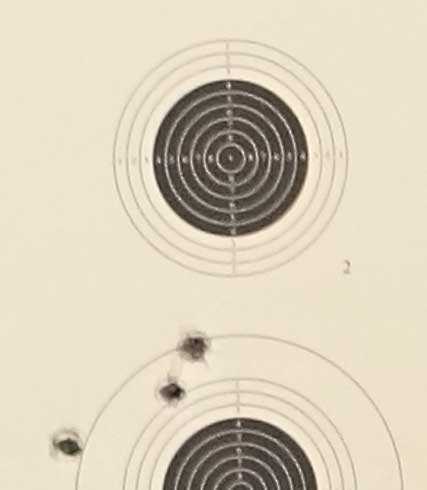 End of sight-in at 12 feet. I may still be a little left but with this I can back up to 25 yards, because the pellet will rise up to the bull.
The center of the bore is almost exactly 2 inches below the center of the scope and the last shot is pretty close to the same place — two inches below the aim point. Of course I aimed at the center of the bull, but at 12 feet this is where I want the shot to go because of how far below the center of the scope line the bore line is. Next time I can back up to 25 yards and be close to on target.
Meopta scope
So far the Meopta scope is as clear as a bell. I can't wait to see it at 25 yards. The adjustments went exactly where they should with no stiction. That's what a good scope should do.
I had to raise the cheekrest to see the exit pupil, but of course the Gauntlet 2 allows for that. Thank goodness I used a low scope mount. That 11mm scope base extension is quite high.
Summary
This is taking longer than I hoped but I'm ready to start shooting for accuracy next time. Yippie!