FWB 600 single stroke pneumatic target rifle: Part 3


The FWB 600 10-meter target rifle.
This report covers:
A problem
What is Running Target?
AirForce Airguns
Sight in at 12 feet
The test
RWS R10 Match Heavy pellets
Sig Match Ballistic Alloy
RWS R10 Match Pistol pellets
Excite
Qiang Yuan Training pellet
H&N Finale Match Light
Discussion
Summary
Today we take out first look at the accuracy of the FWB 600 10-meter target rifle. Today was a unique day. RidgeRunner, I'm advising you not to read today's blog. Split some wood or do some honeydos, but leave this blog alone.
A problem
When I got the rifle at the Arkansas airgun show I didn't pay any attention to the sights, beyond noticing they were there. It turns out that the front sight belongs on a running target rifle and is too tall for a 10 meter rifle. There is no riser block. This sight is one piece and high!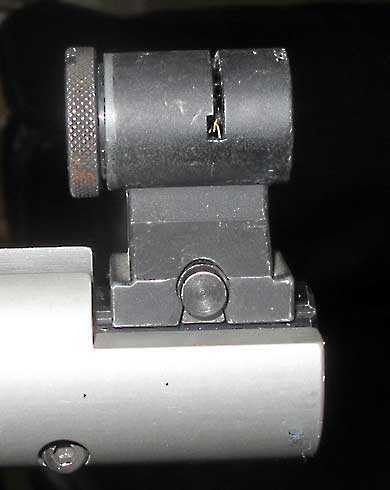 This is a front sight for a running target rifle. The regular 10 meter front sight would be down level with the silver muzzle cap.
As a result, with the rear sight adjusted as high as it will go the pellets still impact the target about 5 inches low at 10 meters. Obviously the rear sight needs to come up. I texted Scott Pilkington from whom I got the rifle and he said it must have had a riser on the rear sight. He said he would look for it for me.
What is Running Target?
What is Running Target and why are special sights needed? Well, it started as Running Stag. Then, when that became too un-Bambi-like, it transitioned to Running Boar. After all, who likes pigs? You sighted in to hit the stag on the nose or the pig on the top of the ear and the tall sight caused your pellet to drop and land in the bullseye. At least that was the hope!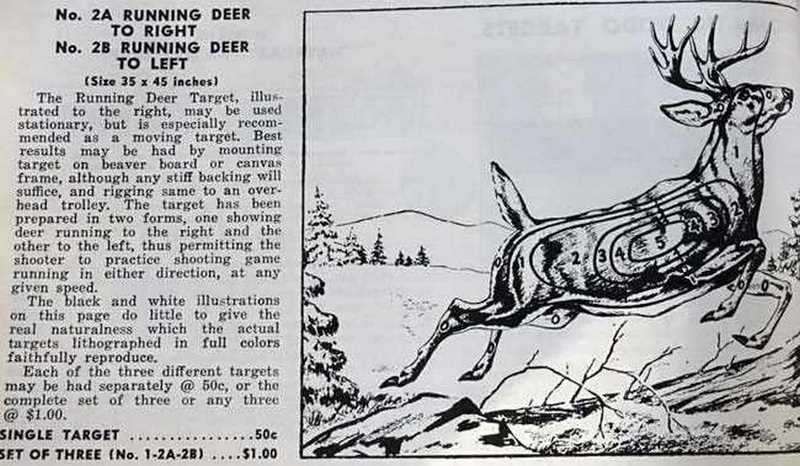 This is not an official Running Stag target, but it's close enough to give you the idea.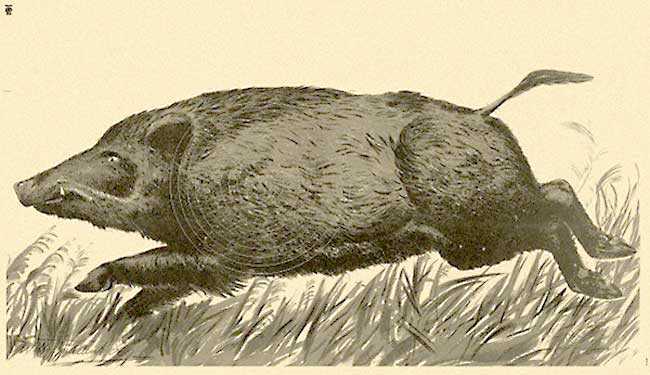 This is an official 50-meter right-to-left running boar target for centerfire rifles, I believe.
Finally, in 1992, when the thought of shooting at a paper target that had a drawing of an animal became too politically insensitive, the Olympics changed the name to running target and they changed the targets.
Today Running Target is an airgun sport shot with a scoped rifle. Two side-by-side bullseyes move in both directions along a track and they move both slow and fast. You aim at the front bull and hope to hit the rear bull, with front and rear determined by the direction the target moves.
I went online and looked for a new regulation 10-meter front sight for the FWB 600 without success. I guess it will have to be a used one. Then I tried the front sights I have on my other 10-meter rifles but nothing fit.
AirForce Airguns
I looked online and found that BKL makes a rear dovetail riser for 11mm dovetails. I know that BKL is made by AirForce who is right down the road from me, so I went and got a rear sight extension from them. It fit the 600 sight base perfectly and the FWB rear sight fit it, as well.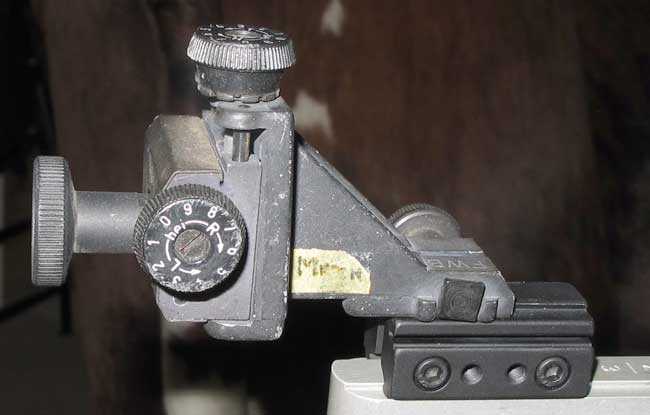 The BKL rear sight riser fits the FWB 600.
Sight in at 12 feet
After securing the rear sight to the BKL riser I sighted in at 12 feet. The pellet hit the target a little more than one-half-inch above my aim point. When I back up to 10 meters that will rise higher. I backed up and fiddled with the adjustments and it seems that now the rear sight is too high to hit the bull. Too high is better than too low because I can work with it.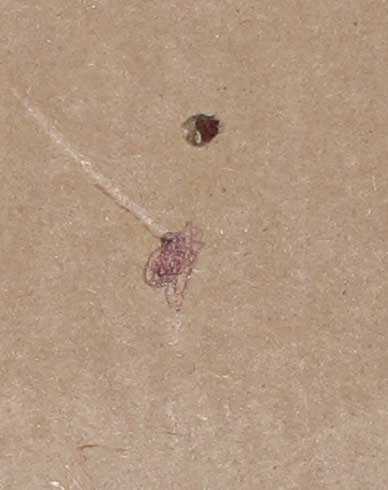 At 12 feet this is where the FWB 600 with the riser hits.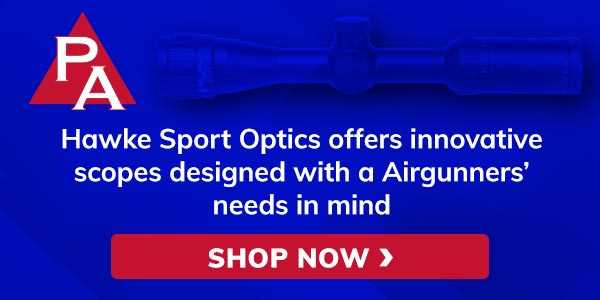 The test
I really wanted to test this rifle so I dialed the rear sight as low as it will go and proceeded to shoot some targets. I shot off a sandbag rest with 5 shots per group. Note to self — the 3.3mm front aperture is perfect for me!
RWS R10 Match Heavy pellets
The first group was shot with RWS R10 Match Heavy pellets. Five went into 0.078-inches at 10 meters. How about that — a gold dollar group right off the bat! It turned out to be the smallest group of the test.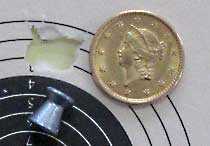 The FWB 600 put five RWS R10 Match Heavy pellets into a 0.078-inch group at 10 meters.
Sig Match Ballistic Alloy
Next to be tested were five of the Sig Match Ballistic Alloy pellets that Pyramyd Air no longer carries. They made a 0.09-inch group at 10 meters. Another gold dollar!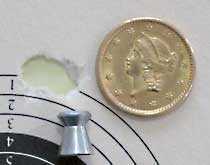 Sig Ballistic Alloy pellets made a 0.09-inch five-shot group at 10 meters.
RWS R10 Match Pistol pellets
Next up were five RWS R10 Match Pistol pellets. They made a 0.179-inch group.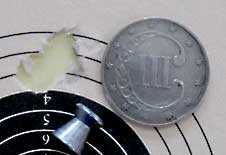 Five RWS R10 Match Pistol pellets made a 0.179-inch group at 10 meters.
Excite
One of our readers raved about Excite pellets, so I bought several tins. They are less expensive than RWS Hobbys but let's see what they can do. The FWB 600 put five of them into 0.18-inches.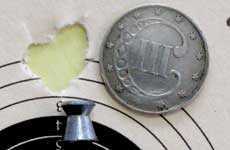 Five Excite pellets made a 0.18-inch group. It's the largest group of the test.
Qiang Yuan Training pellet
Next to be tested was the Qiang Yuan training pellet. Five went into 0.113-inches at 10 meters. Another gold dollar!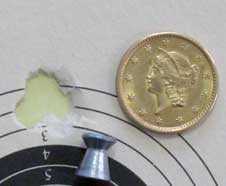 Five Qiang Yuan Training pellets made a 0.113-inch group at 10 meters.
H&N Finale Match Light
The last pellet I tested was the H&N Finale Match Light. The FWB 600 put six into 0.102-inches at 10 meters. That's the fourth gold dollar!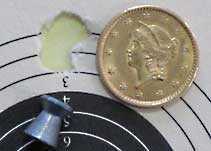 Five H&N Finale Match Light pellets made a 0.102-inch group at 10 meters.
Discussion
This test is a first. It's the first time I have tested a 10-meter rifle and not used the dime for group size comparison on any target. All the groups are smaller than two tenths of an inch between centers and four of them are smaller than 0.15-inches. Even though I can't center the groups, the rifle is shooting more accurately than any 10-meter rifle I have ever tested. It's a keeper!
Summary
I'm coming back to this one as soon as I get either a correct 10-meter front sight or a lower riser for the rear. I want to see these groups in the center of the bull!
Tags In
Tom Gaylord is known as The Godfather of Airguns™ and has been an airgunner for over a half-century, but it was the 
Beeman
 company in the 1970s that awoke a serious interest in airguns. Until then, all he knew were the inexpensive American airguns. Through the pages of the Beeman catalog, he learned about adult airguns for the first time. In 1994, Tom started
The Airgun Letter
 with his wife, Edith. This monthly newsletter was designed to bring serious reports about airguns to the American public. The newsletter and
Airgun Revue
, a sister magazine about collectible airguns, was published from 1994 until 2002, when Tom started
Airgun Illustrated
-- the first American newsstand magazine about airguns. Tom worked for three years as technical director at
AirForce Airguns
, the makers of the 
Talon, Condor, and Escape
 precharged air rifles. Today, he writes about airguns and firearms for various publications and websites. He also makes videos, and you'll find short clips embedded in some of his artices on Pyramyd Air's website. Tom is a consultant to Pyramyd Air and writes under the name of B.B. Pelletier.