This report covers:
Three pellets
The test
Testbed
Regular Baracudas with 5.53mm heads
On to the new pellets
Baracuda 18
Baracuda 15
Not a complete test
All sold out
Summary
Today we have our first look at the new Baracuda 15, plus we compare accuracy between the regular 21.14-grain Baracuda, the new Baracuda 18 and the newer Baracuda 15.
Three pellets
I covered the history of the original Baracuda pellet in Part One of this series. Let's look at the two new pellets.


From the left we have the original Baracuda pellet upright and lying down. Then comes the Baracuda 18 and the Baracuda 15. Looking inside the skirts you can see where the weight is and isn't.
The new pellet comes in head sizes and I happened to get two tins of 5.52mm heads. My Baracuda 18s are also 5.52mm. My regular Baracudas are 5.53mm. This would be a better test is all three were the same head size, but these days you're just lucky to get pellets at all.
The test
I plan to shoot all three pellets from different pellet rifles at different distances. That should give us a little insight into how gun-specific they are. But I won't do all of that today.
Today's test will be short, with one 10-shot group from each pellet. I'm shooting with a rested airgun at 25 yards.
Testbed
Today I chose to shoot my Air Arms S510 XS. I don't get to shoot it often, so I relish any chance I get. From past testing we know that this rifle produces around 25-33 foot-pounds, depending on the pellet and the power setting. Today I'm shooting it with the power set two clicks down from maximum for all three pellets. That produces good power and also conserves air.
We know from past tests that the rifle is quite accurate with most pellets. And it sports the Meopta MeoPro Optika6 3-18X56 scope that I have reported on in the past. So today's testbed is a good, accurate pellet rifle with a great scope.
Regular Baracudas with 5.53mm heads
First up were regular 21-grain Baracudas. I knew from past testing that the rifle was on target for 25 yards, so I got right to it. There was no sight-in. Unfortunately the third shot blew away my aim point and the rest of the first group was shot with guesswork. Ten pellets made a 25-yard group that measures 0.486-inches between centers. For many rifles that would be good, but the S510 is capable of better.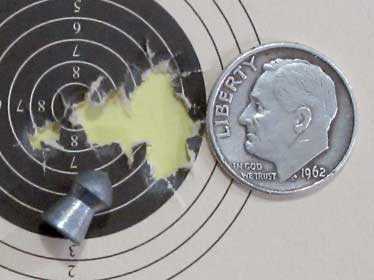 On shot number three I blew away the 10-dot which was my aim point. You can see part of it here but when it's smaller in the eyepiece and the rifle is moving I couldn't see it. So all the other shots were guesses where the center of the bull was. Ten shots in 0.486-inches.
I felt that was not a fair test because of the aim point, so I shot a second group. But first I dialed the impact point down 10 clicks, so the center of the bull would be preserved.
The second group of 10 pellets measures 0.431-inches between centers. It's not that much better than the first group and that means two things. First, I did a good job of guessing where the center of the bull is when shooting the first group and second, this is about as good as this pellet is going to get in this rifle.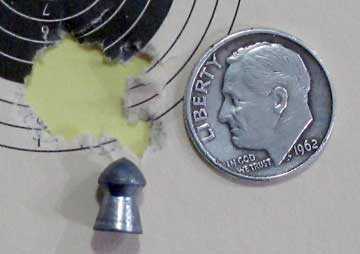 This second group of 10 Baracudas is lower, so the aim point was preserved. This group measures 0.431-inches between centers.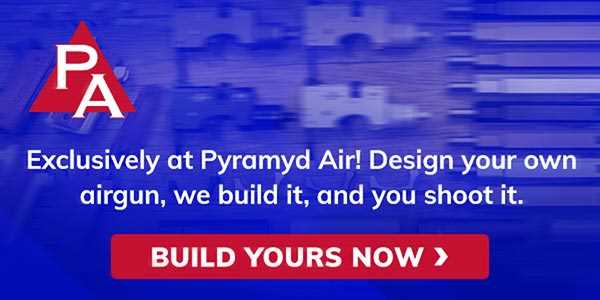 On to the new pellets
Now we move on to the two new pellets. First up is the Baracuda 18. This pellet actually weighs 18.13-grains.
Baracuda 18
The Baracuda 18 with a 5.52mm head went to almost the same place on the target that the heavier Baracuda went. Ten pellets made a group the measures 0.263-inches between centers. Now that is a group! The Baracuda 18 is definitely a good one for the S510 XS rifle.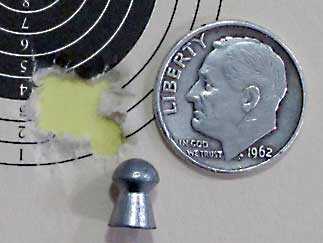 Yes! The Air Arms S510 XS likes Baracuda 18s! Ten pellets in 0.263-inches at 25 yards.
Baracuda 15
Now for the real test. How will this new light Baracuda 15 perform? And by the way, this one weighs 15.89-grains, so it's almost 16 grains. We know the rifle is an accurate one, so will this new dome prove to be accurate, as well?
Well, it is. Ten pellets went into 0.322-inches at 25 yards. That's another good group. Apparently we have a new premium pellet that may be in better supply that some pellets on which we have come to rely.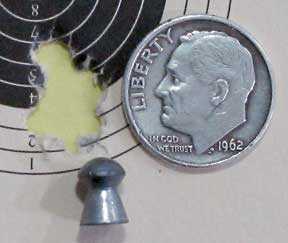 Ten Baracuda 15 pellets went into 0.322-inches at 25 yards. Ladies and gentlemen, we have a winner!
Not a complete test
Folks, this wasn't a full test of the Baracuda 15. For that we need a lot more groups from a lot of different airguns. This was just the start of all the testing I plan to do.
All sold out
When I wrote this report there were no Baracuda 15s left in stock. But H&N is making more, so watch for them. With the sometimes unstable supply of JSBs that get hygraded over on eBay, these might turn out to be a good backup pellet.
Summary
So far, so good. But I still want to test them in a spring rifle and in a low-powered springer.