This report covers:
Adjustments
Today's test
Adjustments are very accurate
Shot count
Discussion
Summary
Today we take a second look at the velocity of the .25-caliber Air Venturi Avenger Bullpup that I'm testing. Remember, this one is the .25 — not the .177 that 45Bravo told us about last week. We haven't seen this one since January 12.
After the stunning success of yesterday's accuracy test with the TX200 Mark III tuned with Tony Leach's 22mm piston kit I dreaded today's report. In fact adjustability is what makes all these modern PCPs difficult to test. I could spend a lot of time tweaking this and that and always wonder whether I hit the sweet spot. And, despite what you hear on YouTube, the sweet spot is not always in the same place from rifle to rifle. In other words — dialing an airgun in by somebody else's directions doesn't always work — even when I am the one giving them!
Adjustments
The Avenger Bullpup has a user-adjustable regulator and also a user-adjustable hammer spring. Which one do I tweak first and how much? Well, there are infinite answers to that question, so I picked a place and started there.
In Part 2 I tested the rifle as it came from the factory. That was with the regulator set at 2900 psi. I got 30 shots that averaged 788 f.p.s., which with the test pellets produces 46.82 foot-pounds. The high was 799 f.p.s. and the low was 779 f.p.s.
In Part 3 I adjusted the Avenger regulator as low as it would go, which on the onboard gauge read 1800 psi. I left the hammer spring alone. And what were the results? I shot JSB Exact King Heavy pellets, which in .25 caliber weigh 33.95-grains. My fastest shot with this setting was 769 f.p.s. I shot a long string of shot and the slowest one was on shot 52 where the pellet went out at 710 f.p.s. That's a total spread of 59 f.p.s.
With the long string in this test you can pick the start and stop points you want. And the average changes as you do, but I called it 732 f.p.s. and that's good for an energy of 40.4 foot-pounds.
Today's test
Today I set the reg pressure at 2600 psi. You can't lower the reg pressure with air in the reservoir, but you can raise it. So I filled to 4350 psi and slowly adjusted the reg pressure screw until the gauge showed 2600 psi. Do this slowly because the pressure take a little time to change.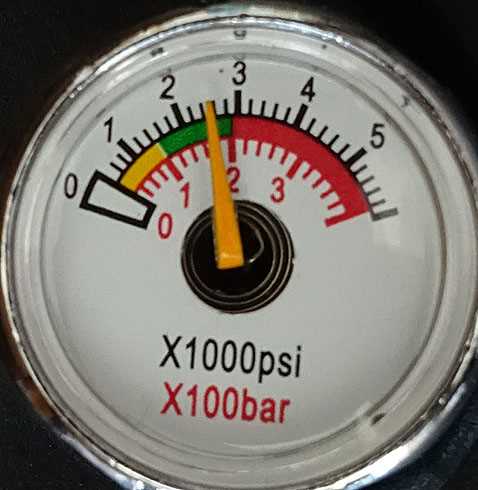 After adjustment the regulator gauge read 2600 psi.
Now I adjusted the hammer spring to have more tension. Every three shots I adjusted the spring a half-turn tighter, starting from where it was set from the factory.
SHOT…….Velocity
1…………….786 4350 psi remaining
2…………….778
3…………….779
Half turn up
4…………….794
5…………….795
6…………….790
Half turn up (one full turn from the start)
7…………….803
8…………….801
9…………….802
Half turn up (1.5 turns from the start)
10……………813
11……………811
12……………807 3100 psi remaining
At this point I could see that the rifle was using air rapidly. And the power increases were not very large. So I went back down to the point where the velocity was in the 790s. That was one full turn down.
One turn down (a half turn up from the start)
13……………792
14……………789
15……………791 3000 psi remaining
Adjustments are very accurate
Notice that when I adjusted down a whole turn I went back to where I had been two half-turns upward previously. Those numbers were 794, 795 and 790 and now going back to the same setting the numbers are 792, 789 and 791 f.p.s. So the Avenger Bullpup power adjustment is consistent.
Shot count
At this point I left the adjustments alone and just shot the rifle over and over. I watched the reservoir pressure and the regulator pressure which still read 2600 psi as of shot 15.
SHOT…….Velocity
16…………….790
17…………….791
18…………….789 2950 psi remaining
19…………….787
20…………….793
21…………….790 2800 psi remaining
22…………….787
23…………….784
24…………….784 2650 psi remaining. Reg says 2400 psi
After shot 24 I noted that the regulator pressure gauge now read 2400 psi.
25…………….791
26…………….791
27…………….793 2500 psi remaining. Reg says 2400 psi.
28…………….790
29…………….789
30…………….786 2400 psi remaining. Reg says 2200 psi.
After shot 30 I noted that the reg pressure gauge dropped to 2200 psi. Shot number 31 was telling.
31…………….778 Off the regulator
32…………….783
33…………….779
The rifle has fallen off the regulator at shot 31. Were I to continue to shoot. the velocity would drop in a linear fashion.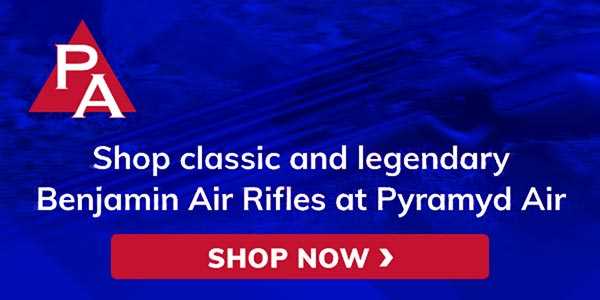 Discussion
If I had left the hammer spring at a half turn up for the entire test there might have been one or even two more shots before the rifle fell off the regulator.
If we take shot 30 as the final shot in this string and if we disregard the shots fired at a lower or higher hammer spring tension (shots 1-3 and 7-12), the spread goes from a low of 784 to a high of 795, a difference of 11 f.p.s. Let's call 790 f.p.s. the average. At that speed this pellet produces 47.06 foot-pounds at the muzzle. That's good enough for me.
It does seem that the .25-caliber pellet does use more air. Thirty good shots on a fill seems reasonable at the power level we are getting, and I now know how many shots I have before needing to refill during accuracy testing.
Summary
What we have learned is that the Avenger in .25 caliber needs its regulator pressure set higher, not lower. If that's done it gets a good number of shots on a fill.
We have also learned that the regulator and the hammer spring tension both adjust in fine increments and that they return to the same place when adjusted back.
Next will be accuracy testing of this rifle.