Makarov CO2 BB Pistol: Part 3
This report covers:
Does it hold gas?
The test
Crosman Black Widow
Daisy Avanti Match Grade shot
Smart Shot
Dust Devil Mark 2
Discussion
Summary
Today we look at the accuracy of the Makarov CO2 BB Pistol. You may recall that I said that when I tested this pistol on camera in American Airgunner back in 2010 it was extremely accurate. Of course that was a different pistol than the one I'm testing. I am excited to find out how good this one is.
Does it hold gas?
After the last test I set the pistol aside for five days. Did it still hold gas after that time? Unfortunately, no. Just like before it was empty. So the gun has a slow leak that ATF sealant has not been able to fix. Well, it doesn't always work, does it?
The test
I shot the pistol with 10 of each BB tested except one that was shot twice for a total of 20. I rested the pistol on a UTG monopod and shot seated from 5 meters, which is 16.4 feet. I used a 6 o'clock hold on the bull of a BB gun target.
I wore my 1.25 diopter reading glasses. They enable me to see the front sight blade as clearly as possible.
Before we start I want to remind you that this pistol fires both single and double action, but the single action pull is roughly as heavy as the double action pull. I began the test firing single action but changed during the test. I will tell you when that happened.
Crosman Black Widow
First to be tested were 10 Crosman Black Widow BBs. In other BB guns they have proven the best. That doesn't guarantee they will be in this pistol, but they are high quality steel BBs.
Ten Black Widows went into a group that measures 1.795-inches between centers. That was not what I expected. It was three times larger than anticipated.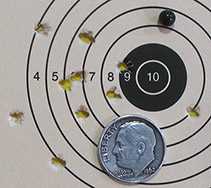 The Makarov put 10 Crosman Black Widow BBs into a group that measures 1.795-inches between centers at 5 meters.
Daisy Avanti Match Grade shot
The second BB I tested was the Daisy Avanti Match Grade shot. They were even more of a surprise because 10 went into 3.516-inches, however one of those shots was a called pull. This was the group where I stopped cocking the hammer manually and started pulling the trigger double action. The first of those shots went off before I was ready and that was the called pull. Once I realized how smooth the trigger was, there were no other called pulls throughout this test. The nine shots that were not pulled are in 2.202-inches between centers.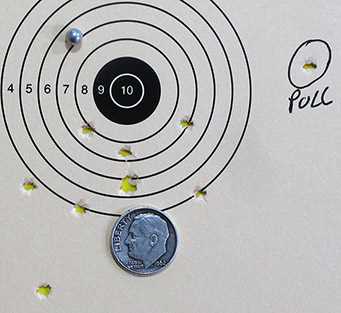 Ten Daisy Avanti Match Grade BBs went into 3.516-inches at 5 meters. Without the called pull nine shots are in 2.202-inches, which is still not a good group.
Double action is definitely the way to shoot this pistol. The trigger is very smooth and if you fire relatively fast (about a shot per second) you can hold the sights on target without a problem.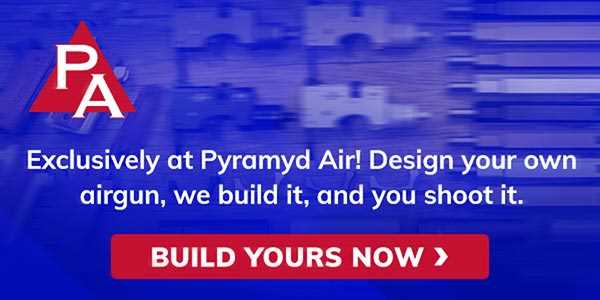 Smart Shot
The next BB I tested was the lead Smart Shot. These were all shot double action and they produced the smallest group of the test. Ten BBs went into 1.506-inches at 5 meters. This group is about twice the size of the groups that I remember from American Airgunner, so we apparently had a very accurate pistol for that test.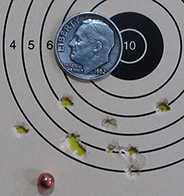 Ten Smart Shot went into 1.506-inches at 5 meters.
With a result like that I had to try the Crosman Black Widow BBs once again. They were all fired single action the first time and I wondered whether shooting double action would result in a smaller group. This time ten went into 2.394-inches at 5 meters. Nope. No better — worse.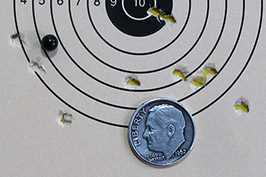 The Makarov put ten Black Widow BBs into 2.394-inches at 5 meters when fired double action.
Okay, the pistol is easier to shoot double action but it doesn't seem to make much difference to the size of the group.
Dust Devil Mark 2
The last BB I tried was the Air Venturi Dust Devil Mark 2. These usually give the largest group in a test. But today they gave the second-best group. Ten went into 1.767-inches at 5 meters.
0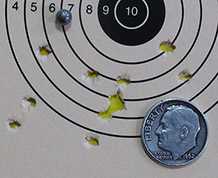 Ten Dust Devils made a 1.767-inch group at 5 meters.
Discussion
These results were not what I expected. I was quite surprised by them, but I think they represent what a typical Makarov BB pistol will probably do.
Next I will test the Makarov Ultra. That's the blowback version of this pistol. I don't know how long it has held its CO2 cartridge, but it's been in there at least a year and it's still holding fine.
That pistol is no longer available, which is a shame because it is even more realistic-looking than the one we tested today. But it also sold for over $100 and apparently people who buy BB guns are not willing to spend that much, regardless of the realism.
Summary
The Makarov BB pistol is about what can be expected in a CO2 repeater. I was surprised by the performance of Dust Devils and Smart Shot, which are ironically the two safest BBs for a fast-firing pistol like this. Stay tuned.
Tags In
Tom Gaylord is known as The Godfather of Airguns™ and has been an airgunner for over a half-century, but it was the 
Beeman
 company in the 1970s that awoke a serious interest in airguns. Until then, all he knew were the inexpensive American airguns. Through the pages of the Beeman catalog, he learned about adult airguns for the first time. In 1994, Tom started
The Airgun Letter
 with his wife, Edith. This monthly newsletter was designed to bring serious reports about airguns to the American public. The newsletter and
Airgun Revue
, a sister magazine about collectible airguns, was published from 1994 until 2002, when Tom started
Airgun Illustrated
-- the first American newsstand magazine about airguns. Tom worked for three years as technical director at
AirForce Airguns
, the makers of the 
Talon, Condor, and Escape
 precharged air rifles. Today, he writes about airguns and firearms for various publications and websites. He also makes videos, and you'll find short clips embedded in some of his artices on Pyramyd Air's website. Tom is a consultant to Pyramyd Air and writes under the name of B.B. Pelletier.