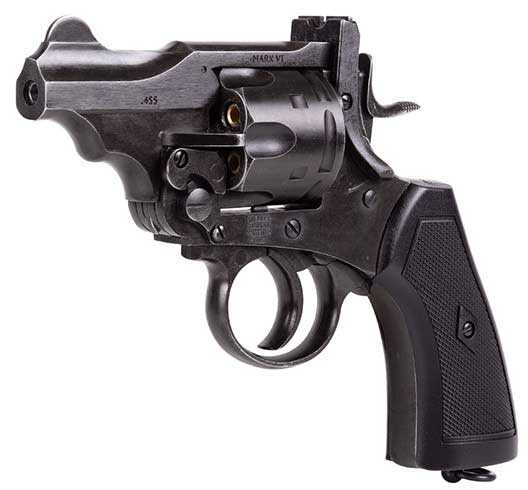 Webley Mark VI CO2 Pellet Revolver.
This report covers:
The test
RWS Hobbys
Trigger pull
Sig Match Ballistic Alloy
The good news — Ta-Da!
Changed my plans
Last target
Whaddaya say?
Summary
Boy — do I have a good one for you today! It starts out looking bad but just wait. Today I test the accuracy of the Webley Mark VI CO2 Pellet Revolver with a 2.5-inch barrel.
A LOT of readers are watching this report, because this revolver touches a chord in most shooters. It's very realistic, and the firearm it replicates is a classic. Ugly — yes. But a real workhorse! Here we go!
The test
Today I shot the Webley Mark VI CO2 Pellet Revolver from 10 meters. I shot off a rest, using the sandbag to steady both the butt of the pistol grip and my two hands. Yes — BB shot this revolver with a two-handed hold.
I cocked the hammer for each shot to keep the stray shots to a minimum. And the hold I just described was rock solid.
I shot 10-shot groups at 10-meter pistol targets which is asking a lot from a handgun with a 2-1/2-inch barrel. Not that it can't be accurate. But the sight radius (distance between the front and rear sight) is so short that ANY small deviation results in gross movements downrange. You're going to see that as this report progresses.
I thought I would test the accuracy with the same three pellets that I used in the velocity test. More on that in a bit. Let's see what she'll do.
RWS Hobbys
For no good reason I started with RWS Hobby pellets. I loaded six and then four the second time. I know that the cylinder revolves clockwise when I'm looking at it while loading with the gun broken open, so I know how to load those last four pellets.
The first shot hit the target — well, let's talk about it. I squeezed the trigger and the revolver didn't fire, so I thought I had put the safety on. But I hadn't. So I went back to shoot and I squeezed off the shot before I was ready. It is a flier that I circled for you. The other nine pellets went into a group that measures 3.625-inches between centers, and shot ten opens that to 4.059-inches. Ugh! That's a horrible group, not to mention that it's somewhat to the left of center on the target. Oh how I hoped that the next two pellets would do better!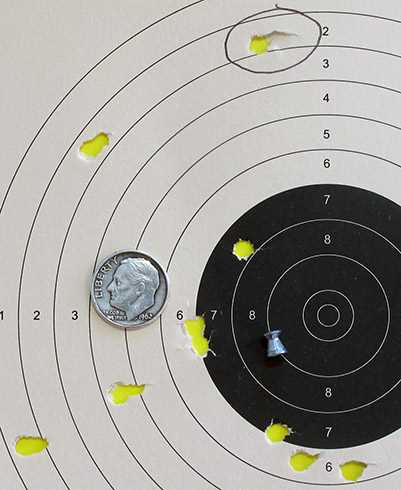 Ten Hobby pellets went into 4.059-inches at 10 meters, but without the circled wild shot, there are nine in 3.625-inches. Double ugh!
Trigger pull
I have no idea why that first shot was so hard to pull off, but after that the revolver settled into a fine consistent trigger pull. There is a little creep in stage two, but it's quite manageable.
Sig Match Ballistic Alloy
Next up were ten Sig Match Ballistic Alloy (made from tin) pellets. I sure hoped they would do better!
They did! Ten pellets are in 2.803-inches with eight of them in 1.853-inches. Now, that is better, but the pellets are still landing to the left of the centerline on the target. Okay, I thought, I will show you how to deal with that when you are shooting fixed sights.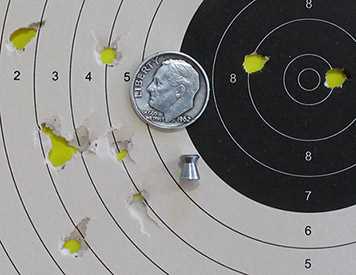 Okay, now we're doing better, if not good. Ten Sig Match Ballistic Alloy pellets went into 2.803-inches at 10 meters with eight in 1.853-inches.
But BB — I like those two that hit in the center of the bullseye! I want them all to do that. So do I, but that's not where this revolver wants to put this pellet. Those two are actually stray shots. They're not fliers, but remember what I said about a short sight radius being extremely difficult to shoot? They are an example of it.
And pay attention to what I just said about "this pellet." Because a different pellet may go to a completely different place — as you shall now see.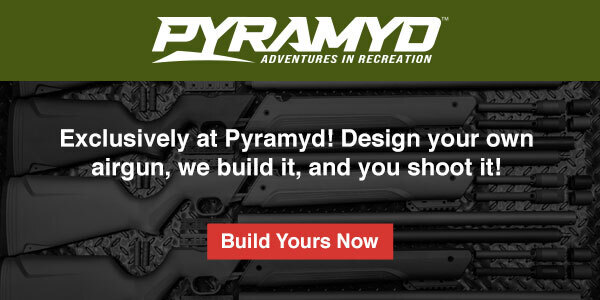 The good news — Ta-Da!
The final pellet I selected to test in this revolver today is the Air Arms 8.44-grain dome. For some reason I felt this might be a good pellet for this airgun. And it was! Oh, ten shots went into 3.515-inches at 10 meters, but eight of those shots are in 1.775-inches. And look where seven of them hit — in the center of the bullseye! Ha-cha! We're on a roll now!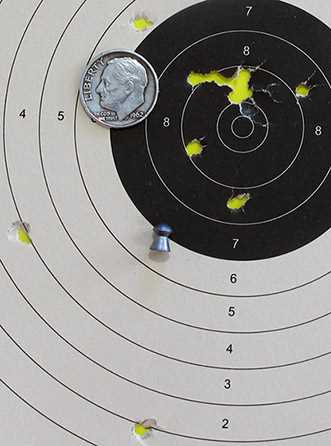 The Webley Mark VI put ten pellets into a 3.515-inch group at 10 meters with eight of them in 1.775-inches. Yes, that includes the one shot outside the bull on the upper left.
Wow! This is great, because it means that this revolver is accurate. AND, it will make a better shot of you because of all the attention you have to pay to the sight picture to get good results.
Changed my plans
What I had planned to do was show you how to deal with fixed sights when the gun is shooting away from the intended target, but these results made me decide to do something different. I decided to shoot one last target with this pellet and just a cylinder full of pellets. In other words, six shots. Could I put them all in the bull?
Last target
On this final target I took great care with each shot. But when I was done only four of the six had hit the bull. Apparently I was tiring out. I shot six into 2.285-inches with four in 1.301-inches. I'm never going to shoot a gold dollar group with this pellet revolver through anything but chance, but this is superb accuracy for a pellet revolver like this!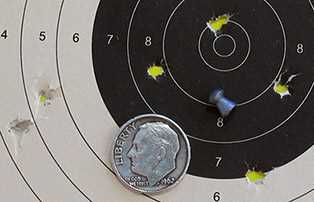 On the last target the Webley put six into 2.285-inches with four in 1.301-inches.
Whaddaya say?
I don't believe that this is the last time I will test this revolver. I want to try other pellets and also to (hopefully) refine my sight picture to do even better. This girl can shoot!
Summary
This isn't the last you will see of this pellet revolver. It's a great lookalike that is also accurate. It just needs a good shooter behind it, which BB will try to become.