BB's Goldie is a golden Cerakoted Avenger. The reservoir, receiver, muzzle cap, forward Picatinney rail and cocking handle were colored differently to set off the gold.
Part 1
Labradar chronograph
Part 2
Part 3
Part 4
This report covers:
The test
Labradar
Air Arms 16-grain dome
Velocity with Air Arms 16-grain domes
JSB Exact Jumbo Monster Redesigned
Velocity with JSB Exact Jumbo Monster Redesigned
What we have learned?
Summary
Today we look at the accuracy of BB's Goldie at 25 yards for a second time and no, this is not a repeat of the last test. This time I read up on what I wanted to do at the end of the last test and this one will be a very novel test that's worthy of an entire pot of coffee (or tea) and at least two Danish or doughnuts for all the law enforcement personnel.
You will remember that in Part 4 I tested the rifle at 25 yards with three pellets after lowering the regulator pressure to 1,800 psi. After I filled the rifle this morning the reg was still spot on 1800.
I shot the last test using the 10-shot magazine. Today I'll use the single shot tray. And I want to say a word about that tray. It slips top-down over the breech, so no amount of pushing sideways while loading the pellet can move it out of position.
I alsoilluminated the reticle of the Meopta MeoSport R 3-15X50RD second focal plane scope for the last test. Today I left the reticle dark.
The test
I shot 10-shot groups with the rifle resting on a sandbag. I also had the Labradar chronograph set up because one thing I wanted to learn was how adjusting the reg to its lowest setting and also dialing the hammer spring tension lower affected velocity.
It was my desire to start the test with the last pellet I had shot — to test the theory that barrels have to be conditioned when you change pellets. I started with the wrong pellet though and instead I may have disproven that theory. I'll explain when we get there.
Labradar
Today you'll see why I have linked to the Labradar report. I've been asked offline how I really like the Labradar chronograph. I have to say it's my favorite chronograph of all time. It has NEVER failed to record the velocity of a shot, excepting the one time I didn't have it set to record. All the stuff you hear about how difficult it is to align this chronograph with the target downrange is a bunch of hooey, as far as I'm concerned. It does take longer to set it up but that's mainly because it's doing so much more than any other chronograph can. And the optional rechargeable battery that I bought for it is now at 98 percent — despite being at 93 percent after the last use. Don't ask me how that's possible. I'll just accept it. If it keeps on generating power I might tie it into my house wiring. It's better than solar panels because it doesn't put holes in my roof! [Ooopsie — I read the display upside-down. It's actually reading 86 percent! Oh, well, I guess I still have to pay the electric bill.]
Air Arms 16-grain dome
Until Part 4 I thought the Air Arms 16-grain dome was the most accurate pellet in this rifle. It was the best in the last .22 Avenger I tested, back in 2020. But back then I didn't test the pellet that I now believe to be the most accurate. In Part 4 BB's Goldie put ten of these pellets into 0.248-inches at 25 yards, and that was when I shot the aim point away on the first shot.
Since those shots hit in the center of the bull last time, taking out my aim point, I adjusted the scope up 12 clicks. I wanted no excuses for not shooting my best today. This time ten shots landed at the top of the bull. I thought I was going to have a screamer but the tenth shot opened the group to 0.306-inches between centers. It would have to be on the last shot, wouldn't it? But for that shot this group would have been a gold dollar group (smaller than 0.15-inches between centers). Oh, and I am showing the groups larger than life so reader Ridge Runner can examine the pellets closely.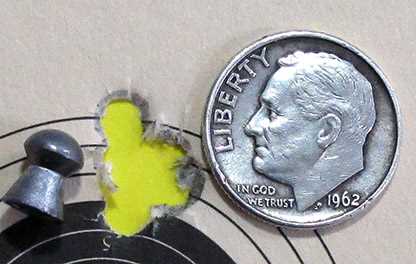 BB's Goldie put 10 Air Arms 16-grain domes into a 0.306-inch group at 25 yards. The hole on top was the last shot.
Velocity with Air Arms 16-grain domes
Since the chronograph was up I also recorded the velocity of all 10 shots. This isn't a velocity test but I did want to know what dropping the reg pressure and relaxing the hammer spring in Part 4 had done. Here are all 10 shots.
Shot………..Vel.
1…………….871
2…………….836
3…………….833
4…………….834
5…………….830
6…………….829
7…………….833
8…………….832
9…………….831
10…………..826
Okay, the "average" for this string is 835.66 f.p.s. But, because of that first shot, this isn't a true average. That first shot skews the distribution quite a bit. The average for the next 9 shots is 831.56 f.p.s.
If we accept the last 9 shots as correct for this pellet the low was 826 and the high was 836 f.p.s. That's a 10 f.p.s. difference.
At the true average velocity this 16-grain pellet develops 24.6 foot pounds. Now, that is closer to my goal of the mid 20-foot-pound region. I would say that reducing the regulator pressure and lightening the hammer spring tension has worked.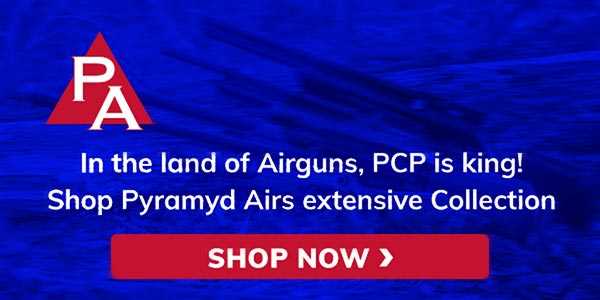 JSB Exact Jumbo Monster Redesigned
Next to be tested was the JSB Exact Jumbo Monster Redesigned pellet that surprised us in Part 4. I left the scope's adjustment set where they were and shot ten of these pellets at the next bull. Ten Monster Redesigned pellets went into a 0.154-inch group at 10 meters. It was SO close to a gold dollar group!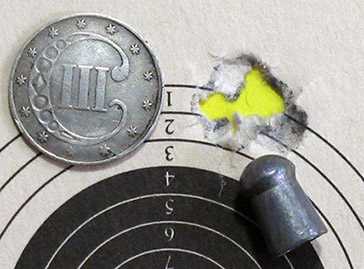 Ten JSB Jumbo Monster Redesigned pellets went into 0.154-inches at 25 yards. It was almost a gold dollar group!
Velocity with JSB Exact Jumbo Monster Redesigned
Once again that chronograph recorded all 10 shots. I said in Part 4 that the Redesigned Jumbo Monster probably added a foot pound of energy. Now we find out for sure. Here are all 10 shots.
Shot………..Vel.
1…………….693
2…………….671
3…………….677
4…………….671
5…………….671
6…………….670
7…………….672
8…………….670
9…………….671
10…………..672
Okay, there are a couple things to note in this string. First, notice how the first shot is 20 f.p.s. faster than the other nine and doesn't really belong in this string. That's just like the previous string, though not as pronounced. The heavier pellet may be the reason the first shot's velocity difference isn't as large. The spread for the last nine shots went from a low of 670 f.p.s to a high of 677 f.p.s. That's just seven feet per second.
If we drop the first shot, the other nine shots average 671.67 f.p.s. Do you remember what the "magic" velocity number is? That's the velocity at which the muzzle energy in foot pounds is equal to the the weight of the pellet in grains. The magic velocity is 671 f.p.s., and this 25.4-grain pellet generates 25.45 foot-pounds at 671.67 f.p.s. That is 0.8 foot-pounds more energy than the first pellet developed. My one foot-pound guess was pretty close, eh?
And why is the first shot faster in both strings? I would have to do a test by itself to figure that one out, but here is what it DOESN'T mean. In both groups the first shot WAS NOT outside the main group. In the first group it was the last shot that went wide and in the second group there really isn't any pellet outside the main group. Bore-seasoning seems to not play a role in accuracy — at least not at 25 yards with these two pellets in this rifle.
That is one heck of a lot of stuff to learn in such a short test!
What we have learned?
I have learned a lot about this Avenger in this test, because an Avenger is what BB's Goldie is. This rifle is just as accurate as my $1,800 Air Arms S510XS. Glory be! I do think I need to test the 510 again, just to be sure (scope illumination turned off, etc.). Please agree with me — please, please, please…
And that "inexpensive" Meopta scope is worth every penny. The problem is, I'm getting poor on Meopta scopes, because once I mount one on an accurate air rifle I don't want to take it off again.
Summary
BB's Goldie is one of the most accurate air rifles I have ever tested. If you plan to try out precharged rifles at some time, I couldn't think of a better choice than an Avenger.