Happy two days after Christmas. Today we read a second guest blog from reader Cpt. Klotz, whose real name is Stephan. He tells us about a new Diana 35 that his friend let him test for us.
If you'd like to write a guest post for this blog, please email me at blogger@pyramydair.com.
Take it away, Stephan.
Diana 35 Commemorative
By Stephan


The Diana 35 Commemorative is a large and well-crafted air rifle.
This report covers:
German spec
Performance line
Accuracy
Conclusion
This is my second review of a new Diana gun. My friend who bought this and the Diana Twenty-One FBB offered to leave them here for me to play around with and you guys asked for a review of both, so here we go.
German spec
Again, this is a German [F] gun with a power of around 7.5 joule at the muzzle.
Performance line
This rifle is part of Diana's Performance Line and made in Germany. I will be disappointed if it doesn't deliver excellent performance.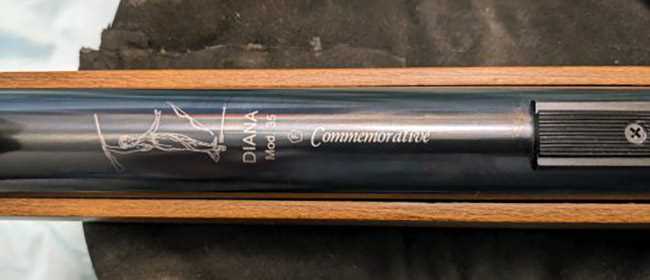 The finish and bluing of the metal parts is fantastic.
This one is fairly easy and not as long as the report on the Twenty-One.
a) This is basically a 34 T06. BB has written a lot of good things about them over the years.
b) I basically own the same gun.
My Diana rifle is a 31 Panther that came with the synthetic stock when I bought it around 8 years ago. It was still made in the old Dianawerk in Rastatt. The model was called the 34 Panther in the USA and is the same thing anyway. It is very accurate.
At some point, I swapped out the barrel for one that supports a metal front sight. Later, I also put the rifle in a wooden stock when I got one cheaply as… well… b stock [Ed. — a blemished or opened box item].
So, no need to explain to you what the 35 is. I think the Commemorative was created to celebrate Diana's 130th birthday or the fact they have sold a lot of 35s over the decades.
All I can say is that I REALLY like it. The stock looks fantastic and my photo doesn't really convey that. It's almost the same shape as my b stock, but much nicer wood with a matte finish and a beautiful grain to it. The 35 also comes with a metal globe front sight and a removable insert. That's great as it allows you to use pretty much any kind of front sight, including the ring variety for use with a diopter.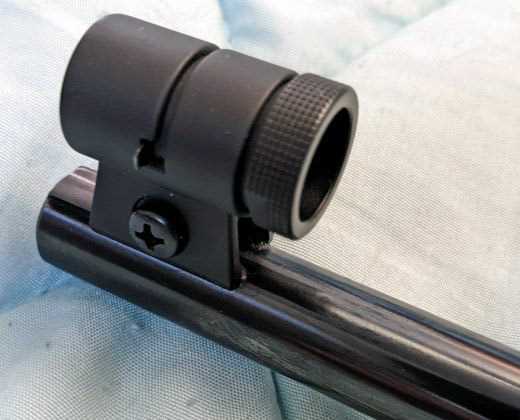 Diana 35 Commemorative front sight.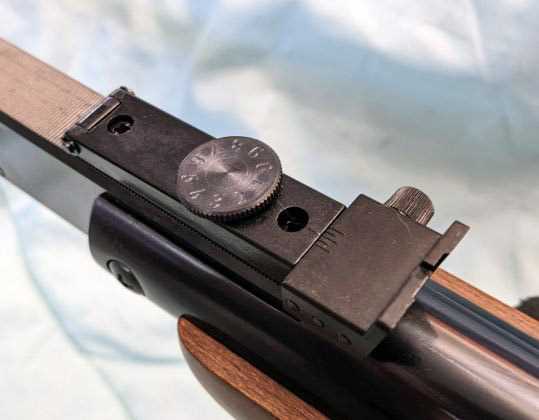 Diana 35 Commemorative rear sight.
That means there is only one question left to answer: Is this new rifle made by German Sport Guns in Ense as good as the older ones made in Rastatt?
The barrel lock is still a little stiff and the cocking action is a little rough. Both will improve just as they did on my now well worn-in 31. The same goes for the firing cycle which is already pretty smooth.
The T06 trigger is great out of the box. I adjusted the one on my rifle to the lightest weight at which I could still feel the second stage. Still, I had no complaints at all about this one out of the box.
Accuracy
I mounted my Nikko Stirling Gold Crown Airking 3-9×42 scope on the rifle for accuracy testing. All groups are 10 shot groups shot from a bag rest at 10 meters.
I immediately started shooting decent groups with a new tin of the H&N Sport pellets.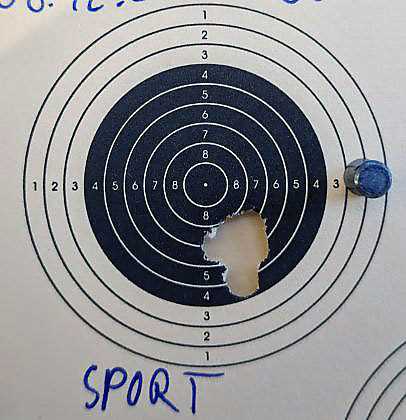 H&N Sport pellets are affordable and work well in all of my rifles. This 35 is no exception.
When I switched to an old tin of H&N Finale Match Heavy wadcutters, I shot 9 shots into a really small group. The tenth shot opened the group up a bit but I still think it's a very good result for a recoiling springer.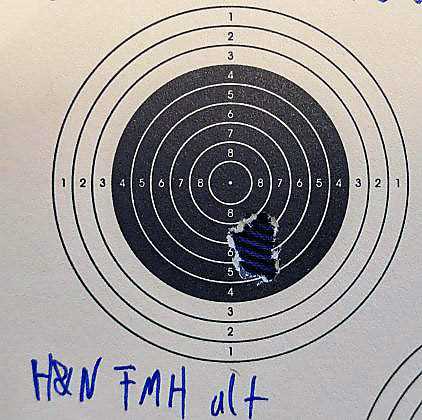 H&N Finale Match from an old tin I got with my FWB LP80 pistol.
It was at this point I knew this rifle was on par with my older Diana and Weihrauch HW 35 E.
I also tried new H&N Finale Match Heavies, RWS R10 and Qiang Yuan Olympic pellets. I got very good results with all of them. JSB Exact 4.50mm, H&N Field Target Trophy 4.51 and RWS Super Field also provided good results: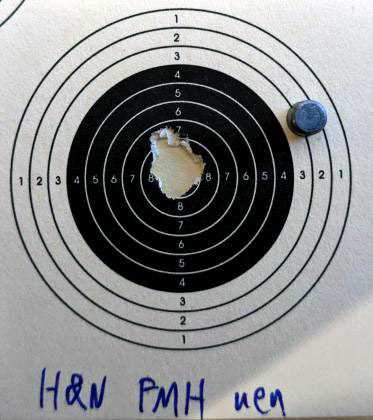 H&N Finale Match Heavys from a fresh tin.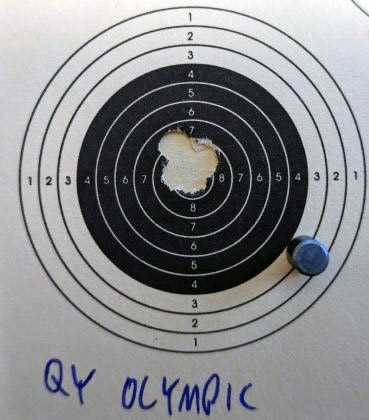 Qiang Yuan Olympic pellet group.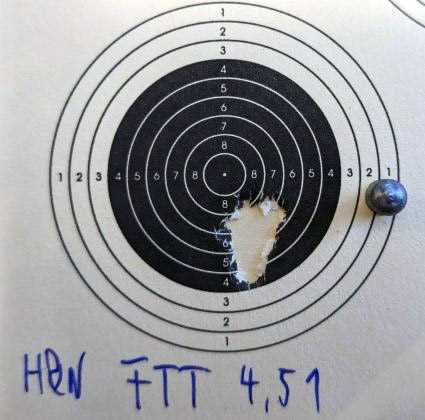 H&N Field Target Trophy 4.51mm group.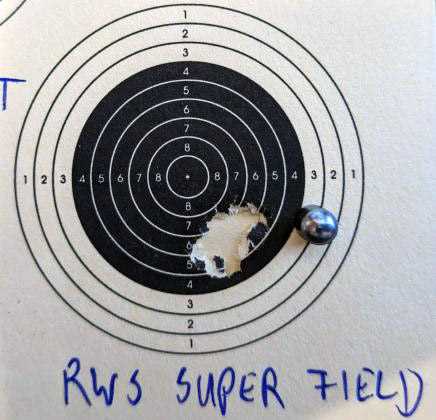 RWS Super Field group.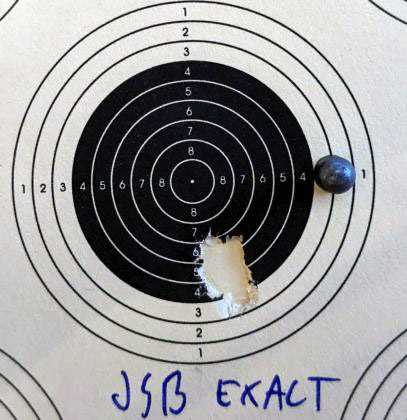 BB once said the 34 required fairly little technique for a breakbarrel springer and I would agree.
You can see that I got good to very good results with a variety of pellets. If I try for a very long time, I could maybe shoot a 10 shot group that is a little smaller, but not much.
Conclusion
The 34 series doesn't seem to have suffered from the switch to GSG at all.
After the Twenty-One, which is good for the price but didn't completely satisfy me, this was a welcome change of pace. The 35 Commemorative ticks all the boxes for me and performed well from the start.
It is easy to shoot and very accurate.
At the current price of € 230 [Ed. US $243.97 as of the date of publication], and with the standard features it has, the 35 Commemorative seems to be a very good value.
I can easily recommend this one.