This report covers:
Groenewold lead BBs
The test
Beeman Perfect Rounds
Summary
Today I try two more lead BBs in the Diana Oktoberfest Gewehr. John Groenewold got some 4.4mm lead balls in and reader Michael sent me a gift of a pound to test in this rifle. To round out the test I also tried some obsolete Beeman Perfect Rounds that were made by H&N. We may assume they are similar to the Smart Shot that H&N also makes, though these are not plated with copper. There are many more sizes of lead balls available in Germany where H&N is headquartered, and isn't it odd that the 4.4mm balls we need for the Oktoberfest are not available in the U.S.?
Groenewold lead BBs
I have some lead BBs from John Groenewold on hand but I was unable to find them for this test. So, thanks to Michael, I now have a pound's worth. That's how they come — loose in a plastic bag. A pound is about 950 BBs.
Michael said his Groenewold BBs measured — well, here, I'll let him tell you.
"Most of my JG lead balls are pretty uniform and measure 4.29mm. Every now and then I'll measure one that is as large as 4.34mm."
So I measured one of them. I got 4.28mm. That's pretty small. It's a lot less than 4.4mm. I wondered how well these balls would do in the Oktoberfest. Only one way to find out. Yippie!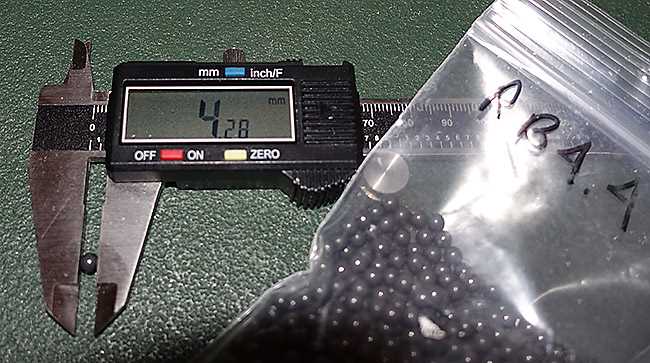 The one Groenewold BB I measured came in at 4.28mm.
The test
I shot the Oktoberfest off a sandbag rest at 5 meters. The rifle was rested directly on the bag. I wore my reading glasses with a +1.25 diopter correction to see the front sight sharply. I shot 10-shot groups. This is exactly how I have tested the rifle twice before.
Ten Groenewold BBs went into a group that measures 2.26-inches between the centers of the two holes farthest apart. That's not a good group! In the previous tests even steel BBs shot better. So Groenewold BBs are not for the Oktoberfest — at least not for what I want to do.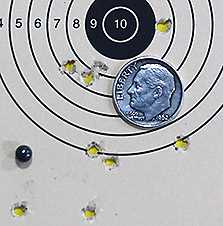 Ten Groenewold BBs went into 2.26-inches at 5 meters. This is not a good BB for the Oktoberfest.
I was going to call it a day after the one group, but there were some other lead balls I hadn't tried yet. The first were 4.55mm zimmerstutzen balls that measure 4.49 to 4.54mm. The first one failed to drop all the way into the tubular magazine, so I didn't force them. The last thing I want is to have to disassemble this rifle to clear a jammed BB.
Beeman Perfect Rounds
I also wanted to try some Beeman Perfect Rounds. They say 4.5mm on the tin, but this test series has taught us that those numbers are only ballpark figures. You have to measure the balls to find out for sure.
I only had about 15 BBs left in a tin and they measured between 4.4 and 4.5mm.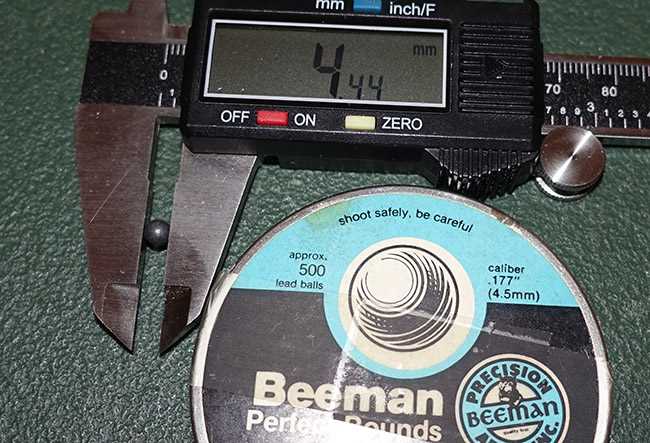 Beeman Perfect rounds measured 4.44 to 4.45mm in diameter.
Because they are larger there was no doubt in my mind that Perfect Rounds would be more accurate than Groenewold BBs. We know for a fact that the Oktoberfest likes larger BBs. But — would they be as accurate as the German 4.4mm lead balls that were tested in both Parts 3 and 4 of this series? Those BBs are super uniform, which I believe adds to their accuracy.
Well, the Oktoberfest put 10 Perfect Rounds into a group that measures 1.302-inches between centers at 5 meters. That puts Perfect Rounds behind those super-uniform 4.4mm balls from the pink tin and also slightly behind the German 4.4mm lead balls from the green tin. That last one (the difference in group size between the 4.4mm BBs in the green tin and the Perfect Rounds) is too close to call, so if I find another tin or two of Perfect rounds they will be okay for the next test, which is shooting the Oktoberfest at the BadaBang electronic target.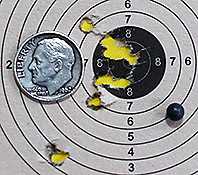 The Oktoberfest put 10 Beeman Perfect Rounds into a 1.302-inch group at 5 meters.
Summary
Okay, I have tested the Diana Oktoberfest Gewehr with every lead BB and ball to which I have access. There are other lead balls in the world — especially in Europe — but they aren't easily available in the US.
I still enjoy the Oktoberfest, though I have to admit that it isn't the airgun I was expecting. Instead of a less expensive Diana model 30, it stands by itself as a personal shooting gallery gun.
When we next see the Oktoberfest I will give you something to do with it. And it will be more than you expect — I hope!