Diana Twenty-One.
This is a guest blog from reader Cpt. Klotz, whose real name is Stephan. Today he tells us about a Diana Twenty-One FBB that he wanted to test but not own. When a friend got one, he saw his chance.
If you'd like to write a guest post for this blog, please email me at blogger@pyramydair.com.
Take it away, Stephan.
The Diana Twenty-One FBB (fluted bull barrel)
By Stephan
This report covers:
Biases
Description and first impressions
Metal parts
Synthetic parts
Open sights
Scope
Power / Velocity
Cocking and firing cycle
Trigger
Shooting and accuracy
Conclusions
BB speaks
This is a review of the Diana Twenty-One FBB. To tell you the truth, this is not a gun I would have bought for myself. The Twenty-One is one of the Chinese-made budget-oriented airguns from Diana. It currently sells for around € 130 with a 4×32 scope here in Germany [Ed. that would be about US $137.92 as of the date of publication].
Biases
I've been shooting airguns with varying intensity for some years now. I wouldn't call myself an expert, but I know what I like:
1. Metal and wood
2. Good quality open sights (preferably with interchangeable front sight inserts)
3. High-quality adjustable triggers
I'd rather pay a little more and buy something that lasts and satisfies me a lifetime
Yeah, the Twenty-One isn't really for me… If I wanted to get a small and light air rifle, I'd get an HW 30 S from Weihrauch (which is about double the price without a scope).
What I do like as well, however, is testing things. And my biases might only make this review more interesting. But what if this thing is decent or actually good?
Description and first impressions
The Twenty-One is a small and light rifle. My own Diana rifle is a 31 Panther and came with the black synthetic stock originally. I put it in a wooden stock when I got one cheaply (just think of it as a 34 T06 — it's the same thing). It is a bit longer and much heavier than the Twenty-One.
Conventional wisdom would probably say the Twenty-One is too small for me, but the light weight and easy cocking actually make shooting it fun.
Metal parts
The metal parts look well-made and have close tolerances. The barrel opens and closes smoothly but firmly without detectable play. This is not too different from my 31 or my 1988 LP 5 G pistol (which do have an even better finish and richer, shinier bluing). The barrel is rifled. Nothing to complain about there.
Synthetic parts
The stock is high quality plastic. It feels solid and has a nice texture to it. It has a rubber butt pad that provides good grip.
FBB stands for "Fluted Bull Barrel". The barrel is covered by a plastic shroud that ends in a fake silencer. The plastic used for the barrel does feel a little cheaper and has mold lines that are visible and noticeable to the touch. It probably helps with gripping the barrel for cocking but I would prefer a "naked" barrel instead of the "tacticool" look.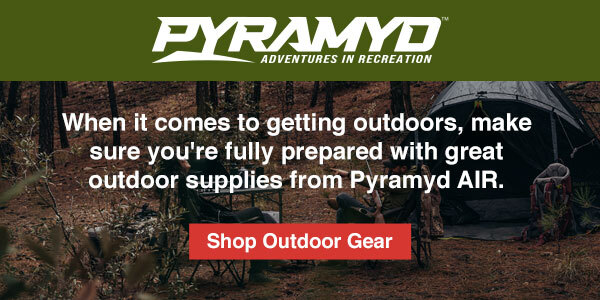 Open sights
The rear sight is a decent quality micrometer sight with clicky detents for windage and elevation. Not bad at all!
However… the front sight is fiberoptic and has quite a lot of black plastic around it, resulting in a pretty thick front sight "blade" that obscures a lot of the target. It's part of the barrel shroud/"silencer" and thus can't be removed or replaced unless you manage to remove the whole barrel shroud.
Scope
The rifle also comes with a Diana-branded 4×32 scope that looks a lot like other basic 4×32 scopes. It seems to do its job and at least it's not as crude as the open sights. I used this scope for accuracy testing.


Diana Twenty-One scope.
Power / Velocity
I don't have a chronograph, so I can't tell you anything about the consistency. Power-wise, this is a German [F] airgun within the 7.5 joule limit. So are my other airguns. It's the perfect power level for 10-meter indoor shooting anyway as it allows for easy cocking, mild recoil and quiet shots. [Ed. That would be an 8-grain pellet leaving the barrel at 557.88 f.p.s.]
AirGhandi did a chrony test of the Twenty-One some years ago and got a power of around 7 joule with a spread of only 2 m/s [Ed. just under 7 f.p.s.] for 10 shots. That's an excellent result, even for a more expensive spring gun.
Cocking and firing cycle
The rifle cocks easily without much grinding. At first there was a slight twang to the shot cycle that didn't sound like the mainspring and wasn't offensive (I suspect the trigger spring). After applying some moly grease, the firing behavior actually became even nicer. This is probably helped by the fact that it has a smaller piston and compression chamber (compared to a 34, for example).
Trigger
Now this is where it gets hard. Hard for me to be fair and hard for my trigger finger.
As far as I can tell from the outside, the metal trigger blade is directly attached to the sear that holds the piston.
Out of the box, this trigger is a crime against humanity. Bonus points for having a second stage, but it really gives your trigger finger a good workout before breaking abruptly. It also has an automatic safety (the typical Diana kind that you push in with your thumb) which also felt very tight and difficult to operate at first.
The trigger did start to break in after a few dozen shots. The pull became much lighter and the safety was now easier to operate. A good helping of moly powder improved things a little bit more. It now has noticeable creep in the second stage, but I think I can work with it. The trigger now borders on bearable but a T06 it is not.
It will be interesting to see what accuracy I will be able to achieve with it. Stay tuned…
Shooting and accuracy
Let's talk about the accuracy of the Diana Twenty-One. Out of the box, the trigger made good results next to impossible. Then with some use and tuning it improved noticeably and I thought I could control it, but it still managed to surprise me. Obviously, a short and light rifle with a heavy trigger has disadvantages for benchrest shooting. It's easier to jerk around and the trigger gives you plenty of opportunity to do so.
I have shot a lot of groups with this rifle, which wasn't much of a chore since it is lightweight and easy to shoot. However I'm not sure I ever felt 100% in control. I often had the impression the rifle wanted to be accurate, with some groups starting out great, only to have flyers to appear with the next shot.
Below is some of the paper I punched with the Diana Twenty-One.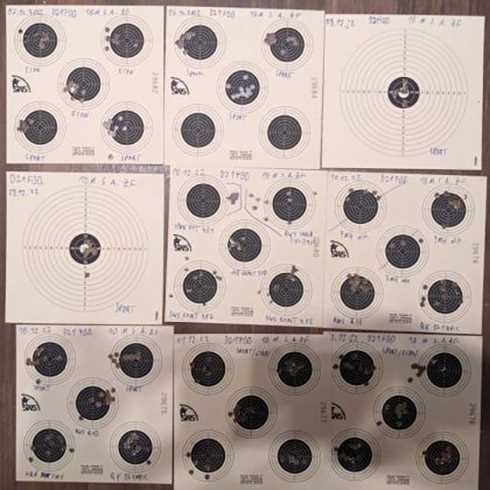 Some of the targets I shot.
There are, perhaps, several reasons for this. Apart from the trigger, this rifle seems to be fairly hold-sensitive and also pellet-fussy.
I have a fairly simple shooting bag that I filled with airsoft BBs and rice. With the Diana 34 and Weihrauch HW35, I had good results with resting the rifles on the bag lengthwise with the bag touching the trigger guard. Rocking the rifle around on the two bag bumps made it possible to get a position where the reticle was exactly on target without the need to use any muscle power. Touch the rifle as little as possible, gently pull the trigger and see where the shot goes. This still requires patience and concentration but seems to be a relatively easy way to shoot small groups with a springer.
Well, turns out the Diana Twenty-One doesn't really like that position. Apparently it works better to rest the stock on the bag transversely (the regular way) and closer to the front of the stock and then lightly hold it to your shoulder like you would in a standing position. Resting it this way introduces wobble from muscle movement, breath, heartbeat, etc, but the rifle seems to like it a little better. I even tried resting the barrel on the bag, which felt awkward, but wasn't noticeably better or worse than resting the front of the stock on the bag.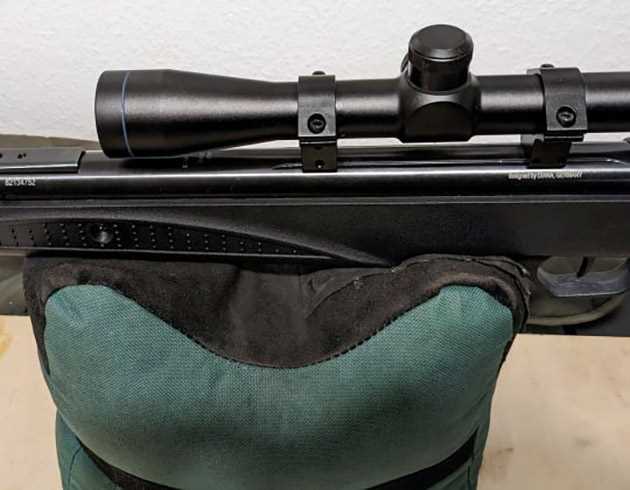 The Twenty-One doesn't like this position.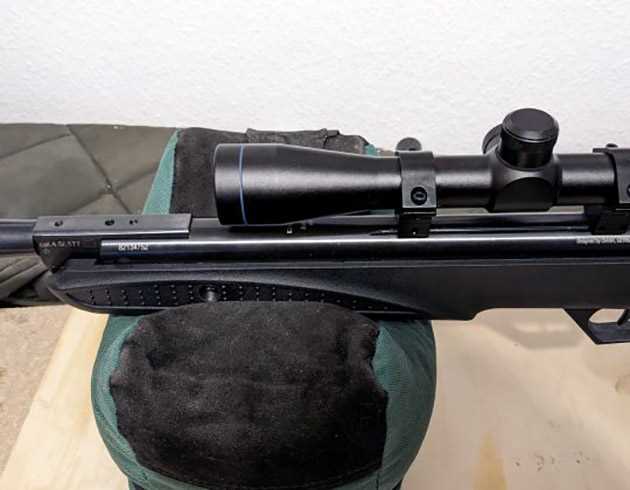 This is less stable but apparently more accurate.
Let's have a look at the results. I shot domed pellets and wadcutters from a bag rest at 10 meters. All groups are 10 shot groups.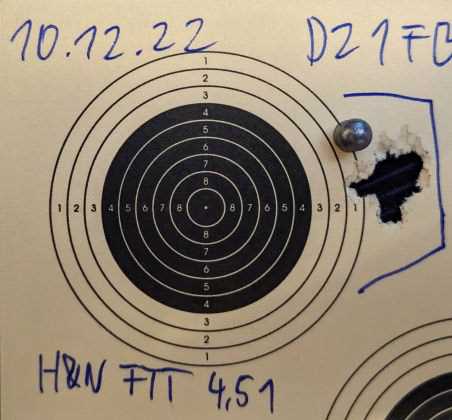 H&N Field Target Trophy 4.51mm created the best 10 shot group of my test.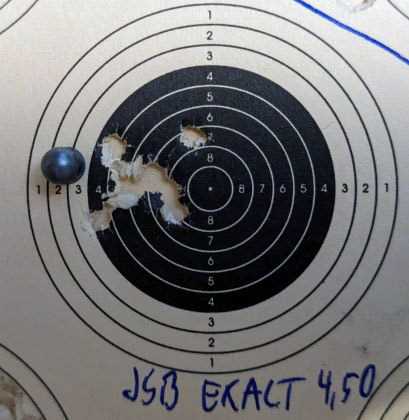 10 JSB Exact 4.50 created this reasonable group.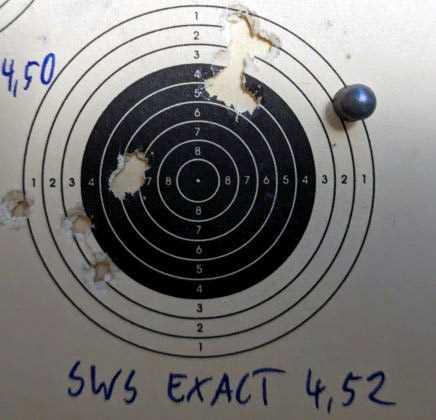 SWS Exact 4.52 (probably JSB Exact rebranded by Sportwaffen Schneider) didn't work that well.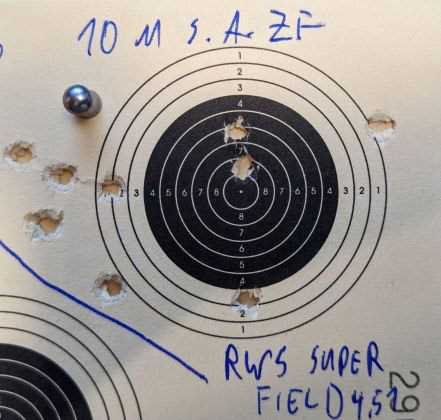 RWS Super Field 4.51. I only see nine holes. Did two pellets go through the same hole by accident?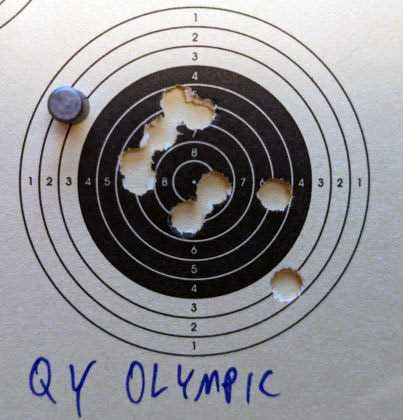 Qiang Yuan Olympic (best match pellet in this test).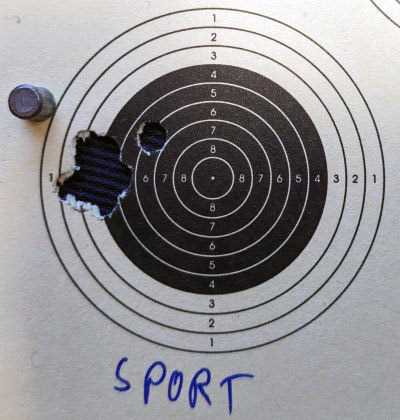 H&N Sport. What happened here? The Sport is the affordable version of the Finale Match (probably looser tolerances). Here, they performed quite well, but I was never able to repeat this result.
You can see from my H&N Sport group what I mean when I say, "the rifle wants to be accurate."
Maybe a better shot could get this rifle to perform well. I've seen people shoot pretty small groups with one of these.
Could this be my technique; could it be some other factor? Or maybe not all of these guns are created equal? I wasn't able to get the consistent results I would have liked. It certainly wasn't for lack of trying.
Apart from different holds, I tried cleaning the barrel and even degreasing the compression chamber since the gun was smoking quite a bit. I also installed my Nikko Stirling 3-9×42 scope to see if the Diana 4×32 scope is causing problems. It didn't help (but at least the Diana scope seems to be fine).
Here's a bonus group for you: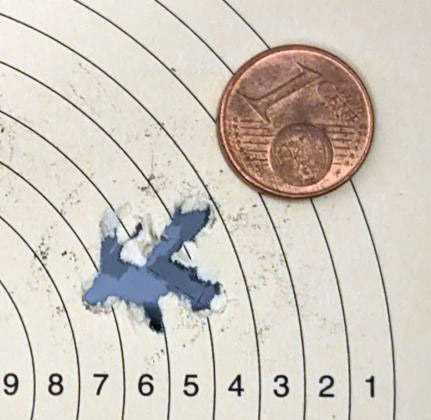 This group was shot by my friend who owns the rifle but doesn't have too much shooting experience yet He shot an H&N Field Target Trophy. Not bad! A Euro 1-cent coin is 16.25mm or 0.639 inches in diameter.
Conclusions
Checking out the Diana Twenty-One was fun. This also gave me the chance to check my biases against reality. Was I right or wrong? I think it's neither and also both.
While not on par with the "Performance Line" Dianas, it is well-made and fun to shoot.
Shooting it for accuracy was a bit of an exercise in frustration, though. With something that is complete junk, the case is easy. You notice it's junk and move on.
The Twenty-One is not junk. For the price it has some very nice features and other that I don't care for that much. It's good enough that I really wanted to see how well I could do with it but I didn't manage to get really consistent results.
Am I simply expecting too much? This rifle costs around € 130 with a useable scope. Subtract the scope and you probably get a price around € 100 for the rifle – which is what a Rekord trigger unit costs as a spare part or the price of a full tank of gas for my car.
I think the Twenty-One FBB is a good value and for a first/affordable airgun you can probably do a lot worse.
So, what about me and my tastes? You won't be surprised that I still wouldn't buy one of these for myself and I am somewhat reluctant to recommend it. If you can find it in your budget, a somewhat higher price will buy you a LOT more airgun.
However, I did enjoy shooting a compact and light rifle. If something like this were available with a wooden stock and a great trigger… well… Diana doesn't make something like that currently. I'm sure a new 27 with the quality level of the current 34 T06 family would be a fantastic little gun.
I couldn't resist ordering that Weihrauch HW30S which I am of course going to test thoroughly. You can be sure I'm not going to cut that one any slack…
So, what do you think?
BB speaks
Okay, Stephan has written a guest blog in a language that's not native to him and he has done a great job. We have to give him credit for that!
He wrote this report in two parts but I combined them for the holidays. I will not be writing a new report next Monday, December 26, because I'm taking it as my Christmas holiday. There will be a new report tomorrow and that one will have to hold you through Christmas.
Note to Stephan — crushed walnut shells will make your shooting bag even nicer. They weigh half as much as sand, so your bag will become heavier, but they are firm when you need them to be. You can probably find them at pet stores in the lizard department. They are used as bedding and ground cover for lizards.