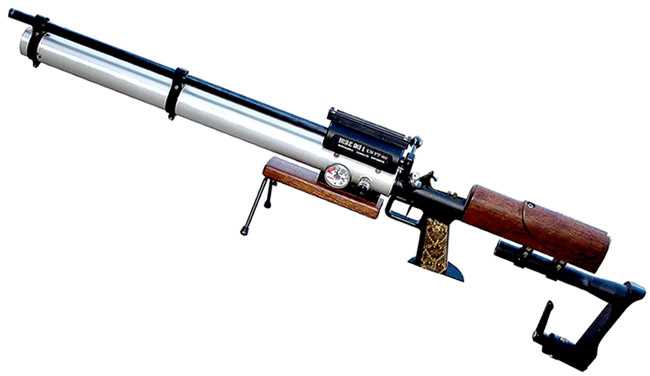 BB's USFT rifle.
This report covers:
First thing
Working pressure
Hand pump?
Labradar
Off to the races
First 10 shots
Shot 41 through 50
Shot 61 through 70
Shots 81 through 90
Where does it end?
There is more
What's next?
Before we begin let me tell you that I am flying to Las Vegas this coming Sunday and I will be there until the following Friday evening, barring any problems. On Monday I hope to be out at Industry Day at the Range. I go to the show Tuesday through Thursday mornings and leave around 3 to write the next day's report. It has to be published by 9 pm, Vegas time because that's midnight on the east coast where the blog publishes. I don't have a lot of time to answer questions, so I'll count on you old-timers to cover for me.
Today we learn more about BB's new/old USFT field target rifle. It didn't come with a manual, but BB has some experience with this type of air rifle and that served him well with this new one.
First thing
Is the barrel really free-floated? Yes, it is. Those "barrel bands" that you see from the side don't touch the barrel.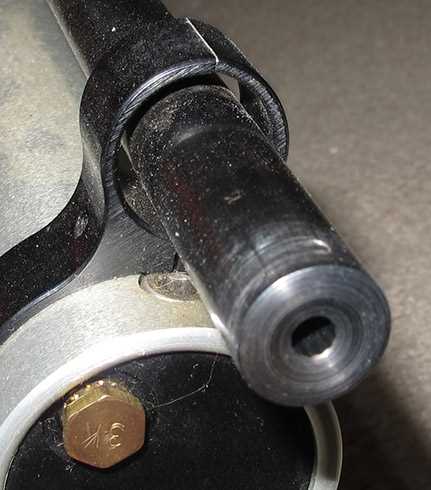 Does this clear up the barrel band question?
Working pressure
This USFT is unregulated. It uses its valve to control velocity within the acceptable pressure limits. The problem is — BB didn't know what those limits are. This is where a chronograph is invaluable. You really can't proceed without one with this rifle. The "back-door-to-hickory-tree chronograph" just doesn't work here. As you will see today, we are going to be extremely precise.
You may recall that the maximum working pressure is engraved on the receiver as 1800 psi. If not look at this.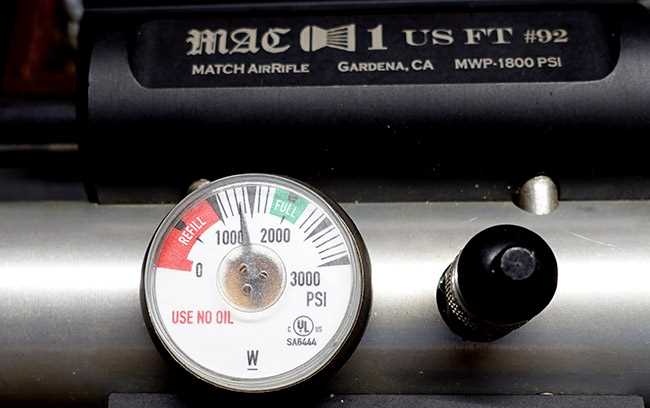 The maximum working pressure is engraved on the USFT receiver as 1800 psi.
That number doesn't mean the rifle is to be filled to that pressure. It means not to fill above that number. But the reservoir gauge on the rifle has a green zone that lies between 1800 and 2200 psi. I think Mac1 bought the closest gauge he could find, or else there is another explanation that I don't know. BB's first USFT liked to be filled to 1650 psi, but not knowing anything about this one I filled it to 1800 psi on the gauge on my Air Venturi G6 hand pump, while the gauge on the rifle said 1800 psi. Yep, they agree. That's rare, but I guess it happens. It's kinda nice that it happened on this rifle, since we are soon going to split hairs — those of us who have them left to split.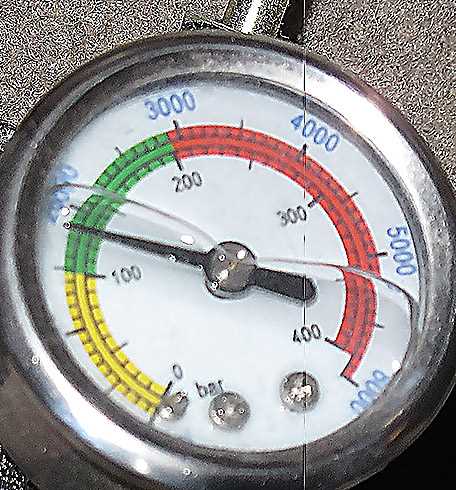 At the end of pumping the hand pump gauge read 1800 psi…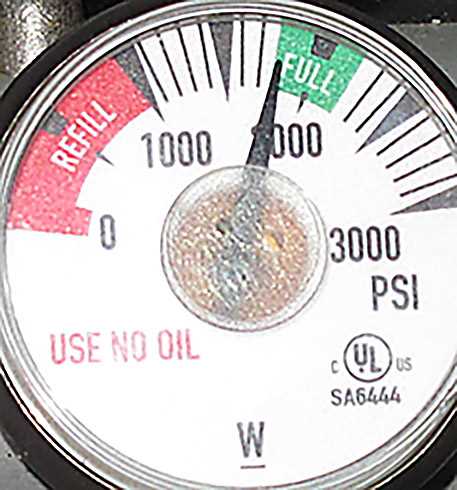 …while the USFT gauge said the same thing.
Hand pump?
BB, did you really fill this rifle with a hand pump? Yes, I did. Not that anyone who owns a USFT is ever likely to do the same but since the fill pressure is so low I thought it would be fun. Yeah — fun! Fun like splitting a cord of hardwood for the fireplace. That kind of fun.
It took 300 pump strokes to fill the sewer-pipe reservoir from 1375 psi to 1800 psi. By allowing the pump to rest for five minutes as I pumped, it took 25 minutes to fill the rifle. It wasn't hard but it was boring. When it came time to bleed the connection between the pump and the rifle very little air came out because, let's face it — 1800 psi?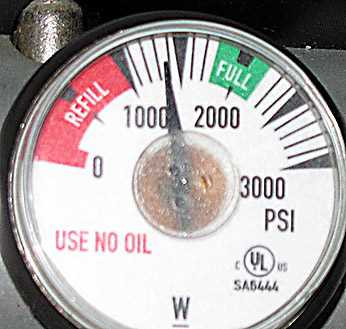 This is where the rifle's gauge was when I started filling.
I then proceeded to shoot 144 shots before the rifle was certainly off the pressure curve. That's a lot of shots! So many, in fact, that I took two days to shoot them. Today you will see the saga of how to determine the correct pressure curve for a precharged pneumatic (PCP).
Labradar
I learned in the process of shooting that the Labradar allows for a string of 100 shots before it opens a new file and starts over with shot 1. The first file isn't lost, it just won't accept any more data. I also learned that all this shooting over two day's time (with the chronograph taken down and stored in between sessions) took the rechargeable battery down from 83 percent to 73 percent. It was the largest drop since I charged the battery once after receiving the Labradar.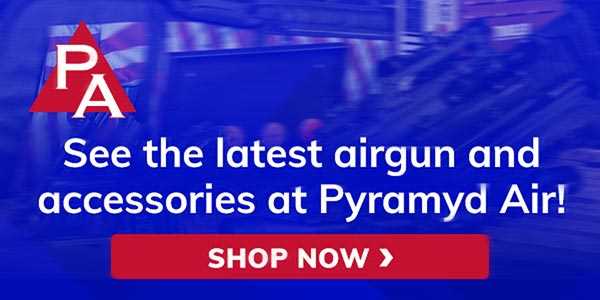 Off to the races
Since I know that USFTs like JSB pellets, I shot the JSB Exact Heavy that weighs 10.34 grains. Everything you see in today's report was shot with that pellet.
Now just start shooting and recording the velocities. What else can you do? With my Air Arms Shamal I remember filling to 3,000, only to discover about 60 shots later that the rifle liked a 2600 psi fill. That's a lot of shooting! The USFT took even more. Let's see.
First 10 shots
Shot…….Vel.
1………….849
2………….841
3………….835
4………….845
5………….849
6………….845
7………….844
8………….837
9………….844
10………..848
Okay, you might look at this and think that the USFT will average about 845 f.p.s. But you would be wrong. Let's skip ahead to shots 41 through 50 and see where that takes us.
Shot 41 through 50
Shot…….Vel.
41………..871
42………..867
43………..866
44………..872
45………..865
46………..870
47………..869
48………..872
49………..869
50………..873
Okay, this must be it — right? The rifle wants to average about 870 f.p.s. with this pellet. Oh, and by the way, the fill pressure at the start of this string was 1600 psi. But let's advance to shots 61 through 70.
Shot 61 through 70
Shot…….Vel.
61………..879
62………..874
63………..879
64………..873
65………..874
66………..876
67………..873
68………..887
69………..876
70………..877
Here's where you learn. If the previous string (shots 41 through 50) averaged about 870 f.p.s., this one looks to be maybe 7-8 f.p.s. faster. Have we arrived? Nope!
Look at shot 68. Oh, but BB, surely that's an anomaly? No, it's probably not; and don't call me Shirley. When the velocity is increasing like this and there is a large leap forward, the rifle probably has more to give.
How do I know? Experience over many years, and also experience with another USFT. The starting air pressure for this string was just 50 psi less than the 41- to 50-shot string, so 1550 psi. I don't think we have reached the power curve yet. Yes, I have seen all the numbers so I do know what I'm talking about, but I promise you, that is what I thought at this point during the test. Been there; done that; got the t-shirt and wore it out.
I did think the rifle was getting closer to its optimal starting fill pressure, but I thought the average velocity for that curve might be up around 900 f.p.s., or so. So onward I went.
Shots 81 through 90
Shot…….Vel.
81………..891
82………..887
83………..890
84………..884
85………..886
86………..886
87………..885
88………..884
89………..885
90………..884
NOW we are getting into what I believed was/is the power curve for this rifle. The starting air pressure for this string was on the fat side of 1500 psi.

Is this the start of the USFT number 92 power curve?
Where does it end?
From shot number 91 to shot number 118 the lowest velocity was 881 f.p.s. The highest was 902 f.p.s. That's a 21 f.p.s. spread over 37 shots.
Shot 119 went out at 814 f.p.s. That was an anomaly because shot 120, the very next shot, went out at 894 f.p.s. From shot 120 to shot 123 the high was 898 and the low was shot 123 that went out at 891 f.p.s.
Shot 124 went out at 868 f.p.s. That's an anomaly for sure because at 5 feet from the chronograph the shot was moving 870 f.p.s. Remember — the Labradar records velocities at 5 separate distances from the muzzle. That's faster than at the start, which is impossible for a ballistic projectile. Something must have been off in the chronograph triggering circuit on that shot.
Shot 137 went out at 886 f.p.s. and shot 138 was 874 f.p.s. If we call shot 137 the final shot in the power curve, that's a total of 56 shots with a velocity spread of 21 f.p.s.
After shot 137 the number started becoming inconsistent. Shots 138 to 144 started out from a high of 900 f.p.s. to a low of 872. The total velocity spread if we add that string to the one we are looking at becomes 30 f.p.s. over a total of 63 shots. Most competitors wouldn't accept such a large spread, but a duffer like me might find it okay.
There is more
Yes, there is more. What I didn't tell you is this string didn't start at shot 81. That was simply shown for the sake of convenience. Shot 78 went out at 882 f.p.s., so we could add another three shots on the starting end, giving us a total of 59 shots if we stay at a 21 f.p.s. spread or 66 shots if we go for a 30 f.p.s. spread. And we aren't done yet.
What we need to do now is fill the rifle to the fat side of 1500 psi and run another string. Oh, BB, does this testing ever end?
It does end. We are simply refining what we now know about this rifle. Would I ever fill to 1800 psi again? Not a chance. It's waste of air and time because I have to shoot the rifle 77 times before the velocity climbs up to the power curve.
What's next?
Next is a fill to the fat side of 1500 psi and a plan to shoot around 60 more shots to pin down the power curve for this rifle. Are you confused? When I strip away all the early shots from 1800 psi things should clear up a lot.
After that comes accuracy. We gonna have us some fun!