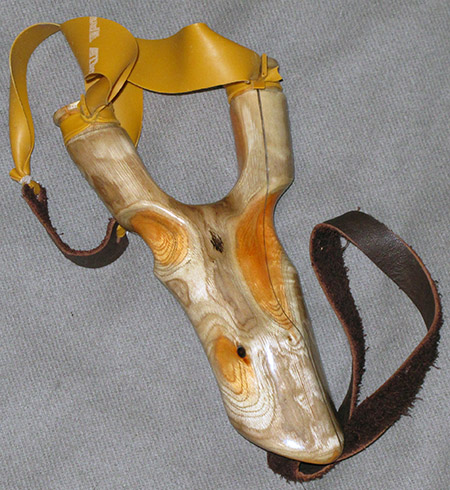 Slingshot reader Vana2 made for me of buckthorn wood.
Part 1
Part 2
Part 3
Part 4
Part 5
This report covers:
No problemo
Today's test
Shooting
Target
Summary
Today we return to the slingshot reader Vana2, whose real name is Hank, made for me. This one will be amazing for a reason I will tell you in a bit.
No problemo
Shooting a slingshot is easy — says the little boy or girl in our head. How hard can it be? To find that out I happened to watch a video by the new American Annie Oakley, Kirsten Joy Weiss. Yes, she actually did a video on shooting a slingshot. This one is slightly longer because — well, it's a slingshot! No, really because she promotes a security device at the end. Stop at 6:54 and you will have seen it all.
At the end of the video Kirsten asks if we know of anybody who knows how to shoot a slingshot better than her. Do we? Of course we do! We know our sensei, Hank. Hank is wise. Hank is good. And today BB Pelletier stops trying to get out ahead of Hank and just does what he says. How about that; listening to the teacher and then doing what he says! Think it'll work? Let's see.
Today's test
First — I stood 10 FEET from the target. That's correct, no backing up to see how good I was becoming.
Second — I used the 8mm steel balls Hank recommended. I still have lots of the clay balls I also bought and, yes, they are cheaper and yes again, BB tends to be RidgeRunnerly when it comes to spending money. But Hank said to shoot steel balls, so today it was steel balls.
Third — I COUNTED the ammo before starting to shoot. Imagine that! And I set all the balls I intended shooting in a separate place so when they were finished I was done.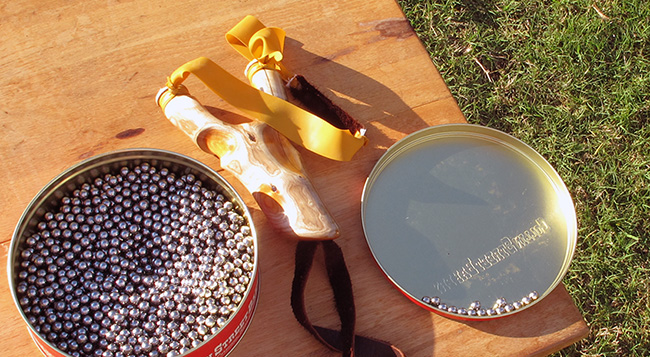 I counted 30 steel balls into the lid of the ammo can. When they were gone I was finished.
Fourth — except for the first three shots, all 27 of the others were shot following Hank's instructions.
When I did all of that I hit the target where I wanted.
Shooting
I watched the Weiss video and noted that she shot holding the slingshot with both its legs sticking straight up. Well, of course. That's the way it's supposed to be done — right? Why wasn't I shooting mine the same way? Well, I did for the first three shots today.
Shot one nicked the top of the box. I heard it hit but until I finished shooting I didn't know where. Only by examining the box carefully did I see a nick at the very top of the box and a corresponding deep dent in the blanket backstop behind it.
Shots two and three hit to the left of the target but just outside. They are around the 9 o'clock area.
Okay, sez I; this ain't workin'! I did everything else Hank told me to. Should I go back to holding the slingshot sideways?
I did and the next 27 balls hit the target. One hit in the 7-ring at 4 o'clock. Three more were 8's. The remaining 23 shots were 9s and 10s, with two in the red X-ring. shootski — that was for you.
There is a group of at least 7 shots that landed in a group at 10:30 on the 10 ring. After at least 4 shots hit in the same place I started counting them.
Target
I shot at the 8-inch Shoot-N-C target. After all, I was only ten feet away! And that was far enough. Think it's easy? Try it sometime.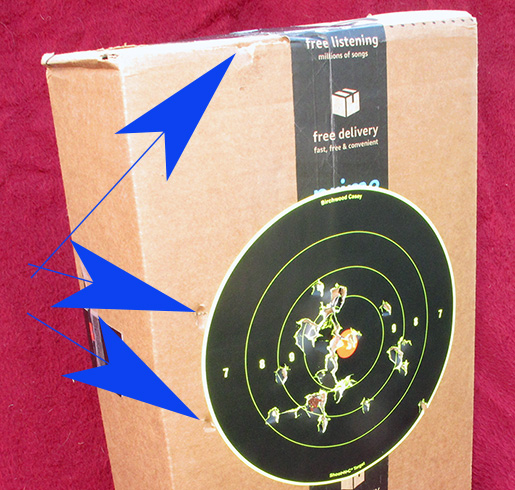 The first three shots fired with the slingshot legs held straight up hit the box where the three arrows indicate. The next 27, shot with the legs held sideways, hit the target.
Okay, so we have learned a few things. First, Hank knows what he is talking about. Do it Hank's way.
Second, Kirsten Joy Weiss, a world champion rifle competitor and trick shot with many different weapons, could not shoot the slingshot very well the first time she tried. Her mistakes were:
First — holding the slingshot legs straight up — the Dennis the Menace method.
Second — she didn't go online to learn how to shoot a slingshot. She did it her way, which would have been my way, if not for Hank.
Third — it looked like she stood farther back than 10 feet. Don't start out that way!
Fourth — the slingshot she used had round surgical rubber tubes. That makes it more powerful, but as we have learned, also more inconsistent. Flat Theraband Gold bands are the best for accurate slingshots.
Kirsten could no doubt beat me in every shooting competition except possibly air pistol at 10 meters if I ever get back to where I used to be. But I am learning how to shoot a slingshot from Hank and at this point I think I have her beat. However, give her the training I have had and I think in ten more shots she could easily pass me, because she is a woman of consistency. And that is today's lesson to all of you who would like to try this. Learn from my mistakes. Do it Hank's way and I think you will be surprised.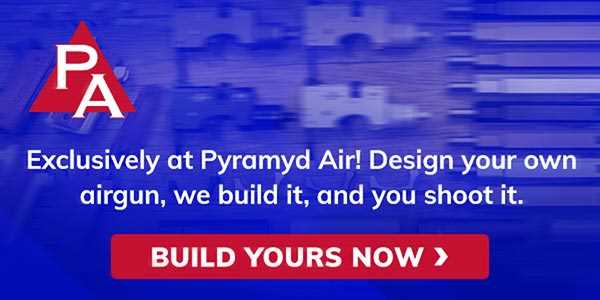 Summary
This is the sixth installment of this report and I am not done yet. Today was an important breakthrough in which I learned to follow instructions. Next time my goal is to begin moving back.
I also want to shoot clay balls at the target. But first I need to become a better slingshot shooter.