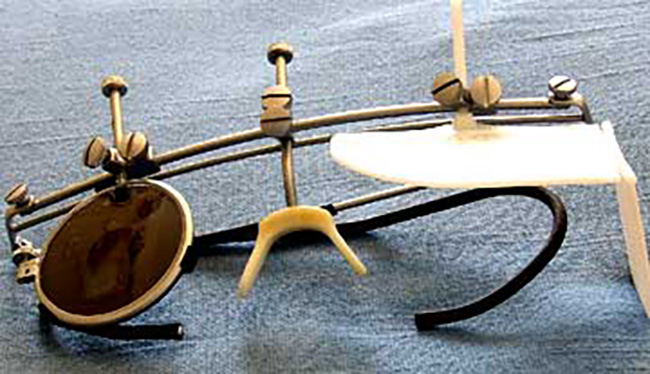 Shooting-glasses.
This report covers:
The beginning
Thanks to Otho and his wife
Upshot
Why tell you?
So, what?
Summary
Today is a strange report, but a necessary one. Today we are going to talk about sights and sight.
The beginning
In a very odd and strange way I'm qualified to discuss sights and sight, because I lost mine and then got it back — sight, that is. On April 30th of 2016 I was driving home after a several-day session filming the American Airgunner television show when the retina in my right eye detached completely, leaving me without sight in that eye. I was on the freeway just outside Texas when I lost all sight in that eye.
I was alone in my truck and had to drive about 150 miles on the freeway to a hospital in Ft. Worth where a doctor examined me and told me that the retina in my right eye had completely detached. He operated on me the next day and restored the sight in that eye. I have perfect distance vision in that eye today.
As a result of this, I know what it is to be blind and, despite what I had thought previously, that everything would be black, I now know that isn't the case. You simply cannot see. It's impossible to describe to someone who hasn't experienced it.
Thanks to Otho and his wife
Before I move on I will say that without my late friend Otho Henderson and his wife, Marcia, this ordeal would have been far more difficult to endure. As I drove toward home from the Texas border, they drove up from Waco, about 70 miles south of where they lived. They called all the hospitals in Ft. Worth and located the one that had an eye surgeon on call on a Saturday. That doctor left his grandson's birthday party to come to the hospital to examine me and he scheduled a full surgical team for the next day, which was Sunday, May 1.
Upshot
After the surgery and many days of looking down to allow the gas in my eyeball to press up against the retina that had been laser-welded back in place, I was able to shoot once more. Let's go back and I'll let you read what happened back in early May of 2016.
"There is no new blog today and probably tomorrow, and I am renting a special chair that will allow me to type on the computer while looking straight down. Obviously I can't do any shooting tests this month, but once I can type again, I will get the blog up and running."
Please don't ask me any questions, as I can barely read the screen as it is. I hope that will get better as time passes."
Tuesday after the surgery I said this.
"The doctor examined my eye yesterday and was pleased. He said there is a good chance for a complete recovery. But I now have a gas bubble in my eyeball to keep pressure against the repaired retina, and I have to only look down to keep the bubble in place. I cannot move around a lot, exercise or do normal things like drive."
Instead of the 30 days I had been told to expect, the doctor pronounced me good to go after just 9 days. As a result I was able to resume shooting sooner than expected. On May 17 I wrote a report about shooting the Umarex Brodax revolver.
"This is the first test in which I have used my eye after it was repaired following the detached retina. Remember, folks, I was blind in this eye before the surgery. My binocular vision has not returned completely and things still appear strange to me, but I was able to see the front sight. The eye isn't as clear as it was before the detachment, though. I estimate my vision is 20/50 in that eye, with moderate cloudiness from a cataract. Still — I can focus on the front sight blade, which is all that is necessary for accuracy."
"I did find that I had to close my non-sighting eye though. It was showing me a competing vision of the front sight that was disturbing. By the end of the test, though, I found it possible to keep that other eye partially open. In time I think I will be able to keep both eyes open when sighting once again."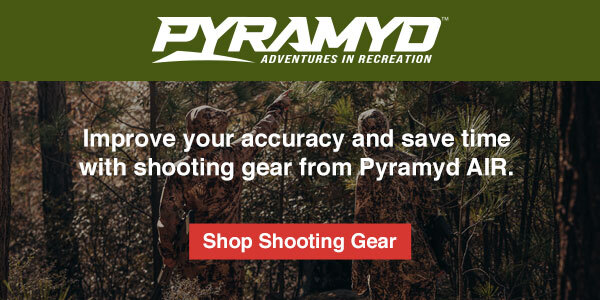 Why tell you?
I tell you this because of the point I'm trying to make in this report. And that is — it doesn't matter whether you can see your target clearly, because that's not where you should be looking when shooting with open sights. You should be focusing on the front sight in relation to the rear sight — and only then on the target. The target should always appear blurry. I know that sounds unreasonable, but if you want to shoot with open sights, that's how it must be done!
I'll tell you how wacky it gets. After the surgery I used a pair of reading glasses with a +2.5 diopter correction to see the front sight. If you have ever looked through reading glasses you know that anything farther away than perhaps 25 inches gets real blurry. And yet, even with that handicap, I was able to shoot with open sights.
So, what?
Why am I telling you all this? I'm telling you because when I mentioned wanting to find an accurate air rifle for pests I was inundated with suggestions of which optical sights I should use. Friends — I don't need no stinking optical sights! BB shoots with the sights that come on the gun — if they do come. Because these days it's hard to find air rifles with good open sights.
I have been blind in my sighting eye and I know what it's like to not see the target clearly. I didn't mention the cataract surgery I had later on, but that was a second learning curve. Now my distance vision is restored and all the cloudiness is gone, but I need glasses to see up close. That's why I tell you that every time I shoot with open sights I use a pair of reading glasses with a +1.25 diopter correction. It's to SEE THE FRONT SIGHT!
Summary
Some of you shoot with open sights and know what I mean. Others use optics all the time, and there's nothing wrong with it. But don't blame poor vision on your need for optics. In some cases I understand that optics are required, but in many instances, we just aren't trying. It's like an automatic transmission in a car. It makes everything so easy.