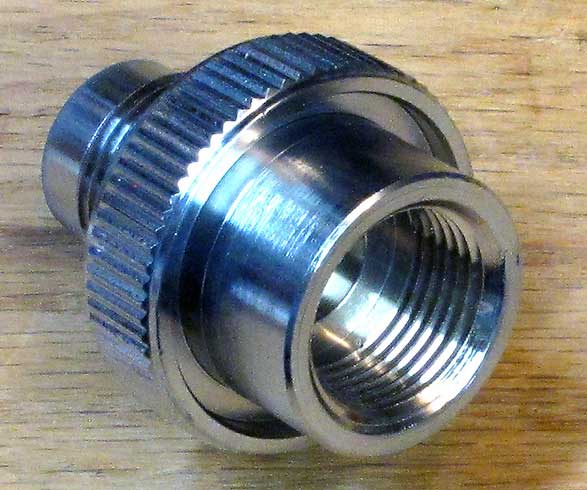 A 300 bar to 200 bar high-pressure air adaptor.
This report covers:
Life was simple
History
1/8-inch BSP thread
Adaptors
What to do?
Here they come to save the daaaaay!
Also bought the German adaptor
Not so fast
Why?
You are a dark-sider (a user of precharged pneumatic — PCP — airguns) or you want to become one. Your world is or will become one of adaptors, as we shall see today.
Life was simple
Though they are the last major airgun powerplant to come into being, spring-piston powerplants made things so simple that they soon dominated sales. With springers there is no compressed air to deal with. You don't "charge" a springer, you cock it. When the trigger releases the piston the mainspring pushes it forward so fast that it compresses a small amount of air to get behind the pellet. That's your power source.
Yes, springers are convenient, but if you want to shoot a lot of shots without doing much between each one, the PCP is the way to go.
History
We believe PCPs were first made sometime in the mid 16th century, perhaps around 1550 or so. There are no airguns from that time remaining, but a gun in the Royal Danish Museum that's dated 1604 is too advanced to have been the first airgun. Something had to come before.
To fill those early air rifles each one had a dedicated hand pump that the air reservoir connected to. Because they were made by hand it was commonplace to connect the pump directly to the airgun's reservoir. And the maker made everything, so the fit was his responsibility.
Fast-forward to 1980 when Daystate created the modern .22-caliber PCP. It changed the world. The Daystate Huntsman was a modern airgun in every sense of the word. It needed a convenient way to get high pressure air into its reservoir. But it wasn't the Brits who first did this. Early PCPs from the UK were highly cabalistic. You had to be a member of their secret society to learn the well-guarded processes for introducing air into the reservoir of a PCP from the UK. There was very little standardization of fittings, fill pressures and even of devices that attached the airguns to scuba tanks.
Then came the Koreans with fill devices guaranteed to destroy the seals in their guns. A fill from zero to 3,000 psi took only seconds when you drove the fill "nail" into the fitting on the air tank. I wish I had a picture to show you, but that fill method came and went in a very brief time and I can't find pictures anywhere.
1/8-inch BSP thread
I'm not going to discuss the threads that were found on fill hoses. They connect your air rifle to the adaptor found on the scuba tank. The most common was 1/8-inch British Standard Pipe (BSP) thread, not to be confused with 1/8-inch British Standard Pipe Parallel (BSPP) that is today more common.
In the 1980s, '90s and even into this century there wasn't much commonality in the world of pneumatic fill hose thread patterns. Today it's a little more standardized, but some countries or manufacturers still hold out for their different thread preferences.
Adaptors
I went though all of that to get to today's subject — air tank adaptors. These are the devices that connect your fill hoses or the fill yokes those hoses come out of to your air tanks. Many high-pressure air tanks have threaded output holes that are rated in DIN standards. DIN is short for Deutsches Institut fur Normung eV — German Industrial Standard Institute. A 300-bar DIN thread pattern has a thread depth to safely handle pressurized air transfer at 300 bar, which is 4,350 psi.
There is a different DIN standard for the adaptor that connects to a scuba tank outlet. This one is rated to 200 bar which is 2900 psi, and, though it is the same diameter and thread count as the 300 bar adaptor, the two won't interchange because each fails to seal in the other.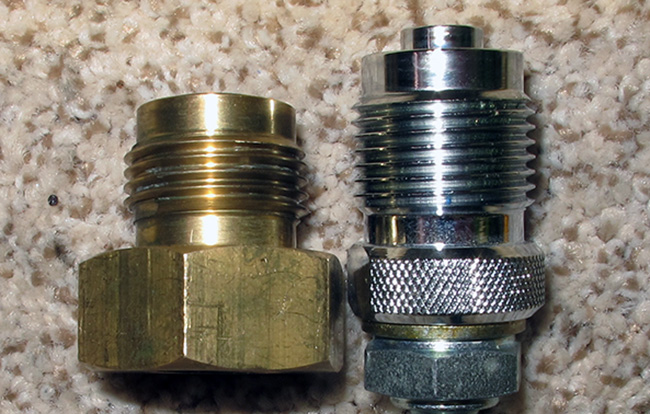 And here is the problem. The 200 bar DIN adaptor on the left will screw into a 300-bar DIN hole (adaptor shown on the right) and vice-versa but they won't seal. 
When I wanted to fill my FWB P44 air pistol tank that has a 200-bar fill adaptor for the pistol's reservoir, my only air sources are carbon fiber tanks that have 300 bar valves.  No el-fitto! Ironically, the last time I filled that pistol's air tank I had a 3,000 psi scuba tank that had a 200 bar valve hole.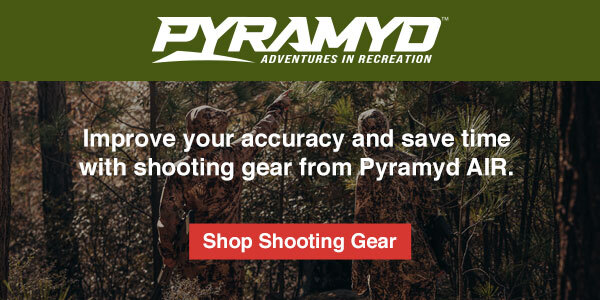 What to do?
Obviously I needed a way to connect my large air carbon fiber tank to my pistol's air reservoir. How frustrating to have what you need mere inches from where you need it with no way to get it there! Well, in my typical way of responding — I went ballistic! I wanted to shoot that pistol NOW! So I searched the internet and found a strange German website that had a 300 bar male to 200 bar female air adaptor. I bought it, but the strange German website wasn't sure they had one or could even get one for me. Please leave your contact information and we'll get back to you.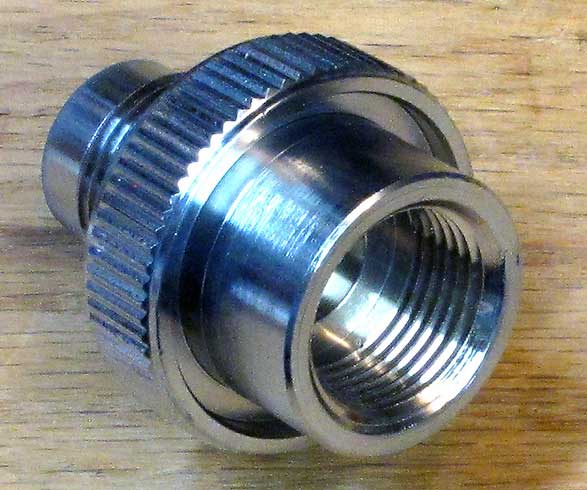 German 300 bar to 200 bar adaptor.
Here they come to save the daaaaay!
Then I wondered whether Pyramyd AIR might have what I need. Sure enough, they did and I bought it. It was half the price of the German adaptor but it was purpose-built for the P44 reservoir. The P44 reservoir adaptor screws into this adaptor that has a Foster quick-disconnect fitting on the other end. Problem solved! But I just checked and it looks like I got the last one.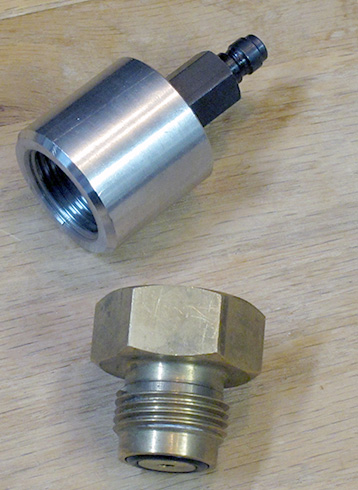 Pyramyd AIR adaptor (top) for FWB P44 fill adaptor (bottom). The Foster fitting solves everything.
Also bought the German adaptor
I did also buy the German adaptor because it is universal, where the Pyramyd adaptor is specific to just one airgun. I never know with this blog what I'm going to connect to next.
Not so fast
Before you finish your coffee and go on about your business, consider this. While there are two bar thread patterns, there are four possible combinations for just this one adaptor. Male on both ends, female on both ends and male/female on either end. Better think about what you need.
Why?
Why am I telling you all of this? I'm telling you because the need for adaptors comes at the worst time — when you don't have one that you need. This is my warning to you darksiders to plan ahead. I now have a drawer filled with adaptors that go from this to that. I know this report plays into the hands of the springer lovers, but guys, this is the reality of the game we play.