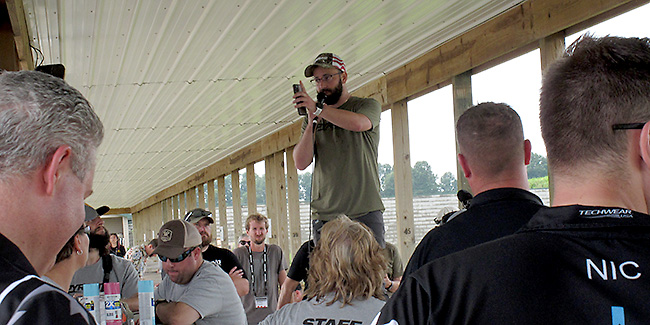 Tyler Patner gives the safety briefing to the first round of Benchrest competitors.
This report covers:
Benchrest
Vendor's row
Bug Buster Accushot Pro
Vortek
Gunslynger
Attendance was down
Summary
Today we continue to look at the 2023 Pyramyd Air Cup. Most of this will be from days one and two, which is way I retitled this report.
Benchrest
The Benchrest competition started on a relatively calm note. I doubt the wind was blowing over 5-7 mph. It picked up in the afternoon and gusted  to 20-25 mph. What's worse — it blew in different directions at different distances and could easily move a pellet several inches at the 100 yard distance. Figuring out where it was blowing was half the competition. Many competitors had wind flags out to help identify the problems. And, I couldn't believe it but some were click adjusting for wind!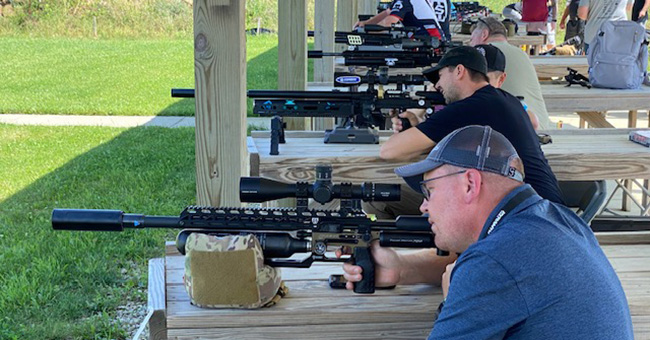 At the start the Benchrest match shot into calm weather.
Another problem was newer shooters shooting at the wrong targets. This happens in many matches, but I heard conversations that told me some of this year's shooters were unfamiliar with it.
There was one last issue, and I have never seen this at a high level match. Some You Tubers were going right up to the competitors during the match and sticking their cameras into the shooter's field of view. In sanctioned national matches such behavior will get them thrown out of the event, but it was permitted at this year's Cup. A change needs to be made. During competition all media should be off the firing line, taking telephoto shots.
The Airgun Sporting Association Benchrest rules allow 30 minutes to shoot 25 bullseye targets on a single target sheet. One shot per bullseye is permitted. There are also non-scoring targets on the sheet to be used for sighters.
Vendor's row
Once the Benchrest competition started I went over to Vendor's Row to see what was happening. Vendors with airguns could have their own separate range, and there were several at this Cup.
The first booth I stopped at was Leapers who had several scopes racked for the public to see. One of them was today's surprise.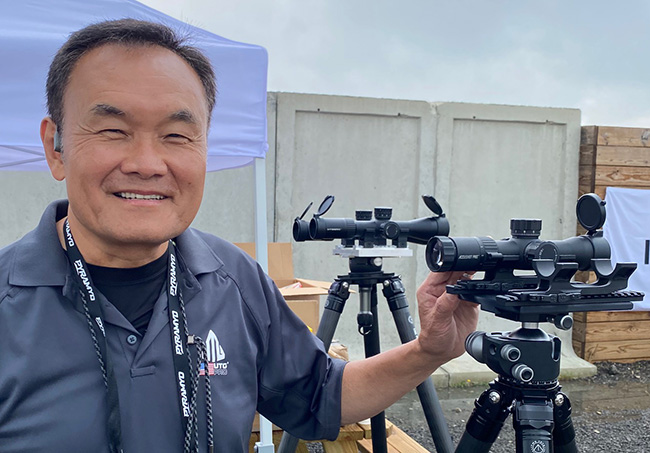 Leapers' David Ding stands next to the Bug Buster Accushot Pro.
Bug Buster Accushot Pro
This is the scope reader RidgeRunner has been asking for. It's a Bug Buster with a 34mm tube and an ETCHED GLASS RETICLE. They come with scope rings, so the larger tube shouldn't be a problem.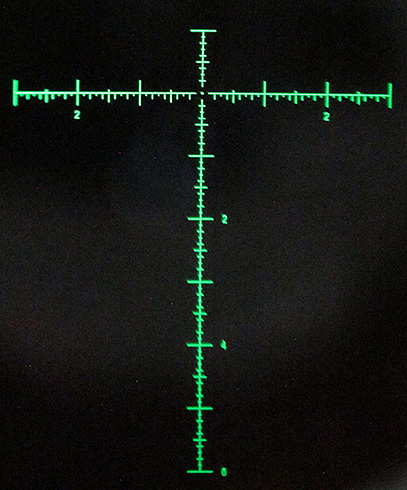 I illuminated the reticle for this photo — taken through the eyepiece!
The retail price will be $400. And David tells me the Accushot Pro scopes have Integrix DNA in them. The cost savings comes from not using expensive German glass lenses. I have the scope shown in the photo and can tell you that it's sharp and clear. It's slightly longer and heavier than the current Bug Busters and the parallax stops at 10 yards instead of three. I will be reporting on this scope very soon.
Vortek
I went to the Vortek booth next and saw too much to fully report today. But the star had to be the new gas piston they have that users can adjust! And, guess what? It's adjusts via a removable adaptor that has a Foster fitting!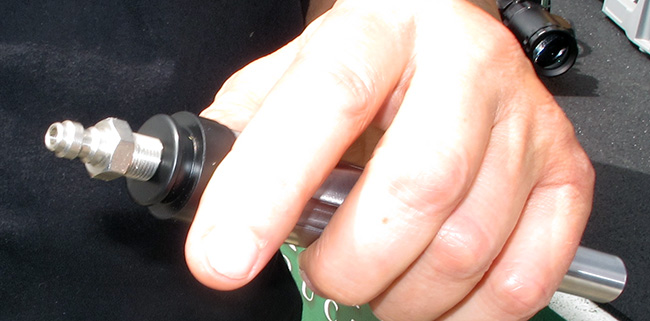 The adaptor to adjust the new Vortek gas piston has a Foster fitting!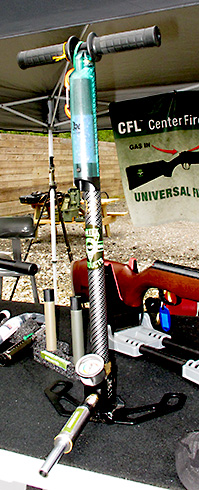 The new Vortek gas piston adjusts with an adaptor that has a Foster fitting.
Tom Gore had installed the new piston in a couple Weihrauch breakbarrels in blonde curly maple stocks and asked if I wanted to try one. Well — YEAH! So he said there's a three-inch round white flower up on that berm about 35 yards away. Why not shoot at that?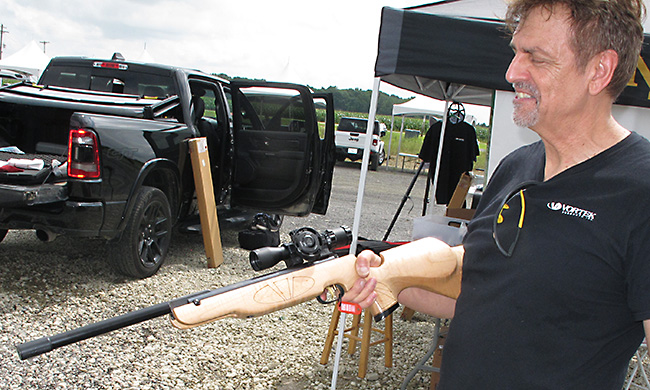 Tom Gore is proud of his blonde Weihrauch with the new adjustable gas piston.
So, I shot it offhand and drilled it dead center. "You hit it!" Gore exclaimed.
"Of course I hit it. I was aiming at it," I responded with icy calm demeanor.
"Try it again!" he asked.
"Nope." I said as I handed the rifle back to him. "One shot of dumb luck is my limit for the day."
There is more to tell about the Vortek booth and some of you are going to be sorry you didn't attend the Cup when you find out. But that's all for today.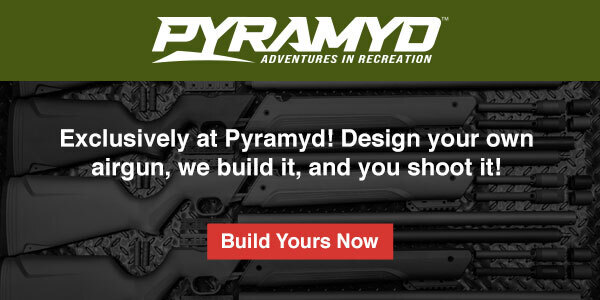 Gunslynger
The Gunslynger match is Pyramyd A.I.R.'s unique take on a steel silhouette match. It's a timed event and the fastest I saw was 20 targets down in 45 seconds. That was where the shooter was loading each pellet singly, though he was 10 seconds slower when he shot a semiautomatic rifle.
This match brings a large audience because everyone can see what's happening.
Ian McKee competed in the Gunslynger and in his round he finished first in the first three heats. Then one of the You Tubers came up while he was loading magazines and getting ready for his next heat to interview him on the line and he forgot to remove the safety on the next round. He blew up after doing that, which is why nobody with media should be on the firing line at any time!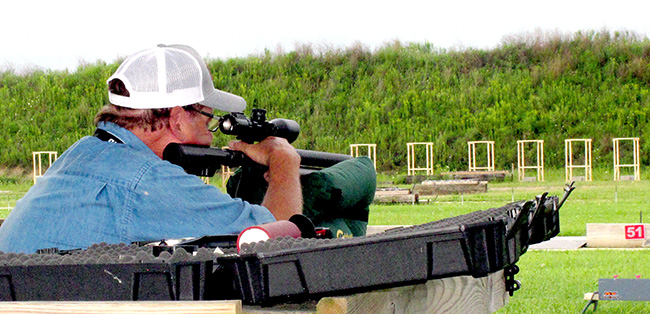 Ian McKee finished first in his first three heats. Then, after a You Tuber interrupted him as he got ready for heat four, he lost his concentration.
Attendance was down
There were a lot of people at the Cup this year, but not many of the public came. That seems strange since there is no charge to enter and some of the vendors were selling airguns. And some of our readers live close by. I guess we have to publicize it more next year.
Summary
There is more to come next week. There's still field target, plus the banquet and a couple more on Vendor Row, so stay tuned.