This report covers:
Happy Memorial Day
Bucket list
Webley Mark I
Webley Mark II Service
One of the finest ever made
Breech
Sights
Large rifle
Stock
What now?
I'm on my way home from the Pyramyd AIR Cup with reader Ian McKee today. Hopefully I'll get back to Texas this evening. I have been running past reports that were well received while I was at the Cup. This report series started in late May of 2016.
Happy Memorial Day
Today is the day we remember all those who have fallen in defense of our nation. To all the veterans and to the families of those who have given their lives to protect our way of life I say, thank you!
Bucket list
The Webley Mark II Service air rifle is one that's been on my bucket list for decades. I think I first learned about it in Smith's Standard Encyclopedia of Gas, Air and Spring Guns of the World, by W.H.B. Smith. That would have been around 1977. I was living at Ft. Knox, Kentucky and bought a Webley Senior air pistol at a local gun show around the same time. It was an old model with the straight grip and was a contemporary of the Mark II Service rifle, made around 1936.
Smith said the Mark II Service was used to some extent as a service trainer, though I find no information to back that up. I do know they were produced as three-caliber sets in wooden cases, because this rifle allows for a rapid barrel change. That fact alone was intriguing back in 1977.
Webley Mark I
Since there is a Mark II we must ask whether there was a Mark I? Indeed there was. It was Webley's first air rifle, appearing in 1926. It was based heavily on Webley's line of spring-piston air pistols, and therefore cocked in a similar way and had a similar powerplant.
Webley Mark II Service
The Mark II Service rifle was an improvement to the Mark I. It first appeared in 1929 and was both larger and more robust than the Mark I. It also featured interchangeable barrels in .177, .22 and .25 calibers. They came in cased sets with all three barrels/calibers, though the rifle was also sold by itself with just one barrel/caliber. A cased set with all three barrels is considered to be one of the top airgun collectibles.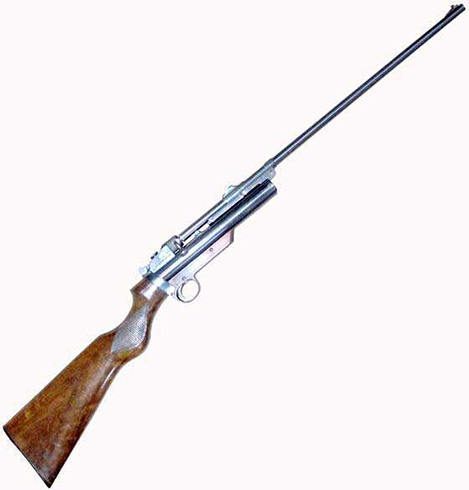 Webley's Mark II Service air rifle is a Holy Grail of airgun collecting.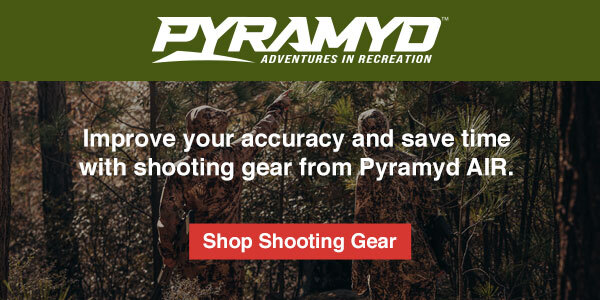 One of the finest ever made
Smith wrote that the Mark II Service rifle was "…unquestionably one of the finest target-type air rifles ever made. I would have to agree with that statement from a build and finish standpoint, but from a target rifle standpoint, I have my doubts. However, that is what we shall discover in this test. For you see I encountered a Mark II Service rifle on the Gun Broker auction website recently and I bid for it and won it.
Until now I have only seen this rifle on display at airgun shows. I've never seen one for sale in person, though there are a couple for sale on the internet right now. Be prepared to spend a lot of money — as much as $2,800 for a cased set with three barrels! So, when I saw this one going for what I felt was a reasonable number, I had to try to win it.
My rifle is a .22 caliber that has over 90 percent of the original deep lustrous blue finish remaining. There are random spots of rust on the finish at present, but I am treating them with Ballistol, which will soften and remove them over time. Some of the bluing has converted to patina, which keeps the overall rating from being higher.
Breech
The rifle is a breakbarrel that uses a bolt to draw the barrel back into a fiber seal to seal the breech. My breech seal is well-worn and leaks air when fired. The Mark I rifle used a spring-loaded sliding catch to do the same thing — similar to what the Webley pistols use. It didn't draw the barrel back into the breech seal. This cammed bolt/breech closure is one of the big improvements in the Mark II.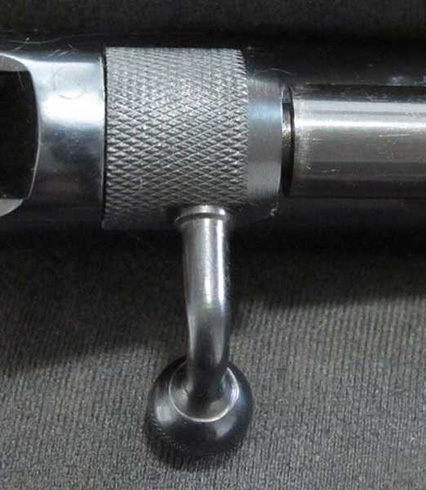 The bolt is closed to seal the breech.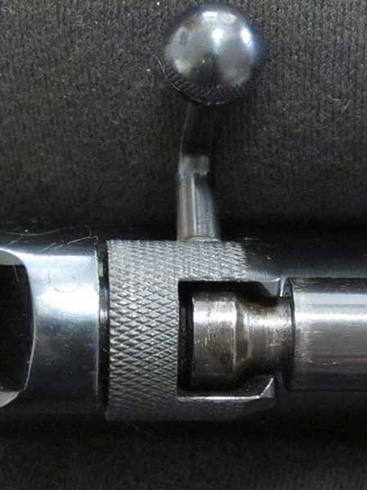 When the bolt opens, the barrel can be lifted out and up for cocking.
Sights
The rifle has both a sporting rear sight that adjusts for elevation alone and a built-in peep sight that adjusts for both windage and elevation. It's the mark of excellence that strikes you when you first examine the gun.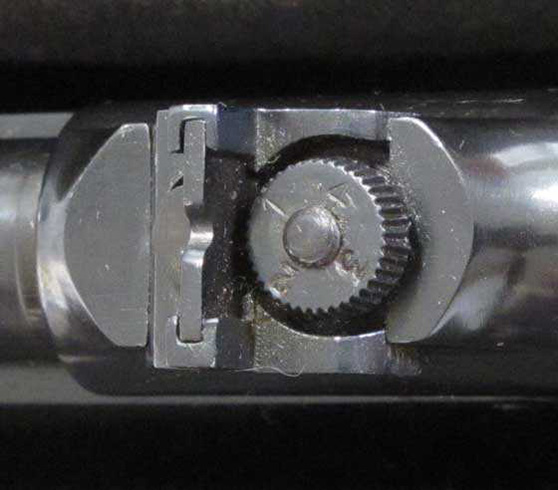 The sporting rear sight has adjustments for elevation. For windage it can be drifted sideways in its dovetail.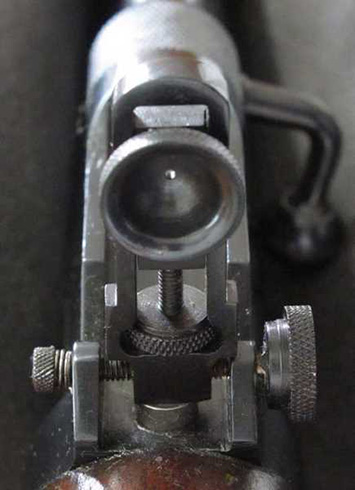 Rear peep sight flips up for target shooting. It adjusts in both directions.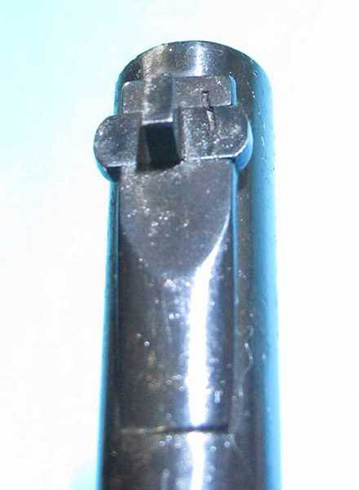 Front sight is a squared post. Notice that it is marked for position on its base and seems to have been moved in its dovetail.
The front sight is a squared-off post in a dovetail. It should be a good target sight.
Large rifle
This is a large air rifle. The overall length is 41.5 inches, which doesn't seem that long, but the barrel is a stunning 25.5 inches long! The pull is 14-9/16-inches, which puts it into the large category. The rifle weighs one ounce under 7 lbs., which doesn't sound heavy for a large air rifle, but when you consider that there is no forearm to hold — only a thin receiver bottom — it does seem heavier.
Stock
Yes, there is no forearm. There is only a buttstock, which means that the attachment is via a long through-bolt hidden under the butt-plate. Such attachments either work or they don't and the buttstock gets loose. This one seems to work well. The wood is walnut without much figure and is stained a dark brown color. Both grip panels have small patches of checkering that don't seem to add anything to the grippiness.
What now?
Okay — I now own a Webley Mark II Service air rifle. So what? Back in the 1970s when I first saw this model, it seemed like a rifle to get and shoot, but since then I have had numerous .22-caliber air rifles that were fantastic shooters. I doubt this one will live up to the best of them. But it's still a bucket-list item, so keeping it rests more on what it is than on what it can or can't do. We shall see.