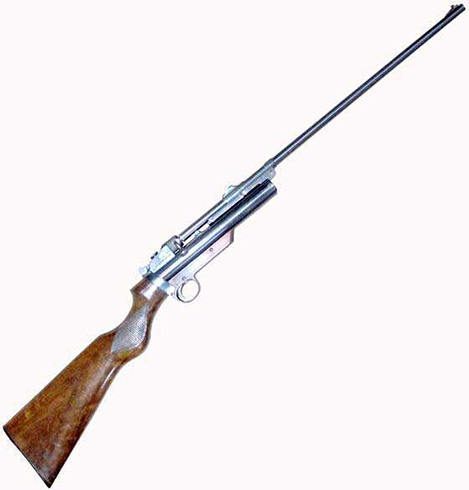 Webley Mark II Service
This report covers:
Eley Wasps
JSB Exact RS
RWS Superpoints
What to do?
Barrel removal
Trigger pull
Cocking effort
Other neat things
The Pyramyd AIR Cup ended yesterday and Ian McKee and I are driving home to Texas. Hopefully we will arrive at my house this evening, then Ian has to either stay overnight or drive back to his home in Houston.
With good fortune I will start reporting on the Cup on Wednesday because it takes me a day to write the report and modify the pictures. So I'm still going on with this historical report. I will finish it, but now I will allow some time to pass between sections so I can post current stuff, too. So keep in mind you are reading a report from 2016.
Before I begin today's report, here is another reminder about the Texas Airgun Show, on Saturday, August 27 at the Arlington Sportsman Club. Find information here. And don't forget the Pyramyd AIR Cup, that's held September 9-12 at the Tusco Rifle Club in Dennison, Ohio. I will be at both events, so come out and say hello. Now, let's take a second look at the Webley Mark II Service air rifle.
There was a lot of interest in this rifle in the first part of the report. We will look at velocity today, and I'll also show you things several readers asked about. This should be an interesting report, so grab your coffee and let's get started.
I told you that I felt an air leak at the breech when the rifle fires. It's a major leak that affects velocity more than a little. After I show you how the rifle did I'll discuss what I can do about it.
Eley Wasps
I thought the first pellet I should try is one that is somewhat vintage in its own right. The 5.56mm (head) Eley Wasp was discontinued many years ago and I bought several tins when I saw it happening. I save them for older British airguns like Webleys, because they fit those slightly larger bores well.
The first shot went out at 589 f.p.s. and was very loud. I'm sure it was a detonation, both because of the sound and also because of the oil smell after the shot. After that I fired 10 more shots that averaged 308 fp.s. Let me show you the string.
Shot…………………………Velocity (f.p.s.)
1………………………………….345
2………………………………….333
3………………………………….329
4………………………………….361
5………………………………….315
6………………………………….296
7………………………………….281
8………………………………….280
9………………………………….272
10………………………………..272
It doesn't take a rocket scientist to see a pattern in this string (Where is Rocket Jane Hanson these days?). The gun is steadily loosing velocity. If it was a pneumatic I'd suspect a leak, but spring guns aren't supposed to do this.
The blast of air coming from the breech is significant. If the breech were sealed better I think the rifle would shoot this pellet in the high 400s or even the low 500s all the time.
JSB Exact RS
Next I tried some JSB Exact RS pellets. Not only are they lighter than the Wasps, they are also softer and have thinner skirts. I have a lot of hope for them.
They averaged 325 f.p.s. in the rifle. The low was 315 and the high was 339 f.p.s. so the spread for 10 shots was 24 f.p.s. That's reasonable, given how poorly this rifle is currently doing.
RWS Superpoints
The last pellet I tested was the RWS Superpoint, whose thin skirts usually seal the bore when needed. Superpoints averaged 297 f.p.s. with a spread that went from 282 to 316 f.p.s. That's 34 f.p.s. between the slowest and fastest pellet.
What to do?
This rifle needs a new fiber or leather breech seal, which is fortunately available . I ordered one from John Knibbs (www.airguspares.com) in England, along with a new metal piston ring. Will that fix the rifle? I'm not sure, because there is a design weakness that may prove fatal. It's in how how the barrel is attached to the action.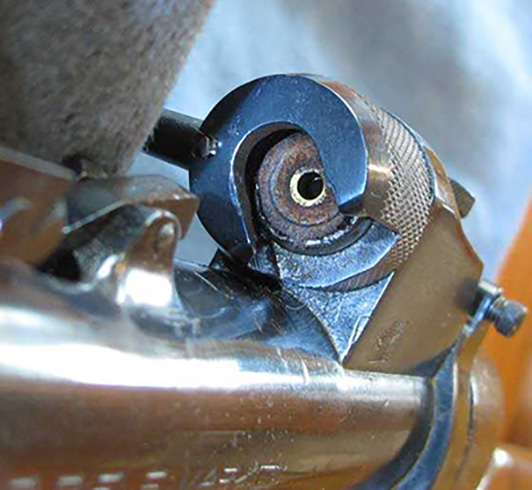 The breech seal is either fiber or leather with a brass pipe running through the center. This one is worn out.
Barrel removal
When I mentioned that the barrel was removable in part 1, there was a lot of interest. In fact, it doesn't just come off — it is the fastest, easiest barrel to remove that I have ever seen. Unfortunately, it's also a weak spot in the design.
To remove the barrel on the Webley Mark II Service air rifle, open the bolt and raise the rear of the barrel. Then press a spring-loaded button on the left side of the barrel hinge and pull the barrel straight out of the barrel hinge. The entire operation takes about 5 seconds or less. Installing is the reverse or removal.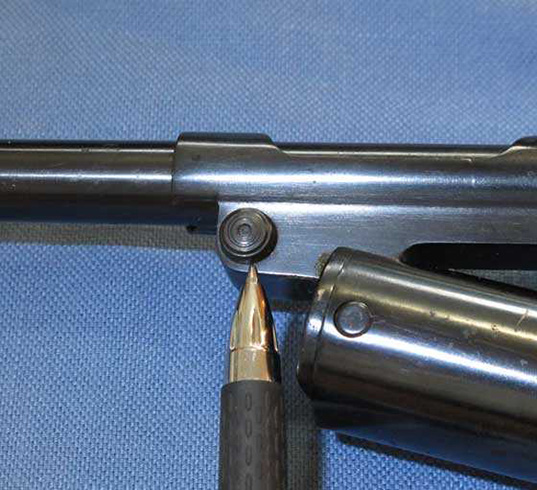 Push in on this spring-loaded button and pull the barrel out of the rifle.
The "secret" is a keyway in the barrel hinge that interfaces with a key machined on the barrel. And this is where the weakness lies. Not in the key or keyway, but in what it's attached to.
There is a half-round slot machined into the key that the spring-loaded pin fits into. That fit is tight, but the hinge mechanism that holds everything to the gun's action is itself loose. You can grab the barrel and wobble it side-to-side. The sporting rear sight is mounted to the barrel and will cancel some of the slop, but the peep sight is mounted to the receiver, where any barrel movement (that also moves the front sight) will be magnified.


This keyway aligns and positions the barrel in its hinged mount. Even if the fit is exact, the hinge it fits into wobbles from side-to-side, destroying accuracy potential.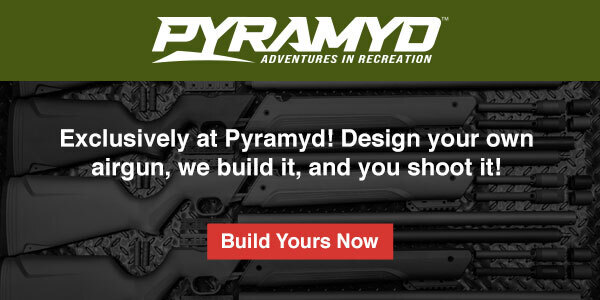 Trigger pull
The non-adjustable trigger is single-stage and releases at 4 lbs. 12 oz, which is not that heavy but for some reason, feels fairly stiff. It might be because it is single-stage.
Cocking effort
Cocking this rifle has a unique feel. At first it feels heavy until the mechanical advantage overcomes the effort, then it becomes lighter. By all rights it should feel easy, as the maximum effort is just 25 lbs., but once again, it feels heavier than the number suggests. The barrel does not break open very far because the piston stroke is so short.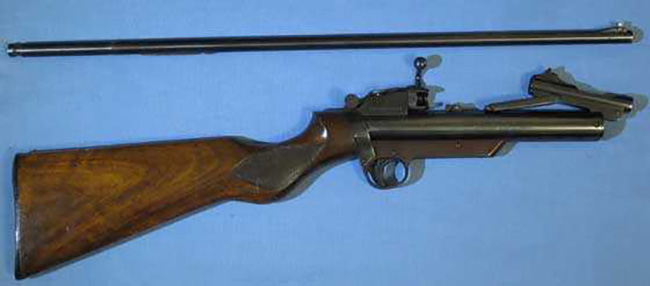 With that long barrel out, the rifle is quite compact.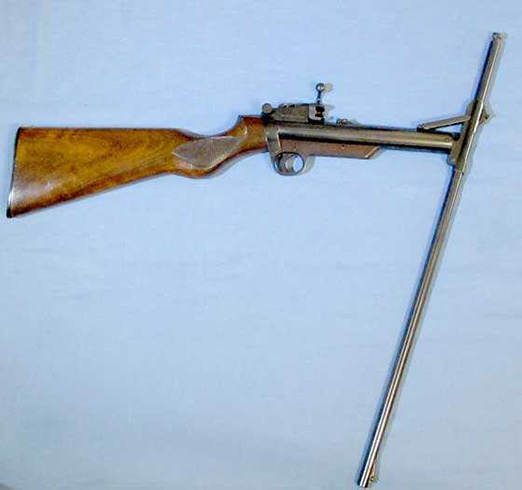 When cocked the barrel does not break down very far.
Other neat things
When I went looking for the breech seal I discovered that Airgun Spares also manufactures Mark II Service barrels to the original specification. They even make a .20 caliber barrel. Each new barrel comes with a front sight and costs 250 British Pounds, which is about $363.00. All calibers except .20 are out of stock at the moment, but I got on the list. I would pay that much for a .177 barrel, and perhaps for a .25 barrel at some time in the future. They also make the sights and other critical parts that are next to impossible to find, so this site is an incredible resource for the Mark II Service.
That's it for today. Next time we will look at accuracy, unless the breech seal has arrived. If it has, I'll install it and retest the velocity before moving on to accuracy.