This report covers:
Background
S&W Model 39-2
Shouldn't have worked
Clarification
An accurate airgun
How about you?
Today is about something I don't get to do but you readers do. It's about shooting that one gun that you know so well.
Background
When I was a kid my next door neighbor was a boy one year older than me. His name was Duane and he had an old Daisy BB gun that had a wooden buttstock and no forearm. I don't think it even came with one. It may have been a model 102-36. If not, it sure looked like one.

Daisy 102-36.
The thing about that old BB gun was — Duane could hit anything with it. And that is the point of today's report — if you spend enough time with one gun you eventually get so used to it that you can hit anything at any time. That doesn't mean the gun is accurate. It means you know the gun so well you can't miss with it. And sometimes it doesn't even take a lot of time — the gun just fits you and works perfectly in your hands.
Duane's gun shot to the left every time. But he knew instinctively at every distance how far to hold off the target to hit it, and it always seemed to work — for him. I tried shooting it several times and never could hit anything, but he never missed.
In the 1970s I was stationed at Fort Knox, Kentucky. One day I wandered into a pawn shop in neighboring Radcliff and saw a tired old pellet rifle on the wall. It sure was worn! The price was twenty dollars, but I negotiated them down to eighteen bucks out the door. That meant I saved two bucks and they ate the sales tax. When I got it home I wondered how good it could be, as the thing was rusty all over and the wood stock was completely dried out. I knew enough about airguns at the time to oil the piston seal and was surprised when the first shot hit my target. So did the second, the third and so on.
That rifle was a Hy Score model 807, which is a rebranded .22-caliber Diana 27. It started my fascination with that particular air rifle that, as most readers know, continues to this day. I gave that first one to a friend when I left Fort Knox, but twelve years later I bought another one at the 1993 Winston-Salem airgun show and that's the one I still have. And it works just like the first one.


My Hy Score 807 has been with me for 30 years, which is a record for me.
S&W Model 39-2
I had a firearm handgun that almost never missed, either. It was a Smith & Wesson Model 39-2 in 9mm Parabellum. I bought it to be a home security pistol and noticed that it was almost impossible to miss with. Because it was a 9mm, the recoil was extremely low — much less than the .45 Colts and .45 ACPs I was used to. And the curved model 39 frame magnified that aspect. It was an ideal carry gun in a time when personal carry was a pipe dream. But I shot a lot at the time and the 39's frame was aluminum. There were tales of the pistols being beaten apart by continuous shooting. I never should have parted with it, but of course I did and have regretted it for the past half-century.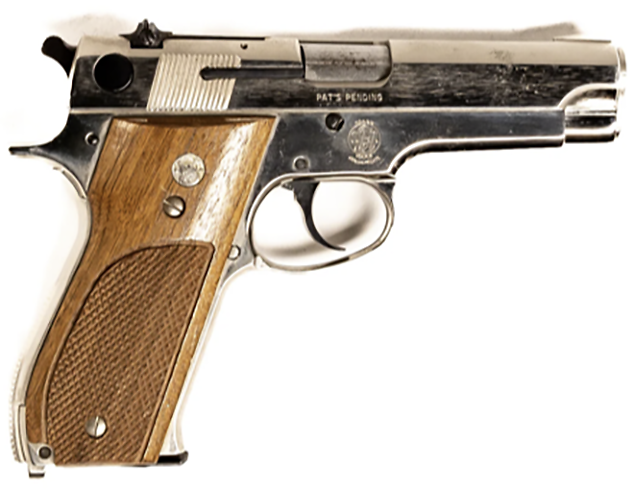 S&W model 39-2 is a good basic handgun.
Shouldn't have worked
I had another firearm handgun that was accurate when all logic said it shouldn't be. It was a .25-caliber VB Bernadelli vest pocket pistol.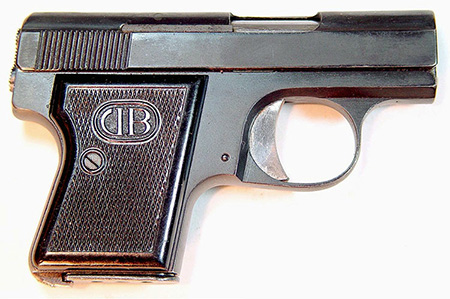 Vest Pocket Bernadelli pistol.
That pistol shouldn't have been able to hit the wall of a barn when fired from the inside. But I was able to put three bullets on the bottom of a soda can at 10 meters in a group that measured no more than one inch. When I did that I couldn't even see the sights of the pistol. I got rid of that one because reloading for .25 ACP was just too cumbersome, and I for sure wasn't going to buy factory ammo!
Clarification
Let me clarify what I'm taking about. I'm not talking about accurate guns. I have quite a few of those. My Air Arms S510XS, for example, is a rifle that never has to miss. But it's scoped with a gollywhompus Meopta riflescope and the whole package weighs 11-12 pounds. That rifle is a purpose-built shooting tool that's very precise when set up and employed properly.
On the other hand my Hy Score 807 weighs about half as much as the S510. The S510 can outshoot the Hy Score every time. But the Hy Score never misses when I pick it up and shoot at something.
My Sig P365 hits what I aim at, but I do have to aim it intentionally. I have a P08 Luger that does the same. Both handguns are accurate. But both have to be handled with a purpose. The S&W 39-2 used to just hit whatever I pointed at, and the Bernadelli? Wow!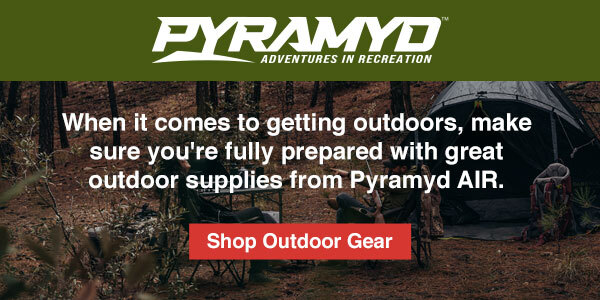 An accurate airgun
I have written six reports titled, What a difference a stock makes, which is about making an HW 30S shoot offhand accurately. I have worked hard on that project, and my HW 30S is unquestionably accurate. But it doesn't fall into the category I'm addressing today.


The HW 30S in its new custom stock is a thing of beauty. But it isn't a natural shooter — for me.
What I'm talking about today is that rare rifle or handgun that just can't miss when it's in your hands. Either you have learned that gun or you don't have to work to make it perform. It's like an extension of you.
Several readers advised me to just use the Hy Score 807 (Diana 27) that is my favorite airgun as my pest elimination gun, but I didn't listen. Oh no. Instead I invested a lot of time and money getting an accurate airgun to shoot naturally for me, and I'm still working at it. Well, at least we got a lot of good reports from the project.
How about you?
Am I alone in this? Or have some of you readers owned (and hopefully still do own) airguns that just hit whatever you shoot at?