by Tom Gaylord
Writing as B.B. Pelletier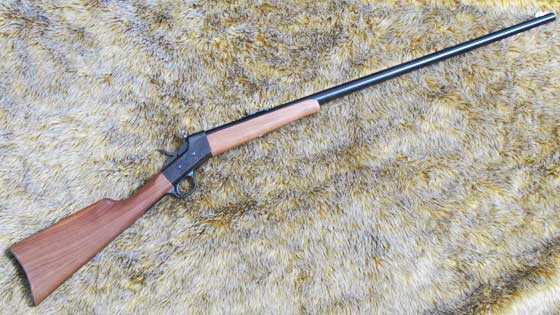 The Modoc from Air Ordnance is a new single shot big bore in 9mm.
This report covers:
What is the Modoc?
The difference between 9mm and .357 caliber
Aluminum barrel!
Long barrel
Air cartridges
4500 psi
The gun
Open sights
Weaver bases
Air cartridges
Open sights
Summary
Today we take a look at an unusual air rifle — the Modoc from Air Ordnance.
This is the first time I have written about an airgun from Air Ordnance in this blog, but it isn't the first time I have tested one. Several years ago I tested the SMG 22 belt-fed carbine they produce and wrote it up in a feature article in Shotgun News. Indeed one of the main photos on my website, The Godfather of Airguns, shows me holding that gun. My buddy, Otho, was so impressed when he shot it that he considered buying one.
What is the Modoc?
The Modoc is a 9mm big bore single shot air rifle, built on what looks like a Remington rolling block action. It isn't, of course, but the action is steel. It uses an air cartridge instead of a reservoir inside the gun. There are many things about this airgun that are different, and we will consider them today. The first is why Air Ordnance decided to market the Modoc as 9mm instead of .357 caliber, when every other big bore maker on the market has switched over. read more