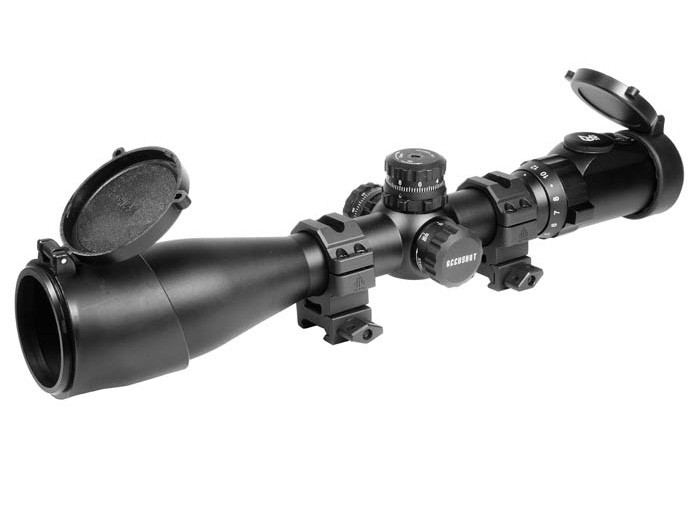 Create an online review   and share your thoughts with other customers
The most helpful favorable review
2 of 2 people found the following review helpful:
By sherman from USA on 2012-12-19 08:03:49
Things I liked: value, side wheel capable , clarity
Things I would have changed: Get rid of the rainbow color spectrum in trade of a lighter scope with a sunshade.
What others should know: I have this scope on my marauder pistol and i enjoyed it so much i bought one for the marauder rifle. if you don't want to drop 400 dollars on a hawke with the sidewheel then this is your next option. Not quiet as clear as a hawke but pretty close and a great value.
The most helpful critical review
0 of 1 people found the following review helpful:
By Rich from USA on 2016-07-11 19:19:37
Things I liked: The jury is still out on this question. I got this scope for a specific new crosman rifle and that rifle had to be sent back because of a bent barrel.
Things I would have changed: This "UTG" scope. The dot located on the scope and the dot located on the dial do not align perfectly. The "UTG" SW060B side AO wheel that I ordered for this scope. I was careful in mounting the side wheel to keep it in alignment to the greatest extent possible. I tried three times and the line on the scope dial and the line on the side wheel were "way" off. I contacted UTG direct. They said they would check batches numbers and personally fit another dial to a like kind scope and get me a new dial. They sent me a new dial. No way did they check this. This has the same issue. I took the rubber inner ring out of the new one to see how this sucker was designed and where the flaw is. The flaw is the rubber inner ring. The two extended nipples on the ring that recess in tot he body of the dial are mis-located. Not adjustable either "as is".
What others should know: Customer service wasted my time at UTG / leapers. They wasted their time because they are still selling and making parts that don't align properly which is what these are ALL about. Accuracy. They did not resolve the issue. I had to take it apart and alter the rubber ring, make shims to add back in to the recess so it is "slightly" adjustable now. I am yet to see how that is going to hold up. Do I recommend buying a LEAPERS / UTG product to anyone? ............. NO ! These statement are not made in "opinion". These are the FACTS. I have a photo I was going to add here but don't see that is possible.