UTG 1x30 4" Compact ITA Reviews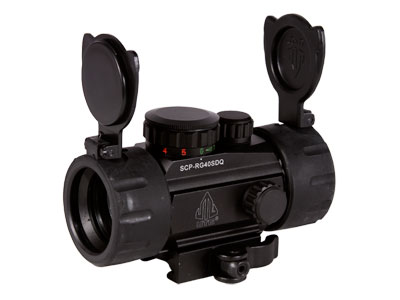 Average Customer Review
4.5
(11 reviews)
Add to Cart
Only 4 left in stock
Create an online review   and share your thoughts with other customers
The most helpful favorable review
2 of 2 people found the following review helpful:
By Bill from USA on 2018-03-04 19:08:13
Things I liked:
The sight is mounted on a GAMO, 1300fps pellet gun. Having put some 250 rounds through the gun with this sight, it appears to handle the reverse G forces well up to this point. I was concerned about the clamping dove tail mount not holding on this gun but to date it has worked perfectly. As to the sighting in and remaining sighted, it has performed as advertised, no problems.
Things I would have changed:
Anything I would change would interfere with the basic design so I feel the sight is about where it should be in design.
What others should know:
I keep this pellet gun and other guns sighted at about 40 yards. So with this sight mounted, realize although the open sights are still mounted they are not usable without unmounting the dot sight. Storing the gun with the sight mounted may need some extra consideration as the sight stands about 2.5 inches high of the top of the barrel. I don't like bumping my sights once installed and sighted in so my easy access storage spot had to change.
The most helpful critical review
0 of 0 people found the following review helpful:
By Douglas from USA on 2017-02-11 11:09:17
Things I liked:
Seems well made, the caps work well and seem solid. The adjustment screws have slots wide enough for a penny to fit, lol. No screwdriver needed here. It's nice having the choice of red or green, having no experience with these I would have picked a red dot, but I like the green better.
Things I would have changed:
not much of anything, the dot disappears occasionally and I need to twist the power setting 1 click and back and it comes back on. The included batteries have only <1hr, but minor detail I have not yet looked into.
What others should know:
I don't like the single dot reticle. When you move the gun the dot can be anywhere in the reticle. You must center it in the lens while aiming. I wish I gotten the t dot or even a circle dot reticle....