UTG Accushot SWAT 2-16x44 AO Reviews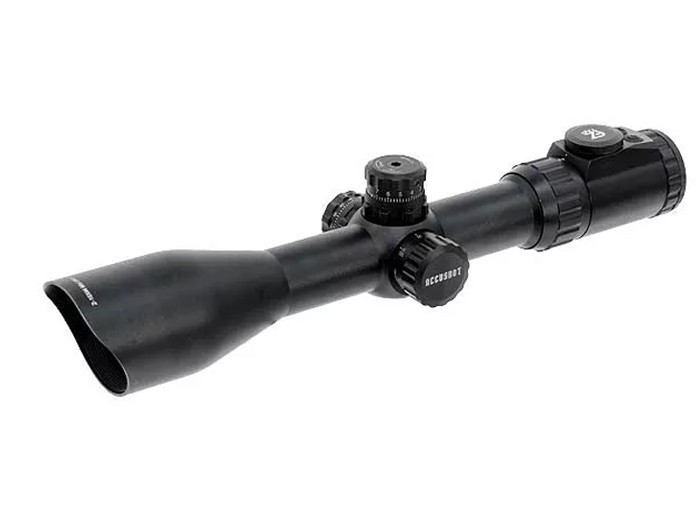 UTG Accushot SWAT Review
3.5
(10 reviews)
Create an online review   and share your thoughts with other customers
The most helpful favorable review
1 of 1 people found the following review helpful:
By Don from USA on 2015-08-19 23:38:37
Things I liked:
This scope is very good and has many features that are not on my Leupold 3x9-33 ultralight EFR scope on my Mrod and costing $100 more. The optics are not quite as good but very good. The etched glass mil-dot reticle is excellent just as thick as the Leopold at the center of its duplex reticle. I like the side focus/parallax adjustment much better than on the front end of the scope. My scope was very clear at 22 and 34 yds from 2-16 power. I mounted it on a Benjamin trail np. It did not help the accuracy of my rifle but I did not expect that. I have about 100 rounds on the scope with no shifts or issues, it seems solid as a rock. I am not a big fan of illuminated reticles and have not installed the battery, I would expect it to be the same as other UTG scopes especially as BB has described with the etched glass. I may install the battery if I have to go after skunks at night again. Overall I would say this scope is very good and compares well to scopes costing much more
Things I would have changed:
I am not a fan of the cam lever Weaver/Picatinny scope mounts although they seem good so far. I spent some time lubing the pin and cam surface and adjusting the cam screw to get a solid set on the cam. I would rather have a more solid twin machine allen screw on each mount. There is quite a bit of tunnel effect at all power settings through the scope. The field of view on most of the scopes I am used to fill up more of scope. Something I can get used to but it would be nice to have the view fill the scope. Probably difficult with a 2-16 scope. Include the Add-On side wheel it makes the scope much easier to use. The turret locks do not feel like they would take a lot of strong frequent lock pressure but should last if careful. The lock and zero reset both work well.
What others should know:
Where most folks use locktite and brute force; I use anti-seize on the threads and oil or grease on the shoulder of the machine screws on both the ring and mount. Just keep it out of the inside of the rings. I have not had an issue since I started doing mounts this way on air or center fire guns. I always tighten the screws very slowly in crisscross pattern on the mounts first and then the rings to reduce stress on the scope. I added the 80mm side wheel on the scope it is the only way to go. I always adjust the scope on a bench rest at my typical and a known shooting distance. Adjust the parallax first to the known distance move your eye around and make sure the target does not move. Then focus the reticle and your eye if they agree all is good if not you will need to sacrifice a little on one of the three. I usually sacrifice focus over parallax vs distance. The 1/4 MOA adjustment is the same as my Leupold and better than I will ever shoot. IMO you will be happy with this scope.
The most helpful critical review
0 of 0 people found the following review helpful:
By Paul from USA on 2021-03-08 19:46:02
Things I liked:
Not much, sight picture was badly oval, not round. Sight box was so small it was nearly unusable. Scopes like this have a lot of fluff, but not what counts...that is, clear glass, good focus throughout the zoom range, good tracking, etc. I returned this one and replaced it with a Hawke.
Things I would have changed:
Get rid of the fluff. You don't need a reticle in 16 different colors. Make good quality basics. This is a $40 scope dressed up to be much more than it is.
What others should know:
If this scope represents the UTG line, that is a real shame. I dont care what sort of bundled savings you might be offered from Pyramid, spend your money on a quality scope. It doesnt have to be expensive to be good.