UTG AccuShot SWAT 4-16x44 AO Reviews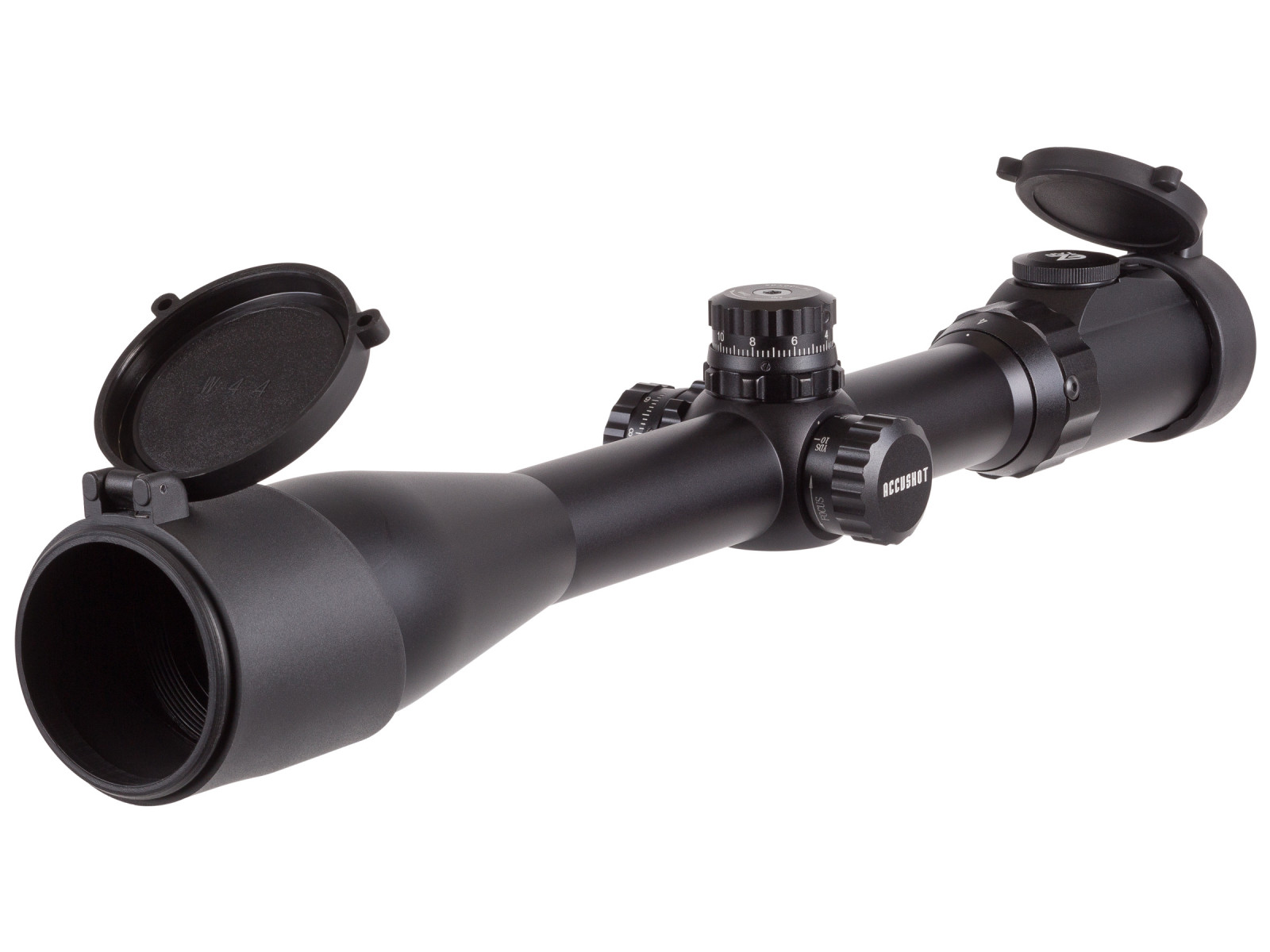 UTG AccuShot SWAT Review
4.5
(117 reviews)
Create an online review   and share your thoughts with other customers
The most helpful favorable review
5 of 5 people found the following review helpful:
By David from USA on 2012-07-02 04:35:46
Things I liked:
This scope has a considerable number of features for the money and is a great value! As a dealer I get all the info! For PCP or Co2 etc. Air Rifles it works great! I wouldn't suggest if for Nitro Piston & Spring guns though, I have personal experience there. 1st.> The 30mm tube offer very good light transmission even with an ARD attached like I use. 2nd.> The 9 Mil Dots each side of center are great for making adjustments for both Holdover & Windage and they are clear and sharp and small enough not to block the view even at distance. 4th.> Proper initial adjustment of the rear eye piece should be done while looking at a clear blue sky to adjust it for a sharp crisp image of the Mil Dots. Then the SWAT with a big Wheel adjustment pressed on it really makes focusing so much easier and more precisely done with the left hand while holding the rifle too! I like the 100mm Big wheel over the 80. 5th.> Leapers includes Medium? padded scope rings with a large diamond shaped tightening nuts which are very nice, hold securely and easy to use. Although they also make quick release rings too. For a Weaver base receiver, Leapers also has a conversion rail to allow the use of Picatinny mounts to be used, which are my choice. 6th.> The locking cross hair Turret wheels are also a very nice feature, just don't over tighten them. The turrets have nice crisp knob adjustments too.
Things I would have changed:
1st.> I like to see the numbers for the power setting ring put on the side of that ring closest to the eye peace for easy viewing by the shooter to determine what power setting is being used especially if power adjustments are made. 2n.> While the built on sunshade is nice in some respects I'd rather see the front of the scope flat and threaded to make it easier to add an ARD an [Anti-Reflection Device a honey comb grid] on too it. This can also be camo-ed so the front lens isn't notieable by game at all. And a screw in a short tube and be able to screw another on to the first if a longer tube is desired.
What others should know:
The EZ-Tap Ritcle illumination with it's 36 colors to choose from is a great feature to contrast with your target, especially in dim light! Once a shade of your choice is chosen and the button is depressed briefly to turn it off, that same shade reappears when turned on again. Shade choice clarified: The 'R' button on the Right, is used to choose whichever of the 6 basic colors you want? The 'G' on the Left is used to chose the shade intensity within whatever shade is choosen with the 'R' button!
The most helpful critical review
0 of 1 people found the following review helpful:
By Troy from USA on 2015-04-08 18:21:04
Things I liked:
I like the appearance over all. The locking knobs are nice and the entire unit feels solid. Optics are acceptable.
Things I would have changed:
Reticle is a bit heavier than I'd like but doable.
What others should know:
This one is going back. After around 250 shots the scope stopped holding zero. The POI would shift from zero to about four inches left then back again, sometimes stopping in between for a round or two. A back up scope proved it's not the rifle and all mounts, fasteners, and stock screws are good and tight. I took a gamble with this scope because reviews are generally favorable and it seems quality name airgun optics are hard to find. Not willing to give it another chance and will stick with the gut, avoiding the brand in the future until I see nothing but five star ratings. Lot's of them.