Benjamin Marauder Field & Target Kit Reviews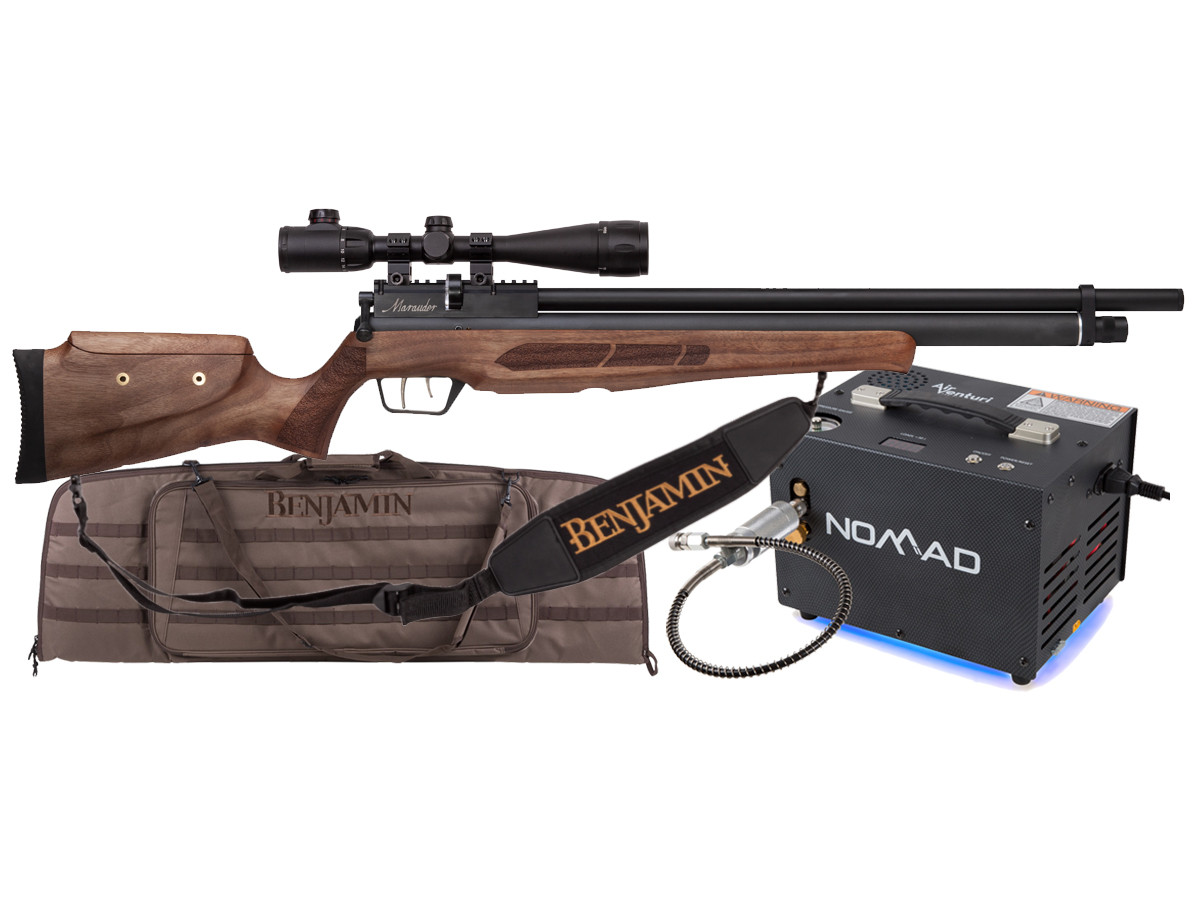 Average Customer Review
4.5
(22 reviews)
Create an online review   and share your thoughts with other customers
The most helpful favorable review
2 of 2 people found the following review helpful:
By Eric from USA on 2019-06-03 00:32:57
Things I liked:
Great package for the money! I upgraded to the 22 Lothar Walter barrel. Very happy and its deadly accurate.The compressor had a dent scratch but works fine. I wish I Could have traded up on the scope which is the only weak spot but it's not bad. Custom Marauder, scope, compressor, sling, carry bag I ordered a extra magazine and some pellets. One package and your ready to shoot. Very impressed!!! Shooting targets and wire nuts at 30 yards [email protected]@!
Things I would have changed:
Just wish I could have traded up and payed the difference for better scope
The most helpful critical review
0 of 0 people found the following review helpful:
By Steven from USA on 2020-11-20 01:37:30
Things I liked:
. I've been enjoying the rifle immensely for three days before the rifle then failed. I couldn't load any pellets into the breech unless I pushed the bolt in really hard which I didn't want to do. I had to then force the rotary mag out which left behind a crushed pellet in the barrel and one in the mag. After clearing it away I tried to load one pellet by hand. The pellet would not slide into the breach unless I angled it a certain way. When I fired it, the pellet would miss its mark by a ridiculous amount.
Things I would have changed:
My package arrived last week. I filled my rifle to 3000 PSI at which time my power supply for the compressor made a popping sound and died. I contacted Crossman and was assured that a representative named Kevin would reach out to me to resolve the issue and have a replacement sent out to me. That was a week ago, and no phone call. So to use and refill the rifle I've been using the clamps for powering the compressor with 13 Volts DC.
What others should know:
I've been enjoying the rifle immensely for three days before the rifle then failed. I couldn't load any pellets into the breech unless I pushed the bolt in really hard which I didn't want to do. I had to then force the rotary mag out which left behind a crushed pellet in the barrel and one in the mag. After clearing it away I tried to load one pellet by hand. The pellet would not slide into the breach unless I angled it a certain way. When I fired it, the pellet would miss its mark by a ridiculous amount. Clearly, something failed. So, in three days since the p my power supply failed and my rifle to follow. I contacted PA and will be receiving an exchange when they are in stock again. This time the better Loather Walther Barrel which I hope will make a difference in the quality of the product. I please the purchase is being backed up and PA is an honest seller true to their word. But this initial purchase was a big disappointment. I will have a follow up after the next package arrives