Benjamin NPS Air Reviews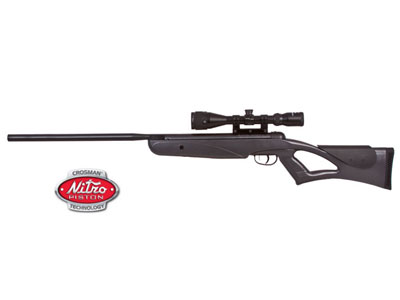 Average Customer Review
4.5
(108 reviews)
Create an online review   and share your thoughts with other customers
The most helpful favorable review
2 of 3 people found the following review helpful:
By Bonsai Guy from USA on 2009-12-14 15:28:08
Things I liked:
IT'S LIGHT!!! Perfect for trekking through the woods on a little hunt. Accurate as it can be! And QUIET!! I live IN a MAJOR city where you are literally 10-20 feet from your neighbors!! Scope is pretty good too.
Things I would have changed:
Not much. It's pretty cool the way it comes.
What others should know:
Shooting less than 1/4" groups at 35-40 yards with the Beeman Silver Arrow, and less than that with Predators! SUPER nice accuracy with this gun! I have a beard and the cheek pad is a bear! LOL!! It has to pull about 100 hairs out every time I shoot it! I'm going bald on one side of my face! I have a Super Streak and LOVE it, but have trouble shooting it in the city cause it's pretty loud compared to this gun. I love being able to go grab this thing and shot till my hearts content! NEVER had a neighbor try to peep over to see what I was up to while shooting this gun (unlike the Super Streak!). If you like hunting and being quiet; GET IT!!!! It's a great addition to my air gun collection. Just get it already! Pyramid Air is the best! ALWAYS on top of their game!
The most helpful critical review
0 of 0 people found the following review helpful:
By Brian from USA on 2014-02-26 11:44:56
Things I liked:
the NPS aspect and ergonomics
Things I would have changed:
the trigger is horrible and the barrel or what ever is killing accuracy needs to change.
What others should know:
this is a very in accurate pellet gun. its been frustrating even attempting to hold a 5" group at 20 yards on a bench using multiple shooters(no one could hold grouping with this gun)(different pellets used as well). now i have to figure out what to do with it?