Colt Peacemaker SAA Nickel Reviews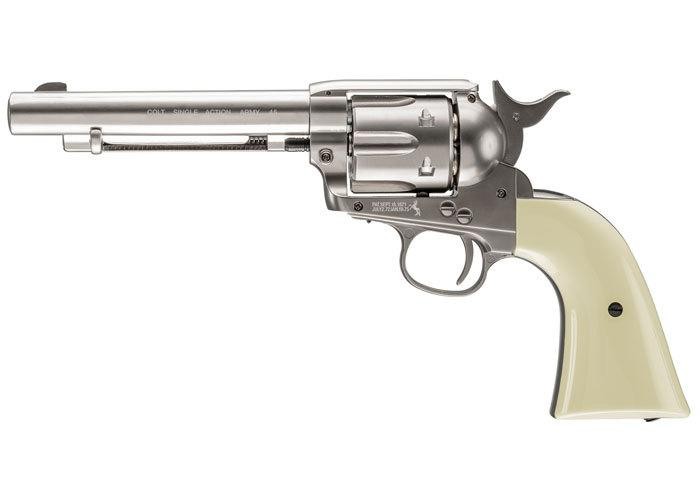 Average Customer Review
5.0
(242 reviews)
Create an online review   and share your thoughts with other customers
The most helpful favorable review
2 of 2 people found the following review helpful:
By Airgun Papa from USA on 2015-03-20 17:06:03
Things I liked:
Wow! Solid construction, beautifully finished, faultless operation. I really believe this is a superb product. Accuracy was good, with 7 yard groups keeping all shots inside of two inches and that includes those I pulled or failed to get good alignment with the sights. When I did my best, it would group a cylinder full of shots using standard Daisy BB's into a tad over an inch. The sight picture was pleasing. The contour of the front sight caused it to appear as a silver bead when settled into the notch in the frame rear. I used a figure 8 hold with the bull being the top half and the bead the bottom. The regulation was close, but after a lot of shots I could determine it was actually at about 11 O'clock about 3/4" out of the center. No tin can would survive that. I may very well find a different brand of BB that will improve upon this. I am very pleased.
Things I would have changed:
I am cautious about using the provided Allen tool attached to the inside of the left grip panel. It is provided to tighten down the screw at the base of the grip for piercing the CO2 cartridge. It may be adequate, but I will use a separate tool rather than risk breaking my grip.
What others should know:
The finish on this gun is awesome. The surface is polished mirror smooth, totally devoid of any seams or marks. The "bluing" is a deep mixture of dark purplish blue with rainbow hews at different light angles. It is not mottled but has all the coloring of a heated case-colored application. The plastic grips resemble Ivory pretty closely. The action has a very solid feel and smooth movement. There are very positive stops at each chamber of the cylinder. Timing is right on. The mechanics operate almost identically to the original colt revolver. The trigger is very smooth, somewhat long but lighter than expected and very predictable. When cocking the gun the smoothness of the action is awesome: no catches or roughness at all. I made 60 shots before I perceived the slightest decline in power and continued on to get 72 satisfactory shots before the velocity was obviously waning. The provided "shells" that hold the BB's are also top quality and very realistic. This gun is worth every penny.
The most helpful critical review
0 of 0 people found the following review helpful:
By Bill from USA on 2019-12-26 04:52:26
Things I liked:
? came in not working condition.
Things I would have changed:
check items before they are sent out for delivery
What others should know:
how do I do an exchange?