Dan Wesson 2.5" Silver Reviews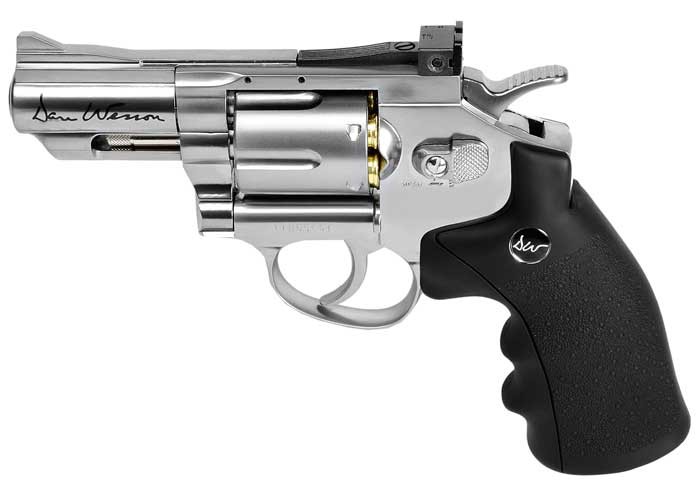 Average Customer Review
5.0
(82 reviews)
Create an online review   and share your thoughts with other customers
The most helpful favorable review
2 of 3 people found the following review helpful:
By Dan from USA on 2011-12-06 20:50:13
Things I liked:
s soon as Pyramyd offered these silver 2 1/2" Dan Wesson's the die was cast for me. I had to have one ASAP!!! Placed the order and SHAZAM a couple of day's later it was in my trembling hands. The little pistol was packed in a nifty OEM box - no plastic clamshell here! And the little box was so heavy I thought they must have included 2 pistols in my lucky box by mistake! But upon opening the lid I was shocked to see a single gleaming miracle of a pistol unlike anything I had ever seen. This metallic piece of awesomeness is just a beast and just a real treat to behold. The revolver's cylinder spins like a teflon snowball on wet ice and I couldn't be more pleased with my purchase.
Things I would have changed:
he trigger feels a little mushy but functions great and besides this wonder pistol isn't intended to win it's owner Olympic Gold medals anyway. A pellet version with a rifled barrel would be nice in a future version. It would also be awesome to have an 8" silver version to go with this sweet 2 1/2" thunder munchkin revolver.
What others should know:
If you love airguns then get one of these Dan Wesson pistols. Silver or Black - Long or Short - it's all good. Be sure to order some spare cartridges too along with some ammo and CO2 capsules. Wear your safety glasses. And don't display this pistol in public places or anywhere it could be mistaken for an actual firearm. Have fun but play smart & stay safe.
The most helpful critical review
0 of 0 people found the following review helpful:
By spencer from Canada on 2021-12-27 12:10:33
Things I liked:
i like the weight and the feel of the metal parts i also like the double action.
Things I would have changed:
i hate the grip. its plastic and it slides around on the handle and feels like its always gonna come off
What others should know:
nice revolver but i wish the grip had a locking mechanism to hold it into the handle.