Swiss Arms P92 Reviews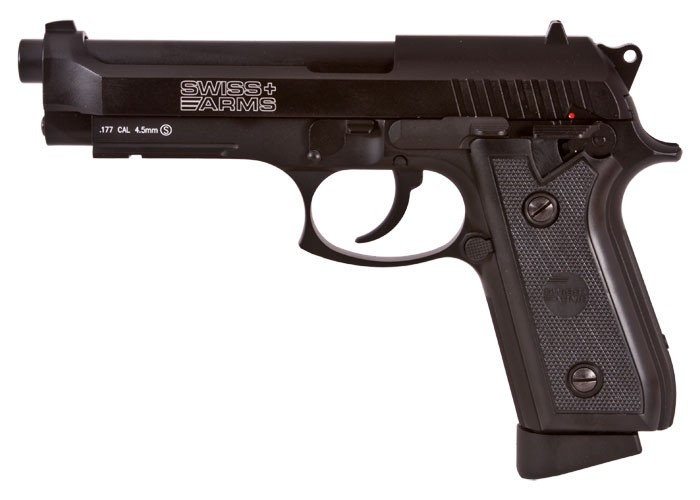 Average Customer Review
4.5
(46 reviews)
Create an online review   and share your thoughts with other customers
The most helpful favorable review
1 of 1 people found the following review helpful:
By jrod64 from USA on 2010-06-22 09:21:56
Things I liked:
This is almost a perfect BB gun. The all metal and weight makes it feel real, which is nice. There are no loose type parts on it. Everything is very firmly attached. The magazine is pretty big. It fires hard and very accurate. The CO2 is in the magazine itself, which is a nice feature.
Things I would have changed:
Putting CO2 cartridges in is a bit tedious as you need a tool that is provided in order to push in into place. Also, the barrel shifts back and forth a little bit when the gun is cocked back.
What others should know:
Honestly, for the price, this is the best BB gun I own. I highly recommend it to anyone looking to spend 90+ dollars.
The most helpful critical review
0 of 0 people found the following review helpful:
By Mike from USA on 2022-09-05 23:48:35
Things I liked:
The look and the feel in your hand. Nothing else.
Things I would have changed:
This gun should have the ability to be uncocked. The sights need to be placed better on the gun. I went through a lot of co2 thinking the gun would adjust itself somehow so as to not shoot 2 1/2 inches low. Having the sights lined up that bad is totally unacceptable. Also the spring loading of the BB's is horrible. It is very difficult to hold the spring back. Over all a very unpleasant experience. I had to and did return the gun to PA. I lost money on the return and had to pay for the return shipping.
What others should know:
This product was defective. I paid for the 10 for 10 but I guess they do not check to see if the gun shoots accurately. In order to hit a small target I had to ail so high the the front completely blocked out the bullseye. As an aside, guns with blowback only use up gas. The accuracy is not helped one bit. You only waste money.