Umarex Gauntlet 2 Hunting Kit Reviews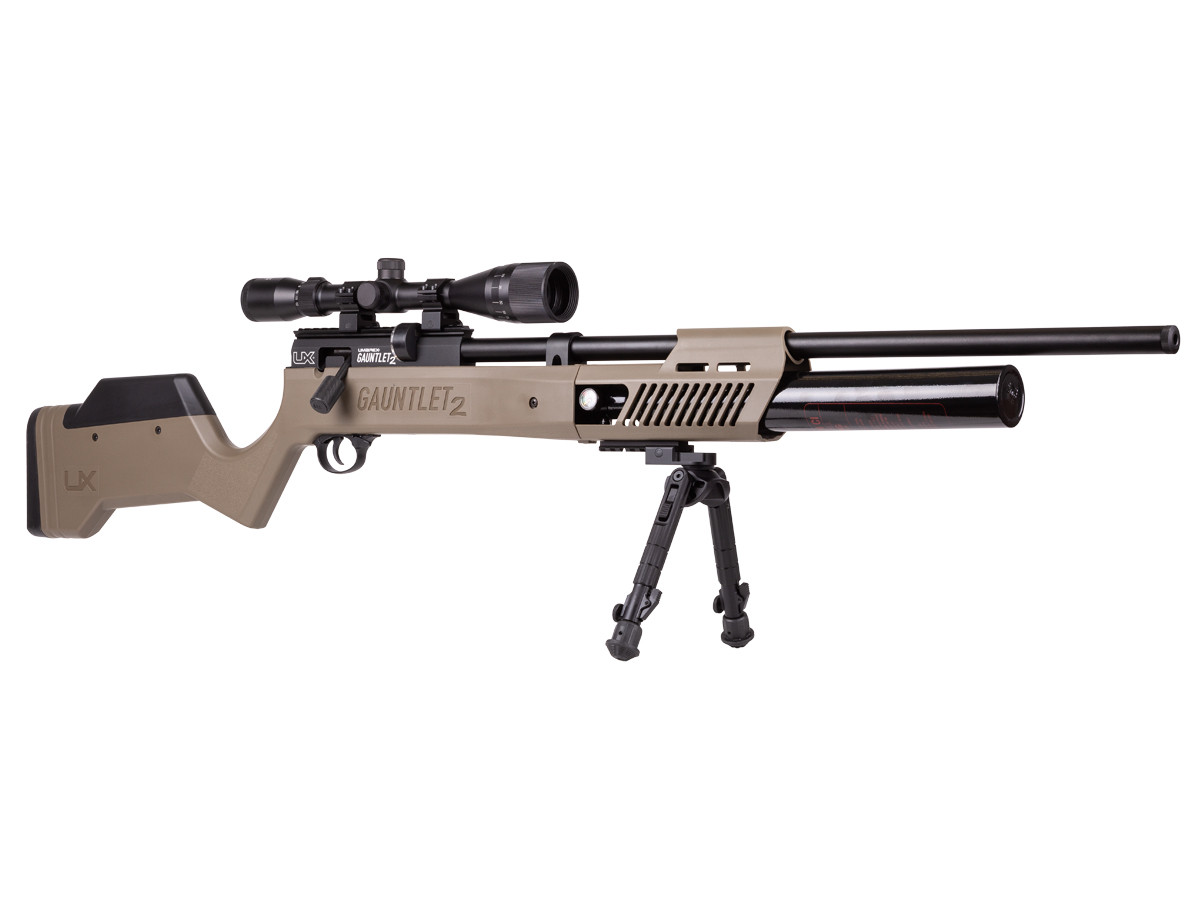 Average Customer Review
5.0
(13 reviews)
Create an online review   and share your thoughts with other customers
The most helpful favorable review
0 of 0 people found the following review helpful:
5.0 5.0
5.0 5.0
5.0 5.0
By Douglas on 2022-07-03 12:32:07
Things I liked:
I purchased the Gauntlet 2 in .25 caliber. This pellet rifle is extremely accurate and because of the large air capacity, it will shoot an amazing number of shots before requiring recharging. I like it a lot and would recommend it to a friend or buy it again.
Things I would have changed:
I would redesign the cocking mechanism. For example make, the bolt stroke twice as long but require half the strength. I am not able to operate the bolt with my right hand without taking my eye off of my target. I typically rotate the Gauntlet 2 and place the but against my thigh which isn't difficult and makes the bolt operation reasonably easy. So far, I've shot 4 racoons all less than 50 yards from my house and all headshots. Each died quickly on the first shot. If I pull a shot then I'd like to finish off the prey as quickly as possible but with the bolt design it isn't as simple or quick as it could be.
What others should know:
The balance of the rifle is great out-of-the-box. Adding a scope is super simple with picatinny rails. You'll need a bit of clearance between the scope and barrel for the 8 round magazine but not too much. To that point it feels great but it quickly became front heavy when I added bipod. That isn't a big deal to me. attach the bipod if I know I am going to use it. Leave it off it I am not a bench. I might consider a smaller air tank to reduce the front weight.
The most helpful critical review
0 of 0 people found the following review helpful:
4.0 4.0
4.0 4.0
4.0 4.0
By Michael on 2022-11-12 08:36:27
Things I liked:
Ergonomics are good. Scope is good. Accuracy is very good with certain pellets, Still sorting them out.
Things I would have changed:
Trigger has very long take up and it's impossible to tell when it's going to break the shot. Could use better trigger. Cocking is very stiff. I don't know why it has to be this difficult, but it does function every time.